Brian and I have spent a lot of time recently debating the likelihood of Dwight Howard getting traded, whether to the Lakers or otherwise. I think he will be. Brian doesn't. However, we do agree if Howard relocates before the deadline, it'll come down to the wire, unless the Magic experiences a seemingly unlikely tailspin. Until that time arrives (or doesn't), the Lakers are a team in need of help, and the trade exception from the Lamar Odom deal provides the flexibility to obtain a player without sending one out in return.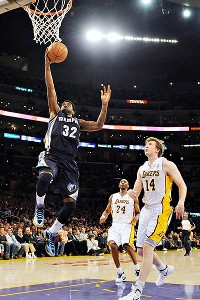 Noah Graham/Getty Images
It would be nice to see Mayo score for the Lakers, rather than against them.
One such candidate I've recently pondered is Grizzlies reserve guard O.J. Mayo. From a skill set perspective, he addresses some glaring needs: Mayo is a wing capable of creating his own shot and connecting from outside, plus serving as a reasonably reliable play-maker. He's hardly a panacea, particularly on the defensive end, but at the same time, the Lakers have considerably more issues scoring than stopping, and beggars can't be choosers. Mayo could provide a real shot in the arm. He's been shopped by the Grizzlies before, and would actually be a Pacer right now were it not for last minute snags.
I've wondered over the last couple weeks if the Griz might be willing to pawn him off simply for the privilege of no longer paying his salary. From there, it's a matter of the Lakers picking up a $5.6 million tab, and unless the front office is already writing off this season, they'd have to consider it.
Now, though, it seems this scenario may not be likely. Via Ronald Tillery, Commercial Appeal:
Truth is, Griz management isn't seriously thinking of dealing Mayo nor is his possible, restricted free-agent status this summer a major concern. Mayo likely will remain with the Griz this season because of his productivity and the Grizzlies' ability to control his future with the right of first refusal on contract offers.
Although Mayo is eligible to negotiate a long-term contact extension with Memphis by Wednesday, the Griz aren't compelled to agree to a deal or trade him at the moment.
"It remains to be seen whether something happens or not," Griz general manager Chris Wallace said about a Mayo contract extension. "If it doesn't happen I wouldn't read much into it. We didn't extend Rudy and re-signed him. It's a floating situation. I wouldn't say (Mayo) is a lock to be with us after this year and I wouldn't say he isn't. There's so much ground to be covered between now and July."
Obviously, a G.M. publicly declaring a player off the block is rarely worth the paper it wasn't written on. (At times, it's a "the lady doth protest too much" guarantee a trade will indeed happen at some point.) But it also makes sense that Mayo would remain in Memphis. Fears of a lost season with Zach Randolph injured and Darrell Arthur out for the year have proven premature. After a slow start, the Grizzlies have won six straight, and newly crowned Western Conference Player of the Week Marc Gasol (among others) has stepped up. They were the sexy pick among pundits (myself included) for western conference dark horse, and there's currently no need to abandon that bandwagon. By extension, there is less incentive to enter cost-savings mode, especially with a player like Mayo who has done his part to keep things humming in the land of blues and BBQ.
I imagine, by the way, many teams will treat potential salary dumps with a "wait and see" attitude. This truncated season has made gauging who's particularly good and who's not quite difficult, beyond the Chicago Bulls, Oklahoma City Thunders and (on the opposite end of the spectrum) Washington Wizards of the world. For example, can the Cleveland Cavaliers maintain the present standard (low by anyone else's, high by theirs) and sneak into the playoffs? That remains to be seen. But until the handwriting appears more legible, a guy like Ramon Sessions, earmarked by many Laker fans as the perfect "get him for nothing" guard, likely isn't moving, particularly for no talent in exchange. Generally speaking, the chance of getting quality spare parts on the cheap will decrease, which stifles the Lakers' trade exception options.
Of course, the Lakers could try to improve the team around the margins through an old fashioned swap, but that's just as tricky. Their good players (Pau Gasol, Andrew Bynum) are too valuable to trade for the likes of Devin Harris, reportedly on the block (and too expensive for the TPE, for fans whose wheels are turning). Their role players are either . . . old and/or cap-unfriendly (Metta World Peace, Luke Walton, Derek Fisher, Steve Blake, who's also injured and perhaps even necessary to keep on this particular roster) . . . too inexpensive/average to trade straight up for an impact player (Matt Barnes, Troy Murphy, Jason Kapono) . . . or too inexpensive/unproven (Devin Ebanks, Derrick Caracter, Darius Morris) to trade straight up for an impact player.
In other words, if moved, they're likely getting packaged with either Gasol or Bynum in a deal to land a star, and such a deal ain't on the immediate horizon.
Pretty bleak, eh?
Obviously, that doesn't mean Mitch Kupchak should stop working the phones. I'd like think he's got a receiver pressed up to his ear as I type this very sentence. But grabbing someone capable of making a notable difference could prove tough. For now, the Lakers could be left to improve from within and overcome the very limitations making a guy like Mayo appealing in the first place.