Man alive, would this be a good playoff series. I mean, gooooooooooooooood.
Here are five takeaways from the best game we've seen the Lakers play since probably the 17-1 stretch after the 2011 All-Star break.
1) Pau Gasol walked the walk after talking it.
El Spaniard entered this contest under a seriously high-powered microscope, having recently made perfectly clear on any occasion possible the displeasure with his role. In his eyes, it involved being parked on the elbow to either facilitate the offense or pop long jumpers, and little more. Gasol is of the opinion the team -- and he -- would be better served with him getting more post touches and more scoring opportunities in general.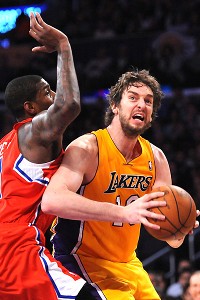 Jayne Kamin-Oncea/US Presswire
Gasol stepped up after airing grievances.
His case was demonstrated almost immediately with a layup 49 seconds after the ball was jumped. Gasol maintained this "thirst to score," as Kobe Bryant would put it, throughout the entire game. Nine points on 4-5 shooting during the first quarter, none from further than 14 feet out. By the first half's end, he had 17 points on just nine shots. He also seemed hyper-conscious of who was defending him and exploiting the matchup. Reggie Evans may be a rebounding machine, but as a man-defender, he's pretty average. Gasol forced the issue against Evans, the highlight coming on a baseline drive precluded by a dizzying array of pump fakes and spins. He also called for clear-outs while faced up against the power forward behind the free throw line.
23 points were accumulated in all, plus 10 rebounds, four assists and a steal tossed in for good measure. There was also an outstanding defensive stand against Griffin, where he stayed in front of the All-Star during a series of twists and spins, then blocked the scoop shot.
After the final horn, Pau even found his way into a confrontation with Chris Paul, as competitive a player as the NBA offers.
It'll be interesting to see how Gasol and the Lakers plot to build off this explosion, but during his postgame interviews, the satisfaction in this performance was evident.
2) Metta World Peace played by far his best game of the season.
It's one thing for Metta World Peace's offense to remain in the tank. But this season, he's mostly been a shell of his old self defensively. During his first season in L.A., the former Defensive Player of the Year often changed games through his efforts on that side of the ball. Lately, not so much. But tonight, MWP looked like the guy who commuted to Staples using a "way back" machine. From the minute MWP entered the game, he was nose-to-nose with those he checked (namely Caron Butler), getting his hands in the way of passes and generally wreaking havoc.
Things came to a wonderful head on a sequence where MWP prevented Griffin from putting back his own miss at the rim, stole the ball, and then drew fouls (personal and technical) against Chauncey Billups. MWP proceeded to pound his chest like Tarzan, then later repeated that celebration after drilling a dead-center 3-pointer to give the Lakers an 87-82 lead.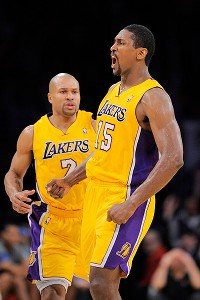 Win McNamee/Getty Images
Metta played more like "Ron" against the Clips.
As Mom emailed me during the game, "Doesn't look peaceful to me right now."
There was even a sweet wrap-around pass to Gasol at the baseline to set up a first half bucket, then another under the rim to feed Andrew Bynum in the fourth quarter.
For so many games over the last season and change, Matt Barnes relegated Metta to second-class citizenry, gluing him to the bench by virtue of outplaying him. For one night at least, MWP returned the favor.
3) Andrew Goudelock got another crack at a rotation spot, this time at point guard.
Having previously played his way into "DNP-CD Land" during a stint as Kobe's backup, the shaky play of fellow rookie Darius Morris offered Goudelock a chance at some minutes behind Derek Fisher. Interestingly enough, he operated as more of the scorer initially envisioned by Mike Brown than a true "lead guard." Not that anybody's complaining, of course, what with the second unit's scoring prowess typically drier than the Sahara.
Goudelock wasted little time getting on the board with an eight-foot floater, then quickly drilled a 3-pointer off a terrific skip pass from Josh McRoberts. He finished the first half with 10 points on 4-4 shooting, and unlike Morris before him, refrained from over-dribbling or turning the ball over. Any urge to jack up shots at will was also resisted. Goudelock finished the game with 14 points on 5-8 shooting, with only one or two launches arguably forced.
And beyond providing desperately needed bench scoring, Goudelock managed to impress in other ways. The kid sprinted from the top of the arc to the corner and successfully challenged Randy Foye's heretofore wide-open 3-pointer. He also kept his cool after getting hit hard around the neck on a flagrant-1 from Mo Williams, who lived up to his "Mo Gotti" nickname trying to prevent a fast break layup.
Make no mistake. Once Steve Blake returns to action, Goudelock will lose this particular gig. But if he can play this productively and under control, he'll keep a spot in the rotation until Blake's ready to go. And with Kobe's backup still an unsettled job, quality minutes could perhaps take him on a circular path to where he began the season.
4) The Lakers won a big game without Kobe donning a superhero cape.
Don't get me wrong. Kobe played well, as evidenced by a 24/7/6 line. He also provided some big moments in the fourth quarter, as we've grown accustomed to seeing. But he was by no means a one-man-band, and that's important for a team still searching for its foundation. Too many wins this season have reinforced fears of an inability to win without Kobe carrying his supporting cast. Tonight provided evidence to the contrary, and it couldn't have come any sooner.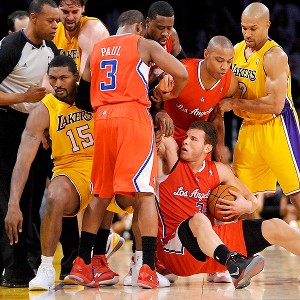 Jayne Kamin-Oncea/US Presswire
Mosh pit!!!
5) I don't know what constitutes a true "rivalry" these days.
For some, a rivalry can't be declared without a history of playoff battles, deep-seeded grudges and mutual success experienced by both franchises. I do, however, know what constitutes two teams that don't like each other. The Lakers and the Clippers qualify as such.
The first half expired without excessive chippiness, but during the third quarter, two of the prime candidates to get down and dirty played their role... literally. Chasing a loose ball along the sideline, MWP and Griffin got tangled up in way typically reserved for rugby, pro rasslin' and good old fashioned street fights. Players from both sides scrambled to intervene, with the predicable pushes and shoves following. As the officials discussed whether technicals were warranted, we got a classic call from Lakers P.A. announcer Lawrence Tanter, perfectly delivered with his cool-jazz voice.
"The officials will review the last (pause)... scenario."
From there, the game's energy went from "continuously high" to "absolute fever pitch," and never wavered. McRoberts later picked up two technicals in eight seconds jawing with Evans. Players chirped incessantly and put some extra mustard on their fouls. It didn't take a genius to recognize how much both teams wanted this win.
Again, it would be an epic playoff series.