The Milwaukee Bucks have tumbled a long way since the "Fear the Deer" playoff run of 2010. Last season, they ended below .500, and this campaign is paced to match, with Andrew Bogut's fractured left ankle doing hope no favors. However, that doesn't mean this game should be taken for granted as a win to open the Lakers' back-to-back road swing. For starters, no team 1-6 outside of its home turf can ever count on a win away from its soil. Plus, as inspired as the Lakers played against the Clippers, their nonexistent track record of consistency means they're essentially starting from scratch.
In other words, this may be a winnable game for the Lakers, but it's best to treat it as one requiring blood, sweat and tears for victory.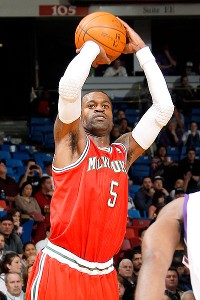 Rocky Widner/Getty Images
Stephen Jackson and his coach at odds? Who'da thunk it???
For some perspective on the Bucks, we tracked down Jeremy Schmidt, who runs the Bucksketball blog for the True Hoop Network. Below are his responses to four questions about the Bucks, plus a couple thoughts of my own.
Land O' Lakers: The "Jax" era in Milwaukee has appeared volatile and not nearly as productive as hoped. What have been the issues on and off the court, and do you see them smoothing out as the season progresses?
Jeremy Schmidt: Thus far, things haven't been great, but that has a lot to do with Andrew Bogut having missed a lot of games. There have been some spats, as Jackson has moved out of the starting lineup and occasionally hasn't played the minutes he's accustomed to. But that's just a learning curve he and Scott Skiles are going to have. The biggest issue with Jackson is that he isn't a great player and the biggest issue with the Bucks is that they are an average team. None of that will change, and Milwaukee will continue to be sad about the Bucks.
LO'L: After playing basketball seemingly nonstop during the extended lockout, Brandon Jennings' stats nearly across the board have improved. In what ways does he still need to improve?
JS: A few fewer medium-range, pull-up jumpers could do wonders for Jennings. This season he's made 19 of 52 shots from 16-23 feet, but none of those 19 have been assisted. It's all pull-ups from that range with Jennings. He's comfortable with that shot, but it's still more difficult than a catch-and-shoot jumper and a worse shot percentage wise than when he attacks or shoots the 3.
LO'L: With Bogut shelved by a broken ankle, how successful can a frontline of Drew Gooden, Ersan Ilyasova and Carlos Delfino fare against Andrew Bynum and Pau Gasol? How do you expect the Bucks to counter this size?
JS: Gooden is a pretty wild player, and that is a strength and a weakness. He could do well in drawing fouls against Bynum, but he could foul out having to deal with Bynum and Gasol inside. Ilyasova has been a great rebounder this season and his effort is largely to thank for that. But even the highest-effort guys struggle against talents like Bynum and Gasol. They could really do some work against the Bucks if Kobe is sharing with them.
LO'L: Ever since the "Fear The Deer" season, things have gone steadily downhill. Obviously injuries have played a role, but has there been anything else, whether coaching, ill-matched players, etc.?
JS: Talent, talent, talent. Milwaukee got hot and John Salmons was a 20-point-per-game scorer for the last few months of that "Fear the Deer" season. But he wasn't a 20-point-per-game talent, and the Bucks haven't filled that role on the wings. They tried with Salmons. They tried with Corey Maggette and now they are trying with Stephen Jackson. But none of them are any sort of elite talent. Combine the issue on the wing with the annual (and unfortunate and unlucky) Bogut injury, and the Bucks are left with a team trapped between good and bad.
A few additional points: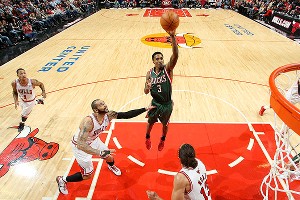 Gary Dineen/Getty Images
Brandon Jennings could do damage against the Lakers in the lane.
1. Jennings isn't Milwaukee's only point guard capable of hurting the Lakers. Beno Udrih is a quality lead guard for any bench and particularly adept running the pick-and-roll. That basketball staple can be tough for the Lakers to defend as a team, and in the meantime, Andrew Goudelock will probably be charged with marking Udrih individually. Goudelock's 14 points against the Clippers was a nice surprise, but nothing anybody should bank on. In addition to the question marks swirling around Goudelock's offense, his defense is also a work in progress. Udrih loves working P/R, which mean lots of screens, and Goudelock has a hard time fighting through them. The kid will be looking for a strong follow-up to his most recent effort, and Saturday offers a nice proving ground.
2. The Bucks are among the best teams in the league at forcing turnovers. At their worst, the Lakers can cough up the ball with the best of them. Do you see where I'm going with this?
3. The night could feature Jackson matched against Metta World Peace off the bench. They're friends, but I'm calling double technical right now.