Watching Kobe Bryant on a day in, day out basis, it's easy to become desensitized to how good he is, because he's been doing it so well for so long. Kobe drops 34? Been there, done that.
Days like today, though, tend to drive both points home.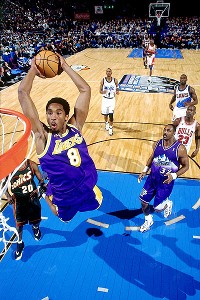 Andrew D. Bernstein/NBAE/Getty Images
Kobe Bryant tossed down this dunk in the 1998 All-Star Game, his first. This year will be his 14th straight appearance.
The NBA announced the results of this year's All-Star fan balloting, and once again Bryant racked up votes like a fourth grade candidate for class president running on a platform of less math, more recess, and cookies for all (over 1.55 million in total). It's Bryant's 14th consecutive All-Star appearance, tying Jerry West and Shaquille O'Neal for the all-time NBA mark, one Kobe will almost surely break next season. Put in perspective, at Bryant's inaugural go round (1998 at Madison Square Garden), he represented the franchise not just with Shaq, but Nick Van Exel and Eddie Jones. George Karl was his team's coach, representing the Seattle SuperSonics. Grant Hill repped the Pistons, and Glen Rice the Charlotte Hornets.
Now he'll be running with guys like Andrew Bynum, Kevin Durant, and Blake Griffin, all of whom probably weren't allowed to stay up very late after watching that game on TV, because they had school the next morning.
Elementary school.
It's a remarkable streak, and ironically explains in large part why the bigger news today at practice Thursday was Bynum's first bid, or why the news wasn't considered significant enough to have Kobe speak to the media before the Lakers left for Denver. Bryant making the NBA's midsummer classic is no different than the sun rising in the east or setting in the west. It's expected, if not assumed. The next time the game takes place without him? That'll be big news.
Few players in any sport can honestly boast that out of relentless repetition they've managed to make All-Star bids feel less important. Kobe can, and it's one of the best indicators of how transcendent a figure he's been over the course of his 16 year career.