So far so good for the Grammy roadie. The Denver Nuggets are arguably the best team the Lakers will face, but they pulled off an 93-89 win, despite some late-game scares. But a battle waits less than 24 hours later at Energy Solutions Arena, a venue that treats outsiders like Bob's Country Bunker treats bands that don't play country and/or western. Of course, the Lakers have already won in Utah this season, and a three-game series sweep is actually possible.
For further perspective on the Jazz, we called upon Spencer Ryan Hall, who runs Salt City Hoops for the True Hoop Network. Here are his thoughts on four questions about the Lakers' next opponent.
Land O' Lakers: How has Jamaal Tinsley looked this season, since he may be the starting PG against the Lakers?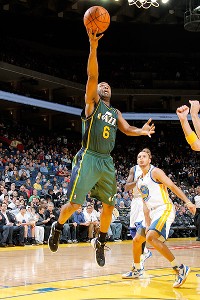 Rocky Widner/Getty Images
Injuries have provided Tinsley's comeback bid a potential boost.
Spencer Ryan Hall: After only playing 45 minutes all season, it was cool to see Tinsley's hard work pay off on Thursday with his first NBA start since 2009. He had a team season high of 13 assists to go along with 9 points, 6 boards and 2 steals. It's a rare luxury to have a solid third point guard and it looks like Tinsley's contributions will get his contract guaranteed later this month. He makes smart plays, and is the floor general the Jazz look for in a PG. He's not going to put up the points Harris can, but some might argue the Jazz need a pass first PG more than a shoot-first one. For a guy who started the season playing in El Segundo for the D-Fenders, it's nice to see that he can still play.
Also, no one rocks denim on denim better than Tinsley.
LO'L: Andrew Bynum and Pau Gasol vs. Al Jefferson and Paul Millsap. Who gets the best of the frontcourt matchup and why?
SRH: Pffffffffft. As well as Al and Paul have been playing this season (not only as individuals, but the two have make significant strides in playing to each other's strengths), they always have been, and probably always will be OWNED by Bynum and Gasol. I don't expect this to change.
Lakers length has been for years the bane of the Jazz's existence. I love JefferSap, but size matters, and the Jazz lose in that category. When Al is on he's a premier scorer and Millsap is always ready to battle, but both historically struggle against LA.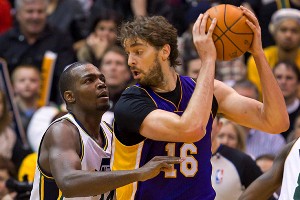 Stephen Dunn/Getty Images
Gasol could use a good game, and Millsap has usually cooperated.
Millsap has really been struggling the last three games and I'm not sure a night against Gasol is an ideal slump buster. Gasol has historically been able to get anything he wants offensively against the much smaller Millsap. The key to the game might be the play of Utah's young reserve bigs. It's going to take contributions from all four bigs to even the score.
LO'L: Is there an X-Factor player for the Jazz who can swing a game in one direction or the other depending on his performance?
SRH: Earl Freaking Watson is the obvious X-factor, but it's possible he won't be cleared to play on Saturday. Otherwise, he's been the most important player on the Jazz squad. His numbers aren't wild, but his contribution to the team can't be overstated.
I thought Gordon Hayward could be that guy for the Jazz this year, but Gordon is becoming too consistent to be called an X-Factor. If Hayward is Mr. Consistency, consider C.J. Miles the anti-Hayward. Although he's made some good strides this season, his shooting continues to be very erratic. Miles' game opens up when he can make a shot or two and completely changes the spacing on the floor when he does -- opening up a lot of drive-and-dish opportunities for other players like Millsap and Jefferson. Unfortunately, C.J. has not been shooting the ball well as of late, but when he does, the Jazz are very tough to beat.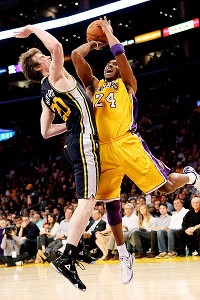 Stephen Dunn/Getty Images
Hayward will be counted on for contributions on both sides of the ball.
LO'L: Who guards Kobe with Raja Bell perhaps out, and how effective will said defender be?
SRH: The Jazz will throw some combination of Josh Howard/ Hayward/Miles at Kobe, who looked like he would have gone for 81 in the last meeting if Bell hadn't been draped all over him. It will be interesting to see how Hayward fares against the Black Mamba, who strangely seems to go out of his way to compliment Hayward after each time the teams meet.
Hayward is Utah's most athletic wing player, surprisingly, and has made great strides this season defensively. In the last three games, Hayward drew tough assignments against Wes Matthews, Chris Paul, and Monta Ellis. He shut down Matthews, was the only player who could slow down Paul after he torched the Jazz PGs, and caught Monta on a hot night.
Bryant seems to love playing in the hostile Salt Lake City environment, so Hayward has his work cut out for him. Every game brings another player trying to punk Hayward, but he keeps holding his own.