The Lakers are back from their six-game swing, finishing 3-3 after squeaking out a win over the Raptors on Sunday afternoon. Kobe Bryant was the catalyst in the final minute, hitting a 3-pointer and picking up a critical steal before nailing the game-winner on a sweet, arcing jumper along the right baseline.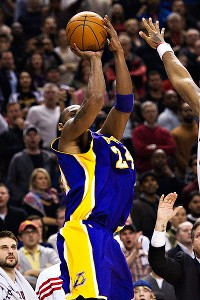 AP Photo/Nathan Denette
Kobe nailed this jumper to beat Toronto on Sunday, but overall struggled in fourth quarters on the trip.
Bryant's late-moment heroics rescued what had up to that point been a horrible fourth quarter. At one point, Kobe missed six straight shots, fueling a big run for the Raptors. Sunday he turned the tables, but for Kobe, at least in regards to the Grammy trip, excellence at the end was the exception, not the rule. The final 12 minutes did not treat him well.
Overall, in the six games Kobe made 54 of his 141 shots, a less-than-stellar 38.2 percent. Only once (11-for-24 in Boston) was he over 40 percent. The raw number, though, is a little misleading. In quarters one through three, Bryant's mark was a more presentable 42.5 percent. Dragging him down was his performance during the fourth: 14-of-47, or 29.8 percent. Not surprisingly, Bryant's struggles negatively influenced the Lakers in the final quarter. As a team, they shot 43.1 percent through the first three quarters, and 36.4 percent in the fourth and overtime, averaging just over a point less (21.5 points vs. 22.7).
The object here isn't to reignite the fairly tired debate of Kobe's clutch-osity or to get bogged down in the balance question, though clearly the Lakers need more of it. (In those six fourth quarters, Andrew Bynum and Pau Gasol hoisted 31 shots combined. Sixteen fewer than Bryant. It's not a healthy ratio, but like the team's fourth quarter struggles generally, it's also not a new issue.)
More concerning are issues of workload and weariness. Bryant still leads the NBA in usage rate by a mile, and trails only 23-year-old Kevin Love in minutes per game at 38.4. It's hard to quantify exactly how his full plate impacts Bryant's fourth quarters, but spry as Kobe has been this year from a health standpoint, he's still in his 16th season. The increased burden can't help. (Nor does what feels like a tendency to thin out the playbook late. I'm still looking for specific figures but the eye test -- keeping in mind eyes can lie -- says the Lakers run a lot more off-ball action for Bryant early in games, before settling on a more predictable series of pick-and-rolls or isolations in the final minutes. Kobe becomes easier to defend at a point in the game where he needs more support, not less. Setting him up to take harder shots isn't a great game plan.**)
Questions of fatigue and its impact don't end with Bryant.
It has been assumed by many, myself included, that time would be L.A.'s friend. With more time together, more time in Mike Brown's system, more time on the practice court, they would gain a better rhythm. Not to a championship level without improvements to the roster, but still superior to what we saw earlier in the year. Now I'm not sure. Over the final five games of the trip, Bryant wasn't the only guy with a slipping shot. Gasol and Bynum were both under 50 percent from the floor.
The sample size is small, and the context brings any number of caveats (tough opponents, road games, back to backs, etc.). Still, it's enough to make me wonder if instead of getting better, the Lakers as constructed are actually poised to get worse. With a roster thinner than the garlic Pauly slices with a razor blade in Goodfellas, L.A.'s Big Three is under an enormous amount of pressure to produce every night if the Lakers are to win. With 38 games left on the schedule, can Bryant, Gasol, and Bynum hold up? Unless the supporting cast begins consistently picking up whatever slack is there from game to game -- I'm not really betting on it -- any slippage from L.A.'s stars means the purple and gold drop more games more frequently.
Again, it's only six games, and the evidence is more circumstantial than concrete. While each struggled periodically with his shot, it's laughable to say Gasol (18.3 points, 14.2 rebounds, 3.3 assists, 1.3 blocks) and Bynum (16.0/13.5/1.5/2.7) were a liability.
Still, it's all enough for me to question my operating theory on how this season will play out, and develop a scarier alternate.
**Regarding the Q4 offense, Brown said Monday the team's still-evolving grasp of the system influences the aesthetics. Or lack thereof, more specifically. What comes easy in the first doesn't by the fourth. "Things are harder to do. The officials are doing their job by letting us play and letting the other team play, so it's a little more physical, so your cuts aren't as free because you're getting bumped off course, and your screens aren't as good because guys are running through them. Now you really have to execute," he said.
Lack of execution means a heavier dose of Bryant.
"He's our closer. It's no secret," Brown continued. "But we have other guys who we feel can make shots. Having said that, when you don't know what to do or someone gets knocked off track and you forget what the third or fourth option is, it's easy to say 'Hey Kobe, help us out.' So until we get to a point where we really have that figured out, which we're getting closer to, it's going to be like that for a little while."
True enough, but only to a point. As Brown noted, the late game jukebox is filled with Kobe tracks, and they seem to get played a lot. Add in periodically questionable shot selection on Kobe's part -- certainly in the Toronto game he had some serious tunnel vision -- plus the tendency of his teammates to defer, and seeing where problems arise isn't hard. Brown and Co. need all at once to develop more creative ways to get Bryant the ball in advantageous positions and dial up his teammates (Bynum and Gasol specifically) enough to keep defenses more honest.
Kobe-as-closer doesn't have to mean he takes 75 percent of the shots while he's on the floor. Better execution and game planning ought to make him more effective, not less.