Coming halfway through the fourth quarter Tuesday against Atlanta, the play itself was a display of fundamental basketball. A quick back-door cut from Kobe Bryant fed a perfectly timed bounce pass from Pau Gasol. As Gasol's man dropped off to help, Pau filled the vacated space about 8 feet from the bucket and Bryant almost instantly returned the rock. Gasol's baby J was true.
"We read each other well," Gasol said. "My man helped on the back door, he gave it back to me, and I was able to knock it down."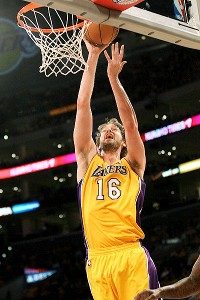 Stephen Dunn/Getty Images
Little has come this easy for Pau Gasol over the last year or so.
Good stuff for sure, but given the sheer volume of textbook two-man hoops delivered by the championship pairing since Gasol arrived in L.A., it was also unremarkable, save one thing: When it was over, the two headed back to the defensive end, and were smiling. Laughing, actually.
Since last year's All-Star break, we've seen a variety of emotions and expressions from Gasol. Fist pumps, bewildered looks at referees, primal screams, defeated hangdogging, and fatigue, just to name a few. But smiling?
No so much.
Lakers basketball has been a fairly joyless venture of late. Last year the team suffocated under the weight of three straight Finals runs, and compared to this season that on-floor product looked like something out of Showtime.
No player better personifies the atmospheric change around the Lakers more than Gasol. After a spectacular start to the 2010-11 season, Gasol ran into nagging injury issues as his minutes piled up. He earned an All-Star berth but lacked the metronome consistency to which fans had grown accustomed. Then came the postseason meltdown and a lockout-lengthened summer rife with questions about his ability to recover. When basketball finally returned, Gasol was traded to Houston, then returned by David Stern to Los Angeles, where he has remained high-end grist for the rumor mill.
"It's been a unique season," Gasol said earlier this week. As rumors continue surfacing, Gasol said it still feels like the Lakers are simply waiting for the right offer, at which point he'll be in another uniform.
On the floor his game has been solid -- 16.6 points, 10.6 rebounds, 3.0 assists, and 1.3 blocks, some strong metrics, and a great start to February until Friday's clunker of a game killed some momentum -- and is very low on the team's list of problems. Nonetheless, even acknowledging the difficult circumstances on and off the floor, those holding him to a standard appropriate for his talent level know Gasol hasn't played to his full capability.
Meanwhile, the Lakers occupy the uncomfortable space of championship limbo, too weak to win it all, too good for not winning to be valuable. Fans are frustrated, have blame to hand out, and are assigning theirs to Gasol in ever increasing numbers.
To some degree, Gasol and the ire of L.A.'s faithful is a natural fit. Some have only reluctantly accepted him as a legitimately elite level player. It took Pau two seasons and a pair of championships to undo the damage of the '08 Finals, and even then many chose window seats on the bandwagon, ready to jump off at the first sign of trouble. He has slid nicely into the role previously occupied by Lamar Odom: the player for whom the bar tends to move and it's often easier to focus on what he isn't rather than what he is.
In less happy times, what Gasol isn't -- most importantly a dominating spirit and physical presence -- doesn't always sit well, particularly when the reflection against which he's often judged belongs to Kobe Bryant. ESPN.com's J.A. Adande sums it up well. Because Gasol's so smooth and often plays down low, it seems like every shot Gasol takes should drop. Gasol's misses are loud, while his makes are quiet. Conversely, because he makes and takes so many difficult shots, Kobe's makes are loud and his misses quieter. They burn different images into the brain.
The same can be said of Pau's games as a whole. The good ones are often quietly executed monuments to fundamentals and finesse, not power and flash, too easily dismissed or undone completely in the minds of angry commenters or postgame radio callers.
Gasol is aware of how the perception of his game has changed, and acknowledges working through the criticism has been a process. "Sometimes it bothers you more than others because you might be a little more sensitive at times. But you try not to allow it to bother you," he said. "You're going to have people who like you, like your game, like your style, like what you do. You're going to have people that don't. For very different reasons."
I've never felt Gasol understood why the reservoir of faith and trust locally hasn't run deeper, or why with all the success he's had in Los Angeles there isn't more benefit tucked in with the doubt. I don't blame him, either, because it should be. But Gasol isn't without perspective. "Fair or not fair, a lot of things in life are not," he told me after Tuesday's game.
Walking out of Staples Center en route to his car, Pau gestured quietly with his eyes and head at our surroundings. "I'm not complaining that this might not be fair to me at times," he said. "This" being the life of privilege basketball affords him. "So I deal with it, and I try not to let it bother me because I feel like it's part of my position, too, and everything around me," he said.
Readers of this space know my belief in Gasol's skill level and basketball ethos, but it doesn't make him untouchable. I'd move Pau for, say, Deron Williams, in a heartbeat. No player should ever truly be off the table, but those Lakers fans clamoring for Mitch Kupchak to kick Gasol to the curb for whatever point guard he can find are lucky they're not running the team they love. I wonder if a point will come where all the talk about trading him turns self-fulfilling, making Gasol's departure inevitable. It certainly doesn't have to come soon, if at all. Odom spent years at the center of trade rumors. Andrew Bynum has been traded by everyone from reporters to Kobe. Certainly Gasol's play has him somewhere on that edge. Far too good simply to give away, but something less than what it could and should be.
What he is vs. what he isn't. Narratives can be written in either direction, and Gasol knows better than most the challenge inherent in changing the unfavorable ones.
Until something, or nothing, happens, Gasol continues efforts to keep his enjoyment of the game a high priority, not exactly an easy task. "There has been so much going on from talks, from rumors, situations that have changed. That makes it more challenging than usual, the amount of games that we've played now this season. That makes it a little more complicated. I want to have as much fun as possible doing well and doing my part," he said, "but it's been difficult at times."
Most times, I'd say, which is why that smile Tuesday stuck out. To me, and to him.
"It was good," Gasol said. "I enjoyed it."