Kobe Bryant does not like the Suns. So strong is his distaste and so deep his competitive nature, it wouldn't surprise me to learn Bryant resents the sun itself. The actual, rises in the east, sets in the west sun, like some sort of hoops vampire.
In Phoenix's first visit this season to Staples Center, Kobe dropped 48 points, shooting 18-of-31 from the floor. Another crack at the team he loves to hate could be the perfect elixir for his mini-shooting slump. In seven February games, Bryant is shooting only 37 percent and has seen statistical decline in just about every category.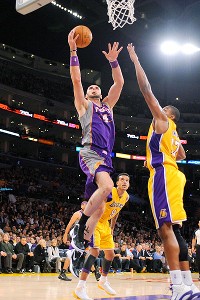 Noah Graham/Getty Images
If the Suns are going to win Friday night, they'll need a big game from the underrated Marcin Gortat.
Certainly the Suns are a ripe target, having lost three straight going into Staples for the first half of a weekend home-and-home. And with dates against Portland, Dallas and Oklahoma City on the docket this week, the Lakers would be wise not to let the Suns off the mat. To gain a little more insight into Friday's visitors, we hit up Ryan Weisert of TrueHoop's Valley of the Suns.
1. The last time these teams met, the Lakers won in a walk. What has changed for the Suns since that day?
Weisert: This is really a question of good news and bad news. The good news: Since that game against the Lakers, Steve Nash has taken on a larger scoring load and earned an All-Star spot. Marcin Gortat has recovered from his early-season thumb injury to become a legitimate low-post scorer and double-double machine. The bad news: The bench has not developed at all. None of the free-agent acquisitions have played well consistently, and coach Alvin Gentry has yet to find a reliable second unit. The Suns have lost 13 of their last 21 games primarily because they just aren't deep enough talent-wise to compete.
2. Gortat doesn't get a ton of publicity but has put up very solid numbers this season. Where does he rank among the league's crop of centers? How will he match up with Bynum in the middle?
Weisert: Gortat is definitely a top-10 center in the league and has the ability to be top 5. He is clearly behind Dwight Howard, but I think he is in the same class as Andrew Bynum, Al Jefferson, Greg Monroe and Marc Gasol. As the Suns leave their run-and-gun style behind and commit more to their half-court offense, Gortat's scoring numbers and usage rate will increase and get him more recognition around the league. The matchup with Bynum should be a battle. Andrew's size and shot-blocking definitely give him an edge, but Marcin's ability to score with either hand and mobility on pick-and-rolls will make Bynum work hard on the defensive end.
3. The Suns have always been billed as a great offensive team unable to play defense. This season, the D still isn't great (23rd in efficiency), but the O hasn't been much better (19th). What gives?
Weisert: Phoenix built its reputation as an offensive juggernaut because in seasons past it surrounded Nash with talented scorers like Amare Stoudemire and Jason Richardson. The offense has fallen off a cliff this season because there is simply no one who can create his own shot from the perimeter. Jared Dudley, Channing Frye and Grant Hill can put the ball through the hoop, but they are complementary pieces at best. They aren't creators or "go to" scorers.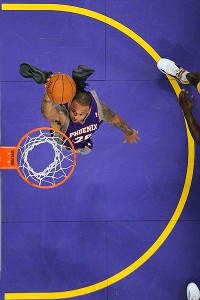 Andrew D. Bernstein/Getty Images
Dunks are about the only shots Shannon Brown has made this season in Phoenix.
4. What has gone wrong with former Lakers player Shannon Brown?
Weisert: He is pressing too much. Brown joined the Suns because he wanted to show the league what type of player he could be. Instead of finding a role within the team dynamic though, he forces shots and plays a step too fast for himself and his teammates. Because he is constantly trying to prove himself, Shannon often does more harm than good. This is not completely his fault, though. Gentry has not done the best job of helping the reserves to establish their own roles this season.
5. What has to happen for the Suns to beat L.A.?
Weisert: First, the Suns must come out hard and get a lead early. If that means Nash has to play the entire first quarter, so be it. Nothing in the history of the Suns-Lakers rivalry suggests that Phoenix can win a game that is close in the fourth quarter, especially given Bryant's predilection for thrashing the Suns. Secondly, Hill has to play cagey defense on Kobe. He must make Bryant shoot poorly, but not poorly enough to stop shooting altogether. If Kobe decides to feed Pau Gasol and Bynum instead of looking for his own shot, the Suns are finished. They cannot guard both big men effectively. Lastly, the Suns' second unit must out play the Lakers'. Neither group of reserves is stellar, so the game might come down to which bench has a better night.