The Lakers tried to get back into it after a horrible effort in the first 24 minutes, but thanks to an awful first half found themselves in too deep of a hole. As a result, they split their home-and-home with Phoenix, losing 102-90 Sunday in the desert.
If they had built any momentum as a road team on the Grammy trip -- if -- Sunday night's result puts the brakes on it. Now the Lakers face a tough game Monday at home against Portland, then finish the first half of the season with back-to-backs in Dallas and Oklahoma City.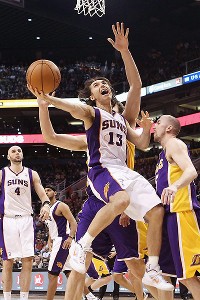 Christian Peterson/Getty Images
Steve Nash had his way with the Lakers Sunday night.
This wasn't a game they could afford to give away. Here are four takeaways ...
1. Pick-and-roll defense is a team type thing, and the team failed miserably.
Keep in mind, Steve Nash is very, very, very good. Scary good. That said, he was just as good Friday when the Lakers stomped the Suns. Tonight, L.A. suffered in about every facet of team D, particularly in the early going. High on the floor, the Lakers didn't do a good enough job of moving Nash off his path, forcing him higher up the floor. As a result, he was able to turn the corner pretty easily. Meanwhile, rotations from the help defenders, if they came at all, were generally late. It's destructive on a few levels. First, there are the massive amounts of points allowed. Always an issue. But beyond that, bad help D on the pick and roll behind the bigs makes them nervous, and a little less willing to extend aggressively the way Mike Brown wants.
Things improved a little in the second half, but by then the damage had been done.
2. Point guard. Small forward. Lather, rinse, repeat.
Kobe Bryant delivered 32 points, on 11-of-24 from the floor (albeit with 10 turnovers, see below). Andrew Bynum finished with 16, along with 10 rebounds and 4 blocks. Pau Gasol distributed well early, rebounded throughout, and got it going offensively in the second half. Final line: 17/12/6. Once again, L.A.'s three best players put up solid, if imperfect, numbers. Meanwhile, their small forwards and point guards combined for nine points. Metta World Peace made one shot in four attempts over 19 minutes. Matt Barnes cooled off, kicking in with only five points on 2-of-8 shooting. Derek Fisher? No points, one shot, one assist. Steve Blake didn't take a shot until the fourth quarter, and didn't score until there was about a minute left to play.
That's nearly nonexistent production from two starters and arguably their two best backups. When people ask why the Lakers can't win a title this year, here is your answer. It's not that Kobe shoots too much or Pau isn't tough or Bynum inconsistent. It's that too often the Lakers play three on five, and don't have much coming off the bench (23 points, some coming in garbage minutes).
3. Turnovers, turnovers, turnovers.
A quality video editor could make Kobe's Sunday look pretty good. There were a few nice jumpers, and an aggressive second half in which he earned 12 trips to the line. He made some solid reads as well, leading to five assists. But man alive, he gave the ball away like it was radioactive. There were travels, errant passes and at least three occasions when he was caught in the air without an outlet. He finished with 10 turnovers, not exactly the ideal way to get a double-double, a serious counterbalance to all the positive stuff and a key factor in the loss. Around Bryant, other Lakers had their own moments of generosity. As a team, L.A. had 18 turnovers, including 11 in the first half. They didn't simply lead to Phoenix points (though they did), but also torched any chance of controlling the pace of play.
Even when they didn't convert, the Suns took every Lakers miscue and pushed it back the other way. The Lakers got caught up and never established a healthy rhythm on either end. When they did get into their offense, there were good moments, but too many trips stalled. Bad shots off an unbalanced floor also helped the Suns, who went into the break with 16 fast-break points.
The Lakers may be a good team defensively, but asking them to overcome a totally incompetent offense isn't fair.
4. Want an example of a game in which Lamar Odom is missed?
Here you go. With both bigs on the floor, the Lakers struggled in transition, against the pick and roll (particularly early) and closing against Phoenix's litany of perimeter threats. Troy Murphy hit a couple of second-half 3s but wasn't the answer, either. Brown, whose rotations Sunday night were wonky thanks to a mashup of the team's play, foul trouble, impatience and poor judgment, tried running Jason Kapono in the fourth, as well as bringing back Metta. But really, what they could have used was a mobile near-7-footer who used to thrive in this sort of situation.
As I've said, it's not that the Lakers traded Lamar, it's that they didn't replace him. Against teams who can effectively go small, the Lakers are going to have problems, because it could force one of their three reliable players off the floor. Just as it was against Milwaukee, which provided a template for defending the Lakers by utilizing a lot of ball pressure, games like this expose other weaknesses and matchup vulnerabilities.