The big news off Sunday's loss to Phoenix was Kobe Bryant putting the front office on a clock to provide Pau Gasol an indication of his future. Is the power forward staying or going, and if it's the latter, get the ball rolling ASAP. Bryant's concerns were expressed with a blend of pragmatism and empathy:
"You can't have one of our pillars not knowing if he's going to be here or not. Do something. One way or another, do something. ... He's been the consummate professional. He's going out, he's trying to do what he can, but let's be real. If you didn't know you were going to be here tomorrow, if your head's on the chopping block, you feel like you're just waiting. It's tough to put all of yourself into the game."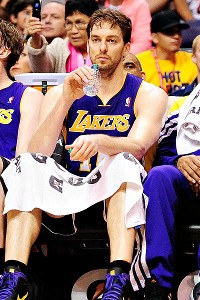 Jennifer Stewart/US Presswire
Idle time to sit and think on the bench isn't a great thing for Pau.
Some, like Brian, would debate the purposefulness of Bryant speaking out, even if from a well-intentioned place. But there's another matter I've seen heavily debated in blog comments, our weekly chats or on the radio: Is Pau in fact being the "consummate professional" described by Kobe? The swirling rumors have, by Gasol's own admission, worn him down. And while I don't think uncertainty is the sole reason he hasn't played up to his standards, it's evolved into a reason, which leads fans to question whether "a professional" would be rattled in the first place.
The answer is yes, and it's naive to think otherwise.
We often ask athletes to alternate between treating the NBA as a business and playing with passion, depending on what suits our needs at the moment. In truth, that's a difficult mix, especially if the player in question happens to relish being part of his team. If Lakers fans want a dude who bleeds purple and gold, remember, that blood runs through his heart, a factory of emotion. Professionalism is and should be expected but at the same time, Pau's as human as the rest of us, whether we like it or not.
Imagine arriving to work each day with concerns about potentially getting transferred to an unknown destination. Not only are there rampant rumors around the office about a relocation, but you actually got transferred before the paperwork unexpectedly hit a snag and forced you to stay put. Since then, however, no reassurances of stability have been offered by your employer. Moreover, there are questions about the direction in which your company is moving, which makes your potential exit seem all the more believable.
Complicating matters even further? You happen to love the place you work.
Those claiming an ability to power through this without a hitch are, in my humble opinion, almost certainly liars. Nobody is 100 percent dialed into their job under the best of circumstances, much less trying ones. For me, professionalism boils down first and foremost to hard work, regardless of happiness. During fits of waning effectiveness, Pau doesn't appear to be dogging it out of dissatisfaction or indifference. He does, however, appear visibly distracted and periodically unfocused. Obviously, there's an onus on Pau to conquer this adversity. Along these particular lines, he's failing, and that's on him.
But I still understand the struggle, even if I don't entirely excuse it.
However, even if you want to blast Pau, it's important to remember this problem isn't just about him. In fact, he's actually a microcosm of a much larger problem. From top to bottom, the Lakers carry the vibe of a group expecting to be disassembled. And honestly, why shouldn't they?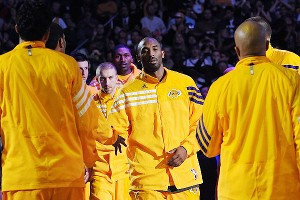 Lisa Blumenfeld/Getty Images
Kobe will be here after March 15. Everyone else? Who knows?
The preseason began with a dramatic attempt at a roster makeover, making perfectly clear the front office's opinion that these Lakers aren't good enough as constructed to win a title. Mitch Kupchak admitted soon after the team still wants to make moves, and everybody beyond Kobe is fair game. Each game since has been a reminder of how laborious a chore putting the ball in the basket remains. Of how this team desperately needs more playmakers along the perimeter. Of the lack of consistent scoring options beyond its Big Three. Of Mike Brown's lingering dissatisfaction with the options at his fingertips, which leads to excessive tinkering and, to be blunt, some bizarre decisions. (Dusting off Josh McRoberts while down 13 in the first quarter against Phoenix? Really? Really?)
None of this provides the slightest reason for players to feel good about the prospects of the team remaining intact. That being the case, attempts to buy into success as a group perhaps feel pointless, regardless of whether each individual player thinks he's staying or leaving. Like Kobe said, Pau is a pillar of these Lakers. If he were traded, by definition, this team changes dramatically, which means all effort expended to grow comfortable alongside Gasol in Brown's system goes out the door with him. Same thing if Andrew Bynum were moved. Even if just a B-level move were made, whether through the trade exception for someone like Ramon Sessions, adding Gilbert Arenas or swapping current role players for new ones, the rotation would change again for the umpteenth time this season, and perhaps even the schemes would change. Thus, another start from scratch, hardly the stuff of inspiration.
Physically, I don't sense players going through the motions. Guys largely work hard and hustle. But mentally, I do wonder at times how large the commitment is, given how uncommitted the brass seems toward them.
Ultimately, there is a decision to be made about Gasol, along with everyone else on this team. I realize it's not as easy as Mitch snapping his fingers and "making a trade." Players like McRoberts, Troy Murphy and Jason Kapono can't even be traded until March 1. And if the Lakers remain interested in Dwight Howard, hanging onto various options until the 11th hour of the trade deadline may be required. In other words, there's an inherent and perhaps unavoidable wait involved.
Unfortunately, that probably means inherent and perhaps unavoidable problems in L.A. until that wait ends.