Last week, in the wake of that day's rumor-du-jour (to Minnesota for Derrick Williams and stuff) Pau Gasol told me he'd like some sort of resolution to the ongoing swap gossip swirling around him. Following L.A.'s loss to the Suns on Sunday in Phoenix, Kobe Bryant laid into management, saying essentially the same thing. Trade him or don't, but make a decision quickly. Don't let Gasol, or the team, twist in the wind.
I suspect Kobe's comments won't do much beyond making Gasol's mental state an even bigger focus between now and the deadline.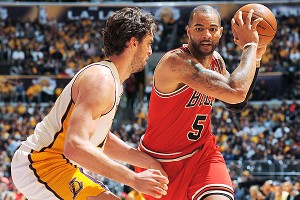 Andrew D. Bernstein/NBAE/Getty Images
Would you want to see these guys switch jerseys?
Pau is a tough guy to trade. On the one hand, even in a "down" year, Gasol is averaging 16.8 points, 10.7 rebounds, 3.1 assists and 1.3 blocks a game. Last night, he put up 17/12/6, and after people were concerned about circumstances sending his game downhill. He's very, very good, and has a skill set most teams covet. Far too good to give away for a box of saltines and 15 basketballs.
On the other hand, he's 31, carries a pricey contract and still has a little image rehab to do following the end of last season.
Still, if everyone wants a resolution and the Lakers, as Gasol believes, are simply waiting for the right offer, what could the deals look like? Below are a collection of Trade Machine-approved swaps, many reflecting some of the very rumors causing all this controversy in the first place.
(A couple of notes: First, for simplicity's sake, I stuck to two-team deals with at least some degree of viability. Second, I tried to keep each deal boiled down to the key figures. Again, a nod to simplicity, and the clarity of a deal's essential components. Experiment with them as you please to appease the gods of equity. Finally, inclusion of a scenario is not necessarily an endorsement.)
TRADE 1: Lakers trade Gasol to Houston for Luis Scola, Kevin Martin and Goran Dragic.
It's the deal everyone made before, right, cutting those pesky league-owned killjoy Hornets out of the loop? No, not really. That swap worked well for L.A. because they got back Chris Paul in the process. Houston's package nets them a lesser replacement at power forward whose numbers this year are down, an explosive scorer in Martin who plays the same position as Kobe and a score-first prospect at the point who represents an improvement over what the Lakers have, because almost anyone does.
Maybe the Lakers can flip the components for something else, but unless you think the Lakers win by adding more depth -- I'm a believer that, generally speaking, in the NBA the team getting the best player wins the deal -- I don't think this improves them.
Adding Kyle Lowry changes the equation, but Houston isn't doing that.
TRADE 2: Gasol to Chicago for Carlos Boozer and C.J. Watson
It would be interesting, because as worked up as the fan base can get over Gasol's perceived inadequacies few players have been more roundly mocked locally than Boozer, going back to his Utah days. Just about every criticism has been thrown his way, fairly or not. Offensively, the fit isn't bad. Boozer is skilled, and unlike Gasol doesn't pine for high-quality touches on the block, so he'd open things up for Andrew Bynum down low. On the other hand, except for rebounding, Boozer is an awful defender, and his short arms (for a 6-foot-9 guy) and earthbound game mean he alters very little inside (0.5 blocks per game). The Lakers would suffer defensively in the exchange. Plus, Boozer gets hurt all the time. Only three of his past seven seasons could be reasonably considered healthy, and he's owed a lot of money going forward.
The key would be Watson. Is he a starting-caliber PG who simply hasn't had the opportunity, or just a solid backup? I tend to believe the latter. For this trade to work, the Bulls would have to add sweetener. A package centered around Luol Deng might have appeal for the Lakers, but the metrics don't work as well for Chicago.
TRADE 3: Gasol to Boston for Rajon Rondo and Ray Allen
A near elite, young PG plus one of the game's great shooters and off-ball movers who can still play at 73 years of age? This is a tempting one. Thanks to an inability to shoot effectively from the perimeter, Rondo isn't perfect, and the way he throws his body around creates concerns for his long-term health, but man alive, he's dynamic with the ball. Allen has shown no real drop-off over the past few years, so not only would he be useful this season, he could probably be handy for a year or two more if the Lakers want to re-sign him.
Just Rondo and filler makes it a tougher call, but if Danny Ainge called with this offer, I'd take it for sure. But will he, unless the wheels totally come off in Boston?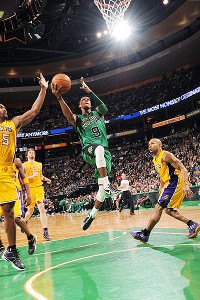 Andrew D. Bernstein/NBAE/Getty Images
If Boston made Rajon Rondo available for Gasol, he becomes a tempting piece.
TRADE 4: Gasol to Atlanta for Josh Smith and Marvin Williams.
Smith will drive you nuts with his shot selection, but is a young uberathlete providing the Lakers a finisher at the rim and a force in the open court they haven't had in a long time. Defensively, he's mobile on the pick-and-roll and blocks shots with aplomb from the weak side. He can move the ball, as well, and gets on the glass. Smith would change the dynamic, no question. As for Williams, the stigma of having inexplicably been drafted ahead of CP3 distracts from the fact he's a perfectly decent player, and would represent a real upgrade for the Lakers at small forward.
Sounds great!
Of course, these are all reasons Atlanta probably says no without the Lakers throwing in more. Unless they believe the polish, structure and experience of Gasol is enough to get them over the hump -- really, why would they believe that? -- this doesn't work. Maybe they just want to see the guy in uniform after drafting him back in '01?
TRADE 5: Gasol to Toronto for Jose Calderon and Leandro Barbosa
Classic example of reaching for positional need. Yes, Calderon is light years better than what the Lakers have, but as an overall package this falls short of Gasol's value without bringing enough in return to make it worth it. Barbosa only appeals as a bench piece in comparison to what's there. In reality, he's not that good. Totally one-dimensional, and while he can score, Barbosa's decision-making is awful and he was put on this earth to make opposing guards look good offensively.
Should a trade like this go down, Lakers fans should greet it with fear, because the biggest benefits for L.A., no question, are financial. The Lakers save a lot of money, but don't get better unless they flip Barbosa's expiring deal for another piece.
TRADE 6: Gasol to Minnesota for Derrick Williams, Flotsam, Jetsam.
Maybe that's a little strong, but unless the Lakers get Ricky Rubio or Kevin Love back in the exchange, and they're not, this is a bad deal. All it provides is a chip (Williams) they might be able to use to get Dwight Howard, but without knowing that's the necessary piece, it's a huge risk. Luke Ridnour would help at the point, but isn't great. Nikola Pecovic has shown promise at center and would have value, but can't play power forward and neither can Bynum.
TRADE 7: Gasol and Darius Morris to Milwaukee for Stephen Jackson, Beno Udrih and Brandon Jennings
Andy came up with this one, which hasn't been a front-burner rumor (as far as I know). Basically, are you willing to put up with a year-plus of Jackson's volatility plus add Udrih's contract to a now very crowded backcourt for the shot to pick up the team's PG of the future?
Jennings is good. Is he that good? Because this isn't a deal improving their title hopes this year.