When last we saw these teams, on MLK Day, an "NBA Finals Game 7" atmosphere was anticipated. After all, it was the first meeting between the teams since the eventual champion Mavericks turned the Lakers' three-peat run into a car crash. What we got instead was an "NBA Finals Game 7" score (i.e., low). Both squads struggled mightily from the floor, and Derek Fisher's trey with three seconds remaining spared the teams the potential embarrassment of overtime without reaching 80.
To prepare for the rematch, Jeff Caplan, who covers the Mavericks for ESPN Dallas, and I had a conversation breaking down both teams. Below is the transcript.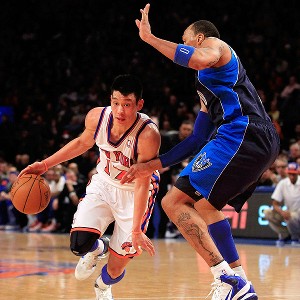 Chris Trotman/Getty Images
Shawn Marion has been a big part of the Mavs' defensive makeup.
Andy Kamenetzky: After a slow start, the Mavericks have turned a corner. What's changed since the early struggles?
Jeff Caplan: Defense. Believe it or not this a defense-first outfit. They've really absorbed Rick Carlisle's "system" and no matter who is out with injuries and who is playing, the offense might dip, but the defense has been consistently good. The Mavs are first in opponent field goal percentage, fourth in scoring defense and, before Sunday's loss at New York, top six in defending points in the paint.
AK: And all without Tyson Chandler. Was the fret over his absence overwrought?
JC: I don't think we'll really know until the playoffs. Brendan Haywood has played well and Carlisle is really using three centers with Ian Mahinmi and Brandan Wright. Mahinmi has gone south lately while Wright has shown promise. However, Chandler brought so much emotion and fire, both on the court and in the locker room, and that's a quality this team just didn't have in years past. So, yes, Chandler's absence has been overblown because the Mavs have surprisingly gotten good performances from their centers and the defense overall has been very good. But in the heat of the playoffs, the Mavs might miss Chandler's overall package.
AK: Is safe to assume Dirk is back?
JC: He certainly is getting there. He had a terrific stretch of six games or so, then his shooting tailed off again ... and now he's shooting lights out.
Kobe called out management after yet another road loss at Phoenix on Sunday. What is the chemistry like on this team? You get the sense that Kobe is unhappy.
AK: If Kobe's not truly "unhappy," he's definitely "unhappy-adjacent." As for chemistry, I think guys get along, but on the court and mentally, there's much to be desired. They're struggling to score, which turns basketball into a grind-it-out chore and often a joyless drag. It also doesn't help that, in my opinion, the entire team is waiting for a trade to happen. There's a collective vibe of expected disbandment, which doesn't help in terms of jelling. I get the feeling guys are having a hard time buying into the idea of growing as a group.
JC: Along the lines of chemistry, when Lamar Odom was dealt to Dallas for virtually nothing, Kobe was vocal in his dislike of the deal. Well, some Mavs fans might like to give him back. Odom, for the most part, has been awful. Is there surprise around the organization at how poorly Odom has played and fit in with the Mavs?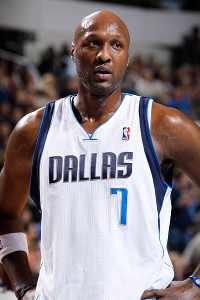 Glenn James/NBAE/Getty Images
Even flailing, LO could still help the Lakers.
AK: Probably, although I imagine he'd be a little better in L.A. Even taking into account Lamar's conditioning issues, comfort zones can go a long way. But honestly, that doesn't even matter. LO playing at his Dallas-level would still help. The Lakers need ANYBODY who can create his own shot or break down a defense. Odom at 60 percent would be an upgrade.
On the flip side, who's this old dude with the bald head and beard, and what's he done with Vince Carter?
JC: I do have a question going back to your comment about how the Lakers' players seem to be waiting for a trade. Dwight Howard is the obvious name. Bynum for Howard (and other assorted parts) seems to me to be the only logical trade. Can you assess Bynum's season so far?
AK: Bynum has been pretty good, all in all. This is the first season he's ever been so heavily featured on offense, and the increased workload sometimes results in fatigue. He doesn't consistently finish around the rim, and still struggles with double teams at times, whether passing out or attacking. But he's still a productive scorer, and as a rebounder and shot blocker, often kills it. Drew's not Dwight, but probably the next-best thing.
JC: Well, that leads to my key matchup: Bynum against the Mavs' three bigs. Dallas has been good at limiting points in the paint. I think Shawn Marion will do a good job on Kobe, but a big game from Bynum would spell doom for the Mavs. However, I think at home, and the final game before the All-Star break, the Mavs continue the Lakers' road woes.
AK: For me, it's Pau Gasol vs. Dirk. That's always a fun, critical matchup, and in the last meeting, El Spaniard's fourth-quarter defense against the Big German was nothing short of inspired. But I agree with your assessment of the overall winner. The Lakers can't even get the benefit of the doubt on the road against Phoenix, much less Dallas.