A decisive win for the Lakers, even if the gap could and should have been larger when the final horn sounded. It was also the Bizarro-result of what usually happens to the Lakers in Rip City. Safe to say, if these teams ever meet in the playoffs, whoever gets home court advantage is sitting in the proverbial cat bird seat. Here are five takeaways from the game.
1) You can't have a better first quarter than the Lakers this evening.
I realize how "Captain Obvious" this statement appears in regards to a frame closed out 29-7. But this goes beyond just the eye-popping numbers. For starters, the Blazers have never been held to such a low-scoring quarter in their entire franchise history dating back to 1970. Only two visitors (LaMarcus Aldridge, Ray Felton) got on the board during this 3-for-17 debacle. The Laker D was opportunistic, forcing four steals, blocking a shot, and remaining generally disruptive. The Blazers began the game ice cold and out of rhythm, which certainly helped the Lakers' cause. But a serious effort is required to keep a talented team on tilt, and the Lakers were willing and able to expend it.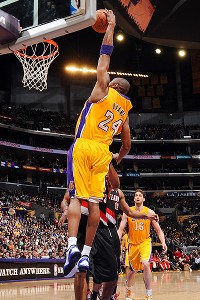 Andrew D. Bernstein/NBAE/Getty Images
Kobe, like his teammates, destroyed Portland inside.
In the meantime, a 29-point quarter is always a reason for smile (along with concerns about it being a hallucination). But what really made the outburst exciting was the way those points were accumulated. Portland's lane was stormed like the fate of western civilization depended on its destruction. 20 of those 29 points came in the paint, and it honestly felt like more. Players posted and re-posted for deep position, whether to set up shots at the rim or kick out for a wide open jumper. Off-ball movement was typically directed towards the hoop, and the man with the ball continually located cutters. Seven offensive rebounds were collected due to this dominance down low, which ultimately created a dozen second chance points.
On my favorite of the extra-chance sequences, Andrew Bynum gobbled up a miss from Derek Fisher, then whipped the ball to Kobe along the three-point line. Bryant briefly sized up the possibilities of a trey, then whipped a sidearm pass inside to Pau Gasol stationed just inside restricted area. The ensuing layup couldn't have been any easier. (Pau later returned the favor by setting up Kobe on a dive to the hoop with an over-the-shoulder, no-look feed.)
The ball was in perpetual motion, swung from side to side, inside-out, and back into the paint. The non-stop action also resulted in just a pair of turnovers, proving this team can in fact remain under control while flinging the rock.
When 

the frame ended, I saw the following tweet from our friend Darius Soriano at Forum Blue and Gold: Offensive efficiency for both teams after the 1st quarter: Lakers 145.0(!!!!!), Blazers 35.0(!!!!!!!!!!!!!!!!!!!!!!!!!!!!!!!!!)
I had to shave a few exclamation marks so the retweet would stay under 140 characters, but I don't blame Darius for the enthusiasm. Man alive, that was good stuff!
2) Steve Blake provided a major spark.
You know the night agreed with a player when a quintet of 3-pointers wasn't even the biggest indicator of just how well things went. For me, the deadest giveaway came in the second quarter when Blake attacked the lane, then put up a rainbow teardrop off glass, drawing nothing but the net's bottom. A layup in and itself from the reserve point guard happens with the regularity of Haley's Comet. But a dispy-doodle layup to boot? Fuhgetaboutit. And truth be told, one 3-pointer was in fact pretty special. Blake began the sequence by dribbling inside the line to launch a mid-range J, only to get swatted by Nic Batum. As luck would have it, the ball landed right in Blake's hands. With the clock running down, he drifted back behind the arc, then drilled a triple from the right wing.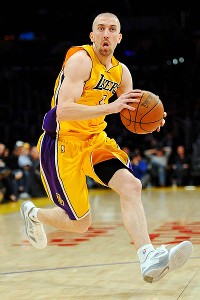 Jayne Kamin-Oncea/US Presswire
Steve Blake was a scorin' machine!
On nights like these, it becomes easy to forget just how deficient the Lakers have been all season at the point guard position. If Blake can deliver even a reasonable facsimile of these 17-point performances on a regular basis, that cupboard won't feel nearly as bare.
3) In the second half, the Lakers grew a little, shall we say, lax.
Then again, the smart money is never on this team to bleed what's been working until there's literally no plasma left. The defense slacked, allowing Portland 36 points courtesy of 60 percent shooting. Eight of those points were created by five purple and gold turnovers, and largely avoidable ones at that. A casual nature was adopted with the rock, the polar opposite of the surgical tactics on display in the first half. Precision and purpose gave way to impatience and laziness. The proceedings devolved into playground ball, and the Lakers just aren't built for And-1.
That first half urgency simply wasn't there as Portland slowly chipped away at a lead stretched to 22 at intermission. Had Kobe not converted a few Portland turnovers into points off steals, the deficit would have closed even further.
Did I ever really worry about the Blazers pulling the upset? No, but that's also not the point. This was a lost opportunity for Kobe, Pau, Drew to get extended rest, an important luxury after their third game in four days, with a brutal Mavericks-Thunder back-to-back roadie looming on the horizon. Plus, to be perfectly honest, this team hasn't played well enough to justify a shift into second gear, even with a monster lead and an opponent clearly not clicking.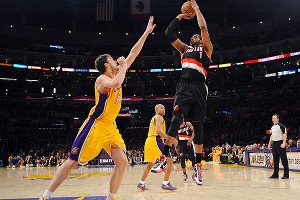 Noah Graham/NBAE/Getty Images
Pau contributed on both sides of the ball.
4) Only seven FGA for Andrew Bynum?
I'd like to chalk this up to the goofy second half play, but he only had four shots in the first half. Perhaps four makes in as many tries wasn't impressive enough to his teammates. Seriously, folks. How about giving the big man a little love. Especially when he pulls down 19 rebounds. Is that really too much to ask?
5) One day after his mental state was further thrust into the spotlight, Gasol reacted nicely.
His shot still remains curiously uncooperative, but 16 points were still managed, and even while missing, he remained decisive and aggressive. And in the meantime, Aldridge, who deservedly edged Pau for an All-Star bid, notched just 18 points on 19 attempts. More than a handful of his 13 misses came with Gasol checking Portland's primary scorer, so credit Pau for maintaining focus with the world watching.