Despite Monday's one-sided win over the Blazers, ESPN The Magazine's Chris Broussard reports a players only meeting was called afterward by Kobe Bryant and Derek Fisher. More often than not, such pow-wows reflects signs of trouble, and last night's was no exception. However, I didn't react to the news with anxiety. Instead, this meeting strikes me as both necessary and a positive step, especially because the meeting addressed a very pressing concern:
The need for a unified front.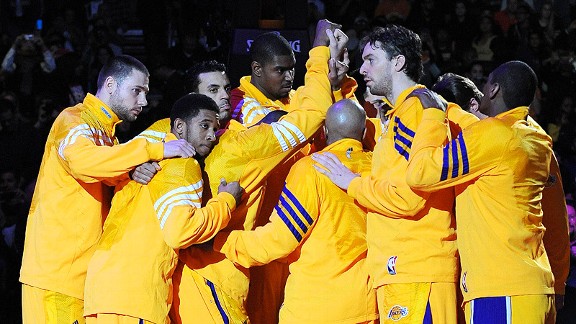 Noah Graham/NBAE/Getty Images
By hook or crook, the Lakers players have to find ways to stay on the same page.
As I recently mentioned while sharing thoughts on Pau Gasol's situation, his instability in L.A. is just the tip of the iceberg when it comes to purple and gold uncertainty. Ever since training camp broke, signals of this team remaining intact as the front office's first choice have been few and far between.
There was an attempt to blow up a championship core for Chris Paul, and no bones were since made about the desire to make changes big and/or small if possible. The roster flaws have only grown more glaring, and if there's a way to fix them from within, Mike Brown hasn't discovered it. (I'd argue he's hindered the process somewhat by refusing to settle on a consistent rotation, but the biggest shortcoming is the inability to bleed a rock.) Upgrades are required, whether you believe in the championship prospects for this season or believe the time is nigh for securing the future. Either approach means Gasol, along with Andrew Bynum, will hear their name in rumors, and likely are being shopped. If they're potentially on the move, so is everybody else on the roster who could be packaged to make a deal work.
Even roster tweaks achieved through the Lamar Odom trade exception mean a brand new rotation, potentially new sets to match new players and, at least on some level, a reset button pressed on whatever progress made so far. And where that new direction takes them, who knows?
That's hardly the stuff unified fronts are made of, and I've noted several times how this team exhibits the vibe of a group expecting disbandment. However, for the storm to be weathered, solidarity is mandatory. If a bunker mentality isn't the natural byproduct of their surroundings, then it must be created inorganically through a conscious, verbalized effort. Maybe the catalyst for unity can actually come from the obstacles themselves.
Clearly, there's little communication or clarification coming from the front office, a standard set, then maintained, when Brown was hired. (If the organization is content to keep Kobe out of the loop, it's a safe assumption every player is fair game for remaining uninformed.) I also don't think it's a stretch to suspect there's not as much automatic faith in a front office where Jim Buss' presence is increasingly prominent. And if appearances and words are taken at face value, Brown isn't one to intervene on behalf of his players to the front office (assuming he's even part of their inner-circle to begin with).
Speaking of which, players may like Brown on a personal level and even respect elements of him professionally, the transition from Phil Jackson to a new staff hasn't been peaches and cream. The rotation and minutes fluctuate wildly and often without any discernible logic. Practices, even in a truncated season low on available rest, are scheduled frequently and typically run long. But even if the dissatisfaction raised by players (Metta World Peace, Matt Barnes, Bynum, among others) on either count didn't result in a distaste for Brown, legitimate trust may still not be established. Several players have spent time under the most successful coach in NBA history, and boast more championship experience than the man now charged with leading them.
Thus, in the end, the players are perhaps left with nobody to count on beyond each other. There's no choice but to form an army 14-strong. There's no choice but to trust each other. Whatever they lack in talent and skill sets can be made up for in loyalty. Few things in life feel better than the knowledge of somebody having your back. That's why it was important Kobe spoke up in support of Pau, even if the front office response predictably offered no resolution. I doubt Kobe truly expected one. His words were as much about addressing the elephant in the room, which is this franchise's lack discernible direction at the moment or semblance of a support system. The players aren't happy about this, but they can't allow themselves to be steamrolled by their situation. The mindset becomes, "If you don't believe in us, have at it. We'll believe in ourselves and see where that takes us."
It was hopefully a strong step towards regaining whatever power can possibly be theirs.