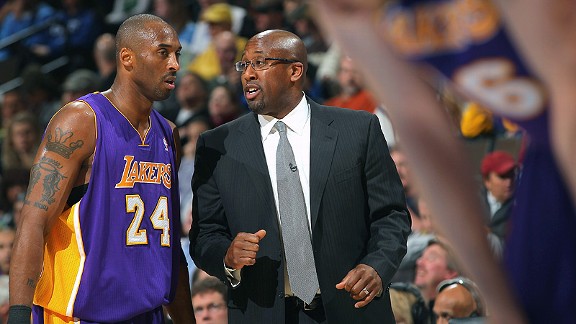 Doug Pensinger/Getty Images
Nothing has come easily for Mike Brown, Kobe Bryant, and the Lakers.
Thursday's loss in Oklahoma City means the Lakers enter the All-Star break at 20-14 (congratulations to anyone winning the office pool), 1.5 games back of the Clippers in the Pacific, and good enough for the fifth seed in the Western Conference. And a hectic 34 games it has been. There has been growth in some areas -- defensively, the Lakers have regained much of the form making them so effective during their title seasons -- and regression in others (see 'offense'), and by now the shortcomings in the team's roster are apparent.
That's big picture group stuff. Individually, how has everyone performed? For that, send everyone back to school. It's report card time.
COACH
Mike Brown
There are totally legitimate questions about how well he's matched his offensive system to his personnel, how he's managed his rotations, and whether he's struck the right balance with a group led by veterans with championship experience used to a culture affording greater freedom and flexibility, just to name a few.
I'm not sold, and neither are most fans.
But criticisms of Brown are mitigated by the almost absurd difficulty of the task he inherited. Replacing the most successful coach in the history of modern American team sports in hiring process alienating his star player and coming amid sweeping change poorly handled by management, suffering through a lockout allowing no contact with his new players, starting camp with a trade for a superstar point guard only to have it quickly revoked, watching last season's Sixth Man of the Year traded away without anything coming in return, working through a comically short training camp and preseason during which his roster was totally in flux, then absorbing what was the NBA's most difficult early season schedule, affording him almost no time on the practice court to implement his system and improve the team's rhythm.
That, and a roster poorly constructed for his style sporting holes large enough to fit an SUV. It's not fair to expect Brown to overcome all that in 34 games.
Watching how Brown evolves -- or doesn't -- over the final 32 will be interesting, noting adjustments he makes with better understanding of his personnel, and if he can get the Lakers playing at their best heading into the playoffs. It still likely won't mean a championship, but would go a long way towards establishing him as the right guy for the gig long term.
Maybe I'm grading the circumstances more than the man, but for a guy so firmly put behind the 8-ball, he's doing pretty well.
GRADE: B
STARTERS
February hasn't treated him well, and Bryant goes into the break on a low note following tough outings in Dallas and Oklahoma City. The eternal arguments about shot selection and ball dominance remain (otherwise they wouldn't be eternal). But big picture, who can complain about the quality of Bryant's play this season? 28.5 points, along with a hair under five boards and six assists per night, a PER over 23.5 and a shooting percentage (43.9) not substantively below his career average (45.4), despite this month's slump.
He's playing very, very well.
Bryant's minutes are too high, as is his usage, but these reflect the roster's inadequacies and in a lot of ways make Bryant's overall output more impressive. This is before factoring in he's doing things 2 guards with his age and mileage aren't supposed to do on anything except a video game.
I'm more concerned about burnout now than I was earlier in the year (and I was pretty concerned then). Like the other two members of LAL's Big Three, Kobe needs more help. It's a shame he's being asked to do as much as he is, but the way he's been able to do it is impressive.
GRADE: A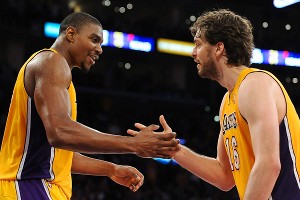 Noah Graham/Getty Images
Andrew Bynum and Pau Gasol have held up their end of the bargain for the Lakers thus far.
16.3 points per game on 55.4 percent shooting, plus 12.8 rebounds and two blocks, enough to earn his first All-Star nod, certainly well deserved. Not since the '07-'08 season, when Bynum was on his way to a breakout campaign before injury cut it short (facilitating the arrival of Pau Gasol, for what it's worth) has he played such a prominent role in the team's offense. He's responded well, even while learning to cope with the extra attention. More importantly, on those nights where he hasn't produced offensively, Bynum hasn't stopped rebounding or playing defense, something his coaches have emphasized for years.
Only seven times in 29 games has Bynum yanked down fewer than 10 rebounds, and after averaging a perfectly healthy 12.1 boards a night in January he's bumped his output to nearly 14 this month. Bynum still gets frustrated by a lack of opportunities (not always without cause), periodically impacting his willingness to pass out of the double team, but overall he's been rock solid.
GRADE: A
It's been a busy few weeks for Gasol. He was traded, then he wasn't, and has since been the center of so many rumor-has-it's Adele nearly wrote a song about him. On the floor, thanks the emergence of Bynum, the departure of Lamar Odom, and the pushing him away from the basket and into more touches at the high post and beyond. Initially, his shot totals were way down, as were the quality of the looks he got, and he certainly appeared frustrated at how he was being used. And while overall Gasol's efficiency has suffered and he hasn't consistently shown what I think is his best form, at no point has Pau actually been anything near the top of this team's Big List of Problems.
The overall numbers (16.8 points, 10.7 rebounds, 3.2 assists, 1.2 blocks) are strong, and he's been outstanding in February (17.9/13.1/3.6/1.3) despite the current narrative of a guy struggling to overcome the distraction of trade talks. While Gasol has become an easy target for frustrated Lakers fans, the bottom line is he's producing.
GRADE: B+, and trending up.
He arrived out of shape (or, more specifically, in a shape, just not the right one), and has only recently returned to something approximating acceptable form, physically. Not coincidentally, the last few weeks have brought more positive moments, particularly on the defensive end. He's had good games against Paul Pierce, Joe Johnson, and Vince Carter, to name a few.
If those moments in which his impact defensively becomes tangible continue, World Peace's value improves.
If they don't, or just pop up periodically, then the Lakers are in trouble because he continues to be a liability at the other end. Pushing his 3-point percentage above 20 percent (to 21.2) has required a February "rally," and overall from the field he's a moribund 33 percent. These are just two of the areas that even when measured on a per minute basis, he's posting career lows (save turnover rate, where he's pushing career highs).
Overall, we've reached a point where the good moments from World Peace tend to glow radioactive among the lesser games. That's never a good sign.
GRADE: D+
There are games -- the pair against Dallas, for example -- when Old Fish, the guy who sticks open jumpers and clutch shots down the stretch, draws a key charge or comes up with a big steal. More frequently, though, Fish just looks old. Even keeping in mind expectations for a 37 year old point guard ought to be tempered, Fisher still hasn't met them. Working in a new system more freeing to PG's Fisher's assist rate is up, but so are the turnovers (his current TO% is his highest since '98-'99). Because he's ineffective in pick and roll sets (the exact opposite of what Brown needs in his 1's) and is a terrible finisher at the rim, Fisher's main avenue for offensive contributions are as a perimeter shooter, where almost all his shots come. But thanks to his 28 percent conversion rate from 3, Synergy shows him producing only .78 points per attempt, a below average figure.
Defensively, statistically speaking at least Fish isn't the disaster people make him out to be, but still isn't a net positive. Given that he's the less productive half of the NBA's 27th ranked PG tandem, like MWP Fisher needs to be a beast on that side to balance the scales. He isn't.
GRADE: D
BENCH
The most common complaint about Brown centers around the lack of consistency in his rotations. No need to explain that to Barnes, who started the year as the third small forward seeing almost no time, then became a starter, then once again a member of the bench. Nonetheless, he's put together a solid year, scarily consistent with career norms (save 3-point shooting, where he's at a much-too-low 25.5 percent) and particularly with Steve Blake back in the lineup is again moving effectively without the ball, crashing the glass, and getting out on the break.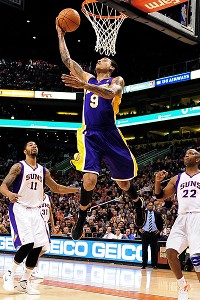 Jennifer Stewart/US Presswire
Matt Barnes has been exactly what he's supposed to be, which is exactly what the Lakers need.
The flaws are still the flaws -- from the shooting to the tendency to play out of control from time to time -- but overall Barnes is giving the Lakers exactly what they ought expect.
On this team, with this bench, that's a high compliment.
GRADE: B
His PER is still very low (9.22), the scoring still spotty (save a 17 point effort against Portland, Blake hasn't scored more than eight in any game this month), and outside shooting not where it needs to be (toss out his five triples in six tries against the Blazers, and he's 5-of-24 in February). Still, while the numbers aren't uniformly great, the Lakers need Blake in the lineup. Badly. When he missed 13 games with a rib injury, the Lakers went 6-7. With him available, they're 14-7.
There were signs at the start of the season Blake was getting more aggressive, putting up eight or nine shots in eight of his first 12 games. Since returning from the injury, only once. That has to change. While his availability makes a massive difference for the Lakers (particularly given the alternatives), Blake needs to be more productive more consistently for the team to succeed.
GRADE: C/C-
There are things Murphy can't do. Defend with a great deal of success, for example. He's not a point-forward type, either. But he can rebound, and he can hit 3-pointers, and he's doing both in L.A.. While his rebounding rate per minute isn't what it was during his best seasons, Murphy still gets after the glass and more importantly, is stretching the floor. 43 percent overall, including 17-of-34 since January 29. Not surprisingly, Murphy's playing time has gone up with his accuracy.
Not a perfect player, but for $1.3 million, he's money well spent.
GRADE: B
That the Lakers have so badly needed it is a discussion for another day, but Goudelock's play has to win the award for Best Unexpected Contribution. Particularly because in a normal year where the Lakers get a real preseason and a chance to adequately address their guard situation over the summer, Goudelock might not have made the team. Not quite Jeremy Lin, but it's a good story nonetheless. He's undersized and an ordinary NBA athlete, but has a good stroke from 3, a great floater in the lane, and the confidence to use both. It's not ideal, but nobody else on the bench has the ability to put the ball on the floor with the express purpose of creating a shot for himself, or failing that, a teammate.
Playing time has been thinner since Blake returned, but Goudelock has provided a real boost.
GRADE: B+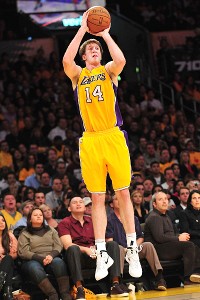 Gary A. Vasquez/US Presswire
Troy Murphy has started to can triples with consistency.
Kapono arrived as a potentially cheap source of badly needed 3-point shooting, but given his current percentage from downtown (30.8), put politely the plan hasn't worked. Consistent playing time for the former Bruin has been hard to come by, making it difficult to find a rhythm, and without teammates able to penetrate and kick to him, the Lakers don't have the right mix of players to effectively use him, anyway.
I've watched the guy bury triple after triple in pregame warmups or after practice. It seems like he can still do it, under the right circumstances. Or maybe not. Without changes in the roster's composition, we may never know.
GRADE: D/Inc.
Things sure got off to a promising start, didn't they? McRoberts averaged over 20 minutes through the first six games, adding energy, activity, a little weakside shot blocking, and so on. Then a sprained big toe cost him most of seven games, sucked a little wind from McRoberts' sail. After Brown decided he needed a floor stretcher and better scorer (Murphy) on the floor with the second unit, the went totally limp. Since seeing 16 minutes of burn against the Bucks on January 28th, McRoberts has played 10 minutes exactly zero times since.
I'm a fan of what he brings, but right now finding time for him to bring it isn't easy.
GRADE: C
Only twice this season has Walton played more than six minutes. In one of those games (26 minutes against Phoenix on Jan. 10) he was solid, adding six points, eight rebounds, and three assists. But like I said, he's played more than six minutes twice. Can't say he's played poorly or well. He hasn't played.
GRADE: Inc.
After a bang up camp and preseason, he won the starting gig. In four games, Ebanks averaged five points, three rebounds, and a dime in 20 minutes of burn. Then Barnes took his gig, effectively eliminating any avenue for playing time. Now, he's in the D-League, which at the very least keeps him from stagnating.
It's still easy to believe in Ebanks' long term potential, but for the time being, as long as MWP is in the rotation (and he is), the second year forward won't be.
GRADE: C/Inc.
Perhaps nothing in the NBA is tougher than stepping in as a rookie and manning the point on a veteran team with high expectations. When Blake went down, Morris had to play. Big picture, it's easy to see why the Lakers like him. Morris has lead guard instincts, moves smoothly, and particularly in the open court shows good vision.
Still, in terms of running an NBA offense, Morris was for the most part understandably overmatched, struggling with reads and delivering turnovers as frequently as assists.
GRADE: C/Inc.