Style points do not matter on the road, particularly when the road team enters the game with a 5-11 record in someone else's building. So while the Los Angeles Lakers made things a lot -- and I mean a lot -- closer than they needed to be, not just in the final minute but throughout the game, they still emerged with a massive win Wednesday night in Dallas.
With a first-half capping game in Oklahoma City Thursday night, the Lakers needed a victory to help erase Sunday's completely unnecessary loss in Phoenix. Behind Pau Gasol, Andrew Bynum and Derek Fisher (yes, that Derek Fisher), they got it.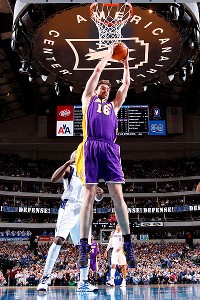 Danny Bollinger/NBAE/Getty Images
Pau Gasol had a happy return to Dallas, the team's first visit since last spring's playoff debacle.
Here are six takeaways...
1. Pau Gasol again did damage to the narrative that he has been struggling of late.
I'm not saying Gasol has been outstanding all season, because I don't think that's the case. I have high expectations for the guy, and he hasn't been as consistent or efficient as he's capable. But the way people have talked about him over the past week, you'd think he was Eddy Curry. Wednesday night, he exorcised some playoff demons from last spring, coming out red hot. In one way, shape or form, Gasol accounted for each of L.A.'s first 12 points, hitting four shots and delivering a couple buckets for Bynum.
On the block, he twice used the left hand for buckets on sweet moves, first losing Dirk Nowitzki, then Brendan Haywood. He finished the first half with 16 points. Opportunities were a little tougher to come by in the second half and he was part of L.A.'s parade of missed free throws late, but in the fourth Gasol still came up with a big tip off a Kobe Bryant miss and converted a tough lob from Bryant with a little more than a minute to play.
He finished the night with 24 points on 11-of-18 shooting, plus nine rebounds four assists and three steals. It was a reminder that, while he's certainly got a few things on his mind, the on-court product has been solid, particularly this month.
2. Kobe Bryant struggled.
The legs weren't there, nor was the lift or the handle. And with it, Bryant also seemed a little tired mentally. The shot selection was off, the D spotty, as was the decision-making. Add in a healthy dose of Shawn Marion on the defensive end for Dallas, and it's not hard to see why he finished the third quarter with only nine points on 3-of-11 from the floor, and his three assists undercut by five turnovers. Anger at his work through the first three added a little life in the fourth -- Kobe made two very nice passes in the final minutes -- but the final line was still ugly: 4-of-15 from the floor, only 5-of-9 from the line, plus seven turnovers against four assists. It's the sort of game, particularly early, I had in mind when writing this.
For the month, Bryant's field goal percentage is hovering around 40 percent, and only twice has he been above 50.
Particularly in the third quarter, Bryant tried to work his way through an otherwise slow night by forcing things one-on-one. Not a good idea, and the coaching staff didn't respond quickly to change the action for him offensively. Some of the good offensive habits built up with the Lakers and Bryant earlier this season have been lacking of late. It could be the other teams adjusting, or good work by defenders such as Shawn Marion, or fatigue, or any combination thereof.
To his credit, as he'll often do, Kobe found ways to make a positive impact late, but overall it was ugly. Even superstars have bad nights.
POSTGAME UPDATE: From ESPN Stats and Information- [Bryant] was just 4-for-15 from the floor, including 3-for-11 from 15+ feet. In two games against the Mavericks this season, Bryant is shooting just 22 percent (6-27) from that distance; against all other opponents he's shooting 38.3 percent.
3. Derek Fisher was big.
It takes him an extra 15 minutes to get out of the bed every morning because of all the dirt people have tossed on him overnight. Honestly, most of it is deserved. Fisher has, for the most part, been really bad this year. On Wednesday night, however, Fish was nails: 15 points on 6-of-8 from the floor, including two huge fourth-quarter buckets, one a 3-pointer from the top of the arc, the other a floater off penetration. Yes, it was that kind of night for D-Fish.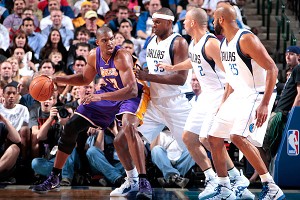 Danny Bollinger/NBAE/Getty Images
No matter how Rick Carlisle lined 'em up, the Mavs had trouble stopping Andrew Bynum..
Generally speaking, in the fourth quarter Mike Brown has gone with whatever point guard has played best throughout the game. On Wednesday night, Steve Blake didn't hit a shot, though he did have five assists. Fisher got the call, and delivered.
POSTGAME UPDATE: This tidbit from Stats and Info is certainly an interesting one. Not exactly sure what it means, but it's interesting nonetheless... "Fisher has often been the Lakers' point guard of choice in clutch time this season (last five minutes, score within five), and has made an impact for the team while he's on the floor. With Fisher on the floor in clutch time this season, the Lakers have averaged 1.10 points per possession, compared to 0.96 with Blake."
4. As was Andrew Bynum.
Because he seemed woefully underutilized in the Lakers' offense Wednesday, it was easy to miss how dominant a stat line Bynum posted against the Mavs: 19 points on 6-of-10 from the floor, plus seven free throws in eight tries (continuing the nice upward trend in his FT percentage), 14 rebounds, three assists, a block and only one turnover. He had to generate a lot of his own opportunities by crashing the offensive glass, but Bynum made himself a force. He also did good work passing out of double teams in the post.
POSTGAME UPDATE: Bynum's five offensive boards led the team, and overall the Lakers grabbed 37 percent of their misses, the third highest total of the season. (Via ESPN Stats and Info)
5. The Lakers did a lot right, but what they did wrong was very, very wrong.
And it almost cost them the game. Start with 13 missed free throws, including six in the final minute. They turned the ball over 17 times, including the seven from Kobe, leading to 23 Dallas points. They were killed with second-chance points, as the Mavs hauled down 21 offensive rebounds and made the Lakers pay. This is how they almost lost a game in which they held the opponent to 40 percent from the floor, shot 46 percent themselves (including 40 percent from downtown), and earned 15 more trips to the stripe than the home team (31 versus 16).
6. Metta World Peace made an impact.
Put on Vince Carter after he lit up the Lakers for 18 points in the first 24 minutes, Metta helped hold him to two points in the second half.