It's the biggest game of the regular season for the Lakers to date, and by a long shot. Yes, they've gotten revenge twice in two tries against the Dallas Mavericks, which heals the wounds still being licked. But as far as measuring sticks go, the defending champs haven't sold many fans or pundits on their repeat odds. And yes, they've faced the the consensus Eastern Conference favorites Chicago Bulls and Miami Heat, both times coming up short. A potentially bad omen of their prospects in the Finals? Perhaps, but visualizing the Lakers there feels pretty "cart ahead of the horse" right now, anyway.
A win against the Thunder in their house, however, would generate some faith amongst the nonbelievers.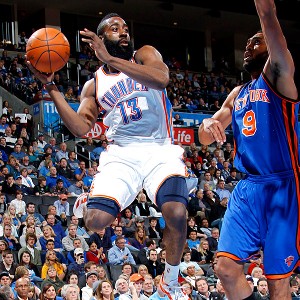 Layne Murdoch/NBAE/Getty Images
Harden brings way more to the table than just an epic beard.
The Thunder have rapidly matured since facing the Lakers in the first round of the 2010 playoffs, and they look every bit the part of a consensus favorite to win the Western Conference. The Lakers are working to establish their credentials as a team able to win on the road, much less win a title. Having said that, the Lakers are 9-4 against the Thunder (playoffs included) over the last two seasons, so in their own right, the upstarts have something prove against the veterans.
Still, it's hard not to think of Thursday's game as bigger for the visitors than the hosts.
For more perspective on OKC, we called upon Royce Young, who runs Daily Thunder for the True Hoop network. Below are his responses to five questions about Kevin Durant and the gang.
1. How much does James Harden's presence affect the Thunder?
Royce Young: It's really hard to explain to people how important Harden is to the team. He's not just a great sixth man. He's like the mediator between Kevin Durant and Russell Westbrook. What he provides is just so necessary to the flow of the team. It's like he's a pressure-release valve so that Durant and Westbrook don't have to do everything. He scores, passes and operates a terrific two-man game with Nick Collison. He plays well with Durant and Westbrook and plays really well running the Thunder's second unit by himself. It's hard to say he's more valuable than Durant or Westbrook, but it's closer than you think.
2. Serge Ibaka has always been a great weakside defender, but with a matchup against Pau Gasol awaiting, how has his man defense progressed?
RY: He's a bit more disciplined than he used to be. In the past he would often get caught ball-watching, trying to wait for someone to penetrate the lane so he could swat it. The best way to beat him was to drive, have him commit to blocking you and then drop an easy one to your big man. Ibaka still struggles in defending the pick-and-roll, but he's certainly better as a one-on-one defender. He still has a long way to go, though, and a guy like Gasol is a great measuring stick to see just how far.
3. Speaking of defense, with Thabo Sefolosha out, who guards Kobe Bryant and how does this person fare?
Daequan Cook is starting in Thabo's place and has been doing a better job defensively than you might imagine. On Wednesday against Boston, he did a terrific job chasing Ray Allen around. But Harden gets the bulk of the minutes there and has always relished guarding Kobe. Some of the best defense Harden has played has come against Kobe. You certainly don't shut Kobe down, but you definitely hope to make him work for what he gets, and I think Harden can do a serviceable job with that.
4. How have the Thunder compensated for Eric Maynor's (ACL injury) absence? I've always felt he was an underrated part of their success.
DT: Not well, to be honest. Rookie Reggie Jackson has taken over that role and, as you might imagine, has been wildly inconsistent. He'll play well for three minutes and then turn it over on back-to-back possessions. If there's a concern with the roster, it's at that backup point guard position. What was once a big position of strength is now a question mark. Tells you how good Maynor was.
5. Over the last few years, the Lakers have largely kept the Thunder in check, despite OKC's steady improvement. Will their first meeting of this season mark the changing of that tide?
DT: Possibly, although I think OKC's win in Staples late last season kind of started that. The difference about the Thunder now is that they're the top dog. They're in that dominant position of people chasing them. They're the team that people want to beat to make a statement. It's a little bit new to these guys. So for the Thunder, I think it would say something if they could handle the Lakers at home. OKC is 14-1 in its building and just whipped Boston on Wednesday. I think it certainly would signal something if the Thunder were to beat L.A. the very next night.