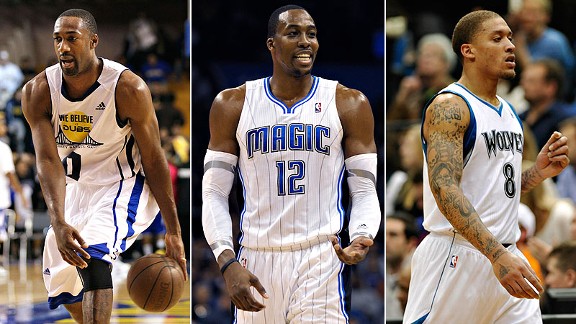 AP Photos
Could any of these folks be wearing purple and gold soon?
Ever since the Lakers were swept out of the 2011 playoffs and Phil Jackson waved goodbye, questions have swirled like a tornado on a Red Bull high. Does a Bryant-Gasol-Bynum-Odom core still qualify as a championship foundation? What about Bryant-Gasol-Bynum? Can Mike Brown pick up where the most successful coach in NBA history left off? Similarly, can an increasingly prominent Jim Buss maintain the standard of excellence established by his old man?
What direction is the Lakers franchise heading?
After 34 games, every riddle hasn't been solved, and it's probably fair to say the hints dropped haven't eased Laker Nation's nerves. The remaining 32 will be analyzed equally as basketball and tea leaves to get a bead on this campaign -- and beyond. Here are eight things potentially shaping whatever answers are discovered.
1. Who's on the roster come March 16?
Without question, the biggest question as the second half commences. Ever since the preseason, a dark, persistent cloud has loomed in the form of roster holes. It's essentially Swiss cheese beyond the Big Three, making tweaks seem mandatory if the Lakers truly are in it to win it this season. (They are in it to win it this season, right?) Unless you happen to be an All-Star guard who commutes by helicopter, consider yourself expendable in the face of change.
Of course, what could define "change" remains a Hitchcockian mystery.
Are we talking Gilbert Arenas plucked off the street? A B-level point guard and/or small forward acquired through the Lamar Odom trade exception? (The ears of Michael Beasley and Ramon Sessions are burning.) And it's important to note that on March 1, new faces Jason Kapono, Josh McRoberts and Troy Murphy are eligible for relocation. Like all their fellow role players, none are likely to blow up Mitch Kupchak's phone, but the literal ability to move them expands options. Especially if the front office pursues a blockbuster involving Pau Gasol and/or Andrew Bynum, which may require smaller pieces to balance numbers.
From there, implementing new faces becomes the goal. There's no telling how everyone will click, much less whether they can jell fast enough to make a Finals run.
2. The Big Three's energy level
Of course, there's always a chance the trade deadline will pass with a whimper, leaving the Lakers to travel as far as Kobe, Pau and Drew can carry them. Or, more specifically, as far as those three backs and six legs can endure before buckling.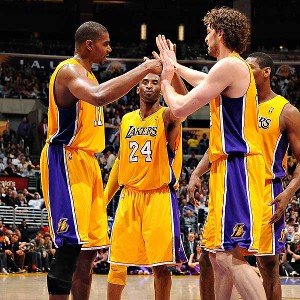 Noah Graham/Getty Images
Anyone wanna, you know, help us?
As Brian noted earlier this week, the Big Three are piling up minutes like Dagwood Bumstead stacks meat in a sandwich. That's never ideal, but this season it could be extremely problematic. Injuries of varying severity during recent seasons are done no favors by the compressed season's frenetic pace. But even if bodies remain in one piece, they still may quit. All three have exhibited signs of fatigue. Bynum will intermittently struggle with point-blank bunnies. Gasol's shooting percentage dips farthest on the second end of back-to-backs. And Kobe's shot has fallen off a cliff since a scorching start. A 45.5 percent January clip has become 39.6 in February. Plus, his turnover average is up 4.1 from 3.6. And that's all before he suffered a fractured nose in Sunday's All-Star Game. Bryant's been asked to do everything short of drive the team bus, and you won't convince me these numbers aren't the byproduct.
This squad is exceptionally dependent on its star trio, and a commendable job has taken place shouldering this burden. But even Mambas have limits, and it's easy to picture Kobe, Pau and Drew burned out come playoff time, if not sooner. Unfortunately, without players 4-12 stepping up with more regularity or Brown biting the occasional bullet with a mind toward a bigger picture, the weary may continue to receive no rest.
3. How the Lakers handle a very tough schedule
Of the 32 games remaining, 18 feature opponents at .500 or better. From there, eight of the 14 remaining games come on the road, where the Lakers are a losing squad. Hope everyone recharged the batteries over the weekend, because what lies ahead is hairy.
4. March 14, Lakers at Hornets, hosted by team "owner" David Stern.
Awk-ward!
5. A spirited April in the AK household.
In a quirky bit of scheduling, the Lakers and Spurs meet for the first time this season on April 11. By April 20, they'll have played three times. Pretty random, and in my household, this makes for 10 days of rivalry. My wife, a Texas native, is a big Spurs fan, while I root Lakers, so smack talk is imminent. However, it's all good-natured fun.* Truth be told, I actually like the Spurs and she like the Lakers, similar to how Kobe has always expressed warm feelings for Pop, Timmy and the gang, despite a decade plus of playoff battles.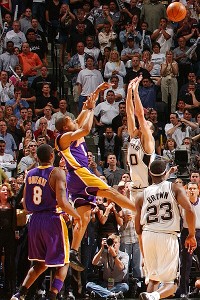 Andrew D. Bernstein/NBAE/Getty Images
Derek Fisher's presence reminds everyone of Lakers-Spurs AND the need for a point guard upgrade.
These games also provide a compelling idea of how the umpteenth Lakers-Spurs series could shake out. By then, these teams will have likely rounded into playoff form, whether positive or negative. The repeat meetings will likely build tension, especially so close to the playoffs. We'll even get a preview of Brown's ability to make game-to-game adjustments.
Bottom line: When these two teams meet, it's rarely dull.
(*The exception being the '09 Brent Barry/Derek Fisher non-call, which I do not bring up for fear of receiving the mother of all death stares.)
6. Derek Fisher keeping his starting gig.
That gust of wind you just felt was the collective sigh of exasperated Lakers fans worldwide. Sorry to be a one-man buzz kill, but I don't anticipate change at the 1 anytime soon. And the reasons, while not necessarily appealing, actually make sense.
Steve Blake may be outplaying Fisher, but the gap hardly resembles the Grand Canyon. Point guard is a Lakers deficiency, in part, because of Blake, not in spite of him. Plus, Blake being among the starters robs the second unit of its best playmaker. Fisher doesn't run an offense nor break down a defense nearly as well as Blake, and we've witnessed the disorganization with Andrew Goudelock setting the table. Fisher as a sub only weakens an already-suspect bench, while Blake will largely be relegated to spot up duties while starting, and we saw how that movie ended last season.
Unless the Lakers hit a tailspin incontrovertibly tied to Fisher's lack of production, I imagine status quo will be maintained. Fisher starts ... Blake will get the majority of minutes ... and everyone crosses their fingers tight enough to snap them.
And speaking of folks past their prime ...
7. I'll be turning 40.
I don't mention this to transparently troll for gifts -- although if a present feels like the least you can do after so many years of tirelessly providing brilliant analysis, I'll certainly accept one -- but rather to note how this milestone prompts introspection. Stock is taken. Hard looks in the mirror occur for more than hopeful reassurances of being able to pass for 35. I find myself regarding certain life goals with more urgency. I ain't getting any younger, and the window for many opportunities will only shrink.
I imagine similar thoughts are running through the minds of most Lakers. Save Bynum, the core players are all 30-plus, closer to the end than the beginning. Their title chances, whether first or sixth, are by definition limited, and perhaps no better than this very moment. The iron may not be white hot, but you never know how cold next season's could be.
I've wondered since the offseason how various Lakers might react to this notion, particularly if they see the opportunity slipping away. Recently, indications have surfaced. An "us against the world" mentality has been adopted in a "players only" meeting. Whether nonbelievers in the media, a noncommunicative front office or dissatisfaction with Brown's rotations, tune everything out and focus instead on becoming the greatest 14-strong army possible.
It will be fascinating to see how far that mindset is taken, and how the dynamic with Brown will be affected, if at all. Assuming, of course, that unity can be maintained in the face of inevitable adversity.
Stayed tuned ...