Among the Generally Accepted Truths produced by the first 34 games of the 2011-12 Lakers season are these two:
1) The Lakers can't score.
2) The Lakers are vastly improved defensively.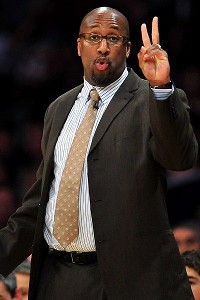 Gary A. Vasquez/US Presswire
Mike Brown has preached defense, but how much have the Lakers actually improved this year?
The first is hard to argue. Efficiency-wise, the Lakers are down over seven points per 100 possessions, from 107.9 to 100.6. True shooting percentage (54.5 vs. 52.2), effective field goal percentage (50.2 vs. 48.1), old fashioned field goal percentage (46.3 vs. 44.9), 3-point percentage (35.2 vs. 30.4), free throw percentage (77.9 vs. 74.2), points (101.5 vs. 93.1), and aesthetics (occasionally beautiful and generally decent enough vs. poke your eyes out with a fork) have fallen as well.
About the only thing going up are turnovers (13.1 vs. 15.1).
Since offense is down across the NBA (league average in team scoring has dropped by 4.6 points heading into Tuesday's games) some loss in punch is to be expected. But the Lakers have generally fallen, in some cases a great deal, relative to the competition, too. The stats confirm what the eyes tell us, when not obscured by tears or forced shut by the brain: Points are hard to come by.
What about the other end? It certainly feels like the defense has improved and the Lakers have had some fairly heroic efforts on their own end of the floor -- how many teams can say they scored 73 points in a win? -- but what do the numbers say?
The Lakers are allowing far fewer points this season over last, 91.4 compared to 95.4, which is nice, but again scoring is down by 4.6 points league-wide and the Lakers have become one of the NBA's slowest paced teams, meaning fewer possessions in both directions. They've held opponents to just 41.9 percent shooting from the floor, an improvement over last season's 43.7, but a drop similarly reflecting what's happening across the league. A year ago, the average field goal percentage allowed was 45.9. This year, it's 44.3, a drop of 1.6 percentage points nearly mirroring the change in L.A.'s Opp. FGA.
Taking a look at effective field goal percentage against, again the Lakers have allowed a lower number this season -- 45.7 vs. 47.7 -- but once again the improvement is mitigated by context. This year's figure is the NBA's fourth best while last year they were fifth, .08 off a league leading pace as opposed to .14 behind. This season, the Lakers are 2.5 percentage points better than league average (48.2), compared to 2.1 against last year's (49.8). Better, but not by leaps and bounds. Last year's Lakers were the league's best team at defending without fouling, averaging .181 free throws per field goal attempt. Now they're better in raw percentage (.171), but worse relative to league average, which like everything else has fallen.
There are some areas, defensive rebounding for one, where the Lakers are vastly improved, but all told it explains why the Lakers grade out as the league's 12th most efficient defense (101 points allowed per 100 opponent's possessions) vs. 6th last year (104.3). This year, like last, the Lakers are four points per 100 behind the league leader, and last year's crew actually was a point better relative to league average than the 2011-12 edition.
Moreover, on a points per possession basis, Synergy rates this season's defense as the league's 7th best, while last year the Lakers were 3rd.
In the end, statistically speaking, it's hard to argue this year's team is all that superior to last season's in terms of defensive performance. If it is better at all.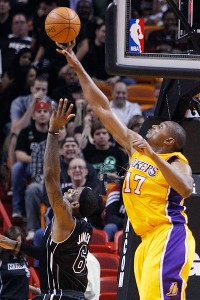 AP Photo/Lynne Sladky
Andrew Bynum has been strong as L.A.'s last line of defense.
Context does do Mike Brown's crew a few favors, pointing favorably to the work he's done in his first year patrolling L.A.'s sidelines. The Lakers didn't just install a new offense, they also put in different defensive principles, as well. The bigs play the pick and roll far more aggressively, changing the assignments and reads of everyone else on the floor, to name one adjustment. Just like they have had to learn the offense on the fly, this stuff hasn't been rehearsed the way Brown would prefer. Moreover, he's doing it with inferior personnel. Lamar Odom provided Phil Jackson a great deal of flexibility, allowing him to match up more effectively with opposing lineups. This year, Odom is gone, replaced in large part by the defensively challenged Troy Murphy. Odom's absence also means Brown uses Andrew Bynum and Pau Gasol together more often, hurting the Lakers in transition.
Additionally, circumstances have forced Brown to use guys like Andrew Goudelock and Darius Morris in his backcourt. Shannon Brown may not have been the most consistent defender in the league, but he's better than the rooks. Meanwhile, Metta World Peace, literally and figuratively, isn't quite what he was a year ago. Brown has his team focused on defense, and overall they're doing a good job. Still, even if you believe the defense is better, it hasn't improved nearly enough to balance out the drop in L.A.'s scoring ability.
The numbers reinforce a few important points.
First, last year's Lakers team was a lot better defensively than people remember. They lacked the consistency of the two title squads and obviously collapsed spectacularly in the postseason against Dallas, but the legend outstrips reality. The Mavs series was a failure in every facet (and even then, the Lakers should have won a couple games, at least), not something pinned only to the defense.
Second, it's hard to imagine the Lakers squeezing too much more out of the defensive end without real improvement to the offense. The two sides of a basketball court aren't islands. The good work they do in half court sets (via Synergy, they're the NBA's second stingiest team) is undercut by the bad shots and turnovers putting them in transition situations where they're far less successful (16th).
You can't bleed a rock. Expecting the Lakers to will themselves to better results or a deep playoff run by raising their level on defense isn't realistic. Particularly when the perception of serious defensive improvement this year is in many ways a mirage.