The first time these teams met on Jan. 19 in Miami, it was no contest. The Heat dominated L.A. from the jump, rolling to a 15-point lead at halftime en route to a 98-87 win.
Sunday, Miami visits Staples Center, looking for the season sweep. The Lakers, playing better of late, could still use a signature win. Add in the standard dose of Kobe vs. LeBron hype supplemented by any lingering controversy surrounding Dwyane Wade and his All-Star level foul on Bryant last weekend -- he will be booed, that much is certain -- and you're left with what should be a very entertaining game.
To break it down, we fired up the Google Chat machine and conversated (virtually!) with ESPN.com's Tom Haberstroh, who covers Miami for the Heat Index.
Brian Kamenetzky: Right now, it looks like the only thing that can stop LeBron James is the fourth quarter of a Finals game (cheap writer zing!). What's he doing differently?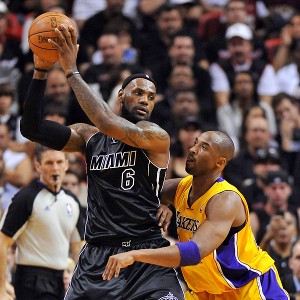 Steve Mitchell/US Presswire
Save last possessions, everything's been coming up "LeBron" this season.
Tom Haberstroh: If there's one thing he's doing differently, it's that he's playing more at the four, which has been a matchup nightmare of nightmares for opponents. The potential has always been there, but he had to be sold on it. The best salesman is the scoreboard. Score don't lie. We emphasize how versatile LeBron is, but this is something that's unique to LeBron only. He played 1-through-5 Thursday night in Portland like he was in a video game. Just unfair.
Brian Kamenetzky: How do you think that translates to Sunday's game? Does he force Mike Brown to put a big on him?
Haberstroh: It's a fascinating battle of personnel. Does Erik Spoelstra put LeBron at the four if he knows that he'll have to guard Pau? Does Mike Brown dare ask Pau to guard LeBron? Basketball is kinda fun in this way.
Andrew Kamenetzky: Does Brown play Metta World Peace at the four, which has happened at times?
Haberstroh: But then you're putting World Peace on the floor instead of Pau or Andrew Bynum. Win for Spo, right?
Andrew Kamenetzky: Depends on whether MWP can be effective, but your point is well taken.
Brian Kamenetzky: I'll go ahead and call that a win for Spo.
Andrew Kamenetzky: Who typically plays the 3 with LBJ at the 4?
Haberstroh: The Heat like to throw out Shane Battier next to LeBron so that they can cross-match as they please. Battier, like LeBron, can guard 4s as well as 2s so they use those two like a Swiss Army knife. Mike Miller is also there, as well as a 3-point contestant in James Jones. To say the Heat are loaded on the wing is like saying water is wet.
Turning back to the Lakers, what's the solution for L.A. at the 1?
Brian Kamenetzky: Trade for someone. The Lakers don't have enough on the roster to make the position anything less than a weakness, and often little more than a major liability. Steve Blake has the potential to get better, and when he plays well it absolutely helps... but even in those moments he's still Steve Blake. Meanwhile, Derek Fisher produces like you'd expect a 37-year-old point guard who has always been a role player, meaning not very well. He's been better over the last five games (8.2 ppg, 51.6 percent shooting, 43 percent from 3), but will need to show this sort of consistency for a while before people buy in.
The biggest problem is neither guy gets into the lane to break down a defense. Between the two of them, they average one shot a game at the rim. One. That's just not enough. So without that, their value boils down largely to whether they hit 3-pointers or not. When they do, the Lakers get by. When they don't, it's often not pretty. Lately, Fisher has been more accurate and Friday against the Kings he piled up seven assists, but over the course of the season his numbers are still way down.
If they could reach league average, or something close, they'd be much better. The hope is as guys gain more comfort in the system it could happen, but that feels like a reach.
Haberstroh: Wow. This sounds an awful like Mike Bibby, or the ghost of Mike Bibby. The Heat came within two wins of a title despite starting a guy who offered a smidge more value on the court than a lamp post.
So let's talk about the elephant in the room: Are Pau Gasol's days in L.A. numbered?
Brian Kamenetzky: elefante.
Haberstroh: elefante rosa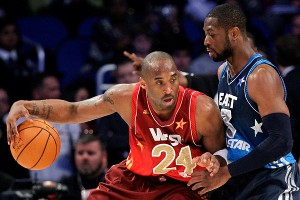 AP Photo/Chris O'Meara
Will there be more blood on Sunday?
Brian Kamenetzky: Don't show this to Kobe. It'll add new layers to the white swan/black swan story, and Gasol really hates the metaphor.
Haberstroh: Was Natalie Portman traded for Dwight Howard? I forget how that one ended.
Andrew Kamenetzky: As for Gasol's days being numbered, I hope not, unless a truly top-flight player arrives in return. Nobody's untouchable, and I'd move Gasol in a heartbeat for an upgrade. However, there aren't a lot of players who'd help this team considerably more. Beyond his skill set, Pau's an exceptionally good complement to Kobe in temperament. I could understand (and have even considered) the value of acquiring depth for Gasol. But all things being equal, Pau's not easily replaced. And if the primary push to move him was financial, I'd be very disappointed.
Speaking of Gasol, he'll be matched against Chris Bosh, who's talked openly about the challenge of finding his comfort zone. How's the process going?
Andrew Kamenetzky: I'll start by offering this stat: Bosh averaged 14.5 points in February. That should tell you a lot about his fit. The truth is that he's not really thriving right now, but it doesn't matter because Dwyane Wade and LeBron James are playing like the two best players in the league. Bosh very rarely scores over 20 points in a game, which seems like a waste of talent. But he'll zip his mouth and go along for the ride if it means more W's. Something tells me that if he gets his ring, he'll have no issues should the Heat find a new home for him where he can be at least a No. 2 option again. Spoelstra pacifies Bosh by letting him pad his stats with "Bosh Time" during blowouts and LeBron/Wade riding pine.
Brian Kamenetzky: It sounds like he plays the Gasol role. The guy who sacrifices where sacrifices need to be made, because someone has to.
Haberstroh: By the way, I'm stunned and elated that we've lasted this long without mentioning A) Wade's foul B) Kobe's facial ailments or C) Eddy Curry
Andrew Kamenetzky: We didn't wanna peak early.
Brian Kamenetzky: But as long as you went there, Kobe did what he could to diffuse WadeFoulGate, and obviously Wade apologized, but Matt Barnes used it as a rallying point this week. What are you expecting from Miami in terms of physical play?
Haberstroh: I'd keep Udonis Haslem and Barnes very far apart if at all possible. There won't be a brawl by any means, but these are hyper-competitive human beings we're talking here. Wade plays physical on defense and plays like a crash test dummy on offense so I 100% guarantee there will be something blown out of proportion and some words exchanged. But the only thing more dangerous, in a basketball sense, than a ticked off Dwyane Wade is an incensed Kobe Bryant.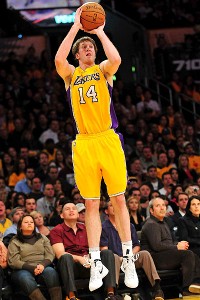 Gary A. Vasquez/US Presswire
For the Lakers to do damage, folks like Murphy must connect from outside.
Brian Kamenetzky: Looking at Sunday, last season the Lakers flat out couldn't score against the Heat (84 ppg, 40 percent shooting, Kobe around 38 percent), and didn't exactly light things up when the teams met in Miami. They're a better offensive team at home and have shown signs of improvement lately, but still, how do they score against the Heat?
Haberstroh: From 3-point. Trouble is, that's their biggest weakness at this point. For any team to have a chance against the Heat, they have to go lights-out from downtown. The Magic did that just under a month ago and that's the last time the Heat lost before Friday in Utah. So, it's not going to be easy for the Lakers, who rank 29th in 3-point shooting, but that's the model.
Andrew Kamenetzky: Conversely, the best approach to prevent a scoring bonanza from Miami comes from the Lakers' offense. They have to avoid turnovers, terrible shots (particularly long ones) and any other scenario that creates opportunities for Miami to run. The Lakers are pretty bad in transition as it is. But against the Heat, they'll get crushed. The better the offensive execution, the less often the Lakers will find themselves on their heels.
Haberstroh: Predictions? I say the Heat win by 10 points, one less point than they won in their first matchup.
Andrew Kamenetzky: Unfortunately, I'm with Tom, particularly considering how the Lakers, for whatever reason, have tended to come out flat against the Heat. Miami is better to begin with, but low energy puts L.A. even further behind the 8 ball. And the Lakers don't enjoy 12:30 games.
Brian Kamenetzky: I'll make it a clean sweep. I believe L.A. can defend Miami in the half court, but even though they've been better of late I just don't think they can generate enough good offense to prevent the Heat from creating too many easy points.
Still, they've quietly piled up some wins, and one Sunday would go a long way towards changing how people perceive them.