Coming off their best win of the season, the Los Angeles Lakers may very well have registered their worst loss, dropping Tuesday night's game in Detroit -- a game in which they led big early -- to a poor Pistons team, 88-85 in OT.
Even had the Lakers won, there would have been very little to like. In a loss, there's even less.
Here are four takeaways:
1. Andrew Bynum was the best player on the floor.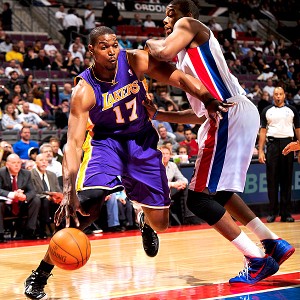 Dan Lippett/NBAE/Getty Images
Andrew Bynum was a beast Tuesday in Detroit. The result for Lakers was beastly.
It wasn't simply a matter of numbers, though those were strong -- 30 points on 13-of-18 from the floor, 14 rebounds, two assists and three blocks -- but of presence. He was a force, whether posting up on the offensive end or altering shots defensively. He ran the floor aggressively, moved well away from the ball and established deep position down low.
In overtime, he scored the team's first four points, moving well away from the ball to take nice deliveries from Kobe Bryant and Pau Gasol for buckets at the rim. Bynum demanded attention from the Pistons the entire night. Unfortunately, he didn't get the ball enough to make Detroit pay, particularly as overtime wore on.
Instead, as it too often did during the game, L.A.'s offense drifted toward the perimeter. It's a shame such a dominant performance from their All-Star center went wasted.
2. The Lakers' defense was strong.
After the game, Lakers coach Mike Brown was irritated by the work they did on Rodney Stuckey, who scored 34 points and found his way to the rim with regularity. They also had trouble securing the boards, allowing multiple second and third opportunities. But overall, the Lakers held Detroit to less than 40 percent from the floor, put a lid on Greg Monroe (two points, 1-of-10 shooting) and held the Pistons to 78 points in regulation. Gasol and Bynum used their length well, altering countless shots. In the half court, particularly, Detroit struggled to score. Were there breakdowns? Sure, particularly in transition, but this is the NBA. Teams are going to score sometimes. Overall, these are numbers that should have the Lakers winning by 15. Instead, they struggled to get into overtime, and then lost in the extra period.
Why?
3. The Lakers' offense was not strong.
Not that there weren't solid individual performances other than Bynum. Gasol put up a tidy 20 points to go with 10 rebounds, and he was excellent as a facilitator as well, completing three lobs to teammates en route to six assists. (He did, however, turn the ball over late attempting a behind-the-back pass to Bynum, then passed up on a jumper and/or lob opportunity for Bynum, instead passing to Metta World Peace on the perimeter. Some nice plays in OT helped take the sting away.) But overall, against a subpar defensive team, the Lakers were too easily shut down, unable to press their advantage in the post as consistently as they should, in part because they couldn't (and occasionally wouldn't) put the ball down low.
A lot of the blame goes to outside shooting, which was poor. The Lakers hit only 13 percent of their 3-pointers, missing 19 of 22. Shot selection was a problem, and turnovers hurt them at times, as well.
Kobe Bryant was only 8-of-26 from the floor and struggled all night with his jumper (in either of the two masks he wore), more than a few of which sent the Pistons the other way for good looks at the rim. He did stick a huge shot at the buzzer to send the game to OT, but Bryant took a questionable shots in the extra period and overall was a negative factor offensively. His 22 points on 26 shots is flat out bad, particularly when Bynum and Gasol are so dominant down low. But on any given night, when two of the big three play well, it should be enough. Particularly against a team like Detroit, particularly when they hold the opposition to less than 80 points in regulation.
Which brings me to ...
4. Tuesday's game was the embodiment of everything lacking in L.A.'s supporting cast, offensively.
Metta World Peace picked up a late steal and bucket, which was nice, but it was half of his output on the night and represented 15 percent of the points scored by anyone other than Bryant, Bynum and Gasol. Thirteen points from six players, five of whom played more than 20 minutes on the night. That's awful. Metta's run of solid contributions offensively ended, and nobody (save perhaps Andrew Goudelock, who scored five points in 10 minutes) did anything.
If the Lakers are going to win with regularity, this can't happen, which points to the need for management to shore up the supporting cast if the Lakers are going to make a championship run this season. It is, to say the least, acute.