Similar to how it wasn't prudent to get overly cocky after the win over Miami, panicking over Tuesday's loss in Detroit doesn't necessarily make a ton of sense. However, if that L is compounded by another against the 8-29 Wizards, I won't even bother trying to talk you good people off the ledge. There are much more enjoyable, productive ways to waste my own time.
For the inside track on the Wizards, we tracked down Kyle Weidie, who runs Truth About It for the True Hoop Network. Here are his responses to four question about D.C.'s squad.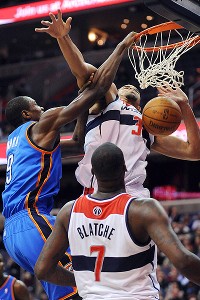 Chuck Myers/MCT/Getty Images
These two don't make for a quality frontcourt or taco.
Land O' Lakers: The Wizards roster isn't lacking entirely for talent, but the parts feel poorly matched. What primarily prevents the central players from jelling even moderately well?
Kyle Weidie: Building around a guy like John Wall requires long distance shot makers, and seeing as the Wizards have an NBA-5th worst eFG% of 46.1, team management hasn't provided their franchise face what he needs. This area hasn't been addressed through the draft in years, and veterans like Rashard Lewis, Roger Mason and Mo Evans aren't cutting it. Nick Young, who leads the Wizards with 38.2 percent three-point shooting, hijacks too many possessions for an ideal spot-up partner.
Washington's other glaring need is an offensive block player. The Wizards are desperate for an intelligent, space-eating player to run the half-court offense from the post. I'm not sure who thought JaVale McGee and Andray Blatche could form a united frontcourt tandem. The two mix as well as a cottage cheese, jellybean and raw herring taco.
2) LO'L: The popular narrative has John Wall regressing this season. If that's true, in what ways and why. If not, how is he playing better?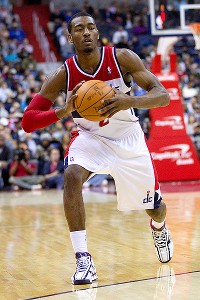 Harry E. Walker/MCT/Getty Images
Wall's stepping up his game. Now he needs some help.
KW: Through the first 12 games, the populous was right. Wall seemed destined to mire in a sophomore slump, and Wizards fans seemed frustrated and pessimistic as ever. His per 36 minutes numbers in those games: 13.3 points, 6.9 assists, 4.1 turnovers, 4.5 rebounds, 34.8 percent shooting. Not pretty. But on the 13th game against the Rockets, he scored a season-high 38 points. Including that one, his 36 stats in the games since are 19 points, 7.9 assists, 3.9 turnovers, 5.1 rebounds, 47.5 percent shooting. When you factor in other numbers -- 1.3 steals per game, and only Dwyane Wade among NBA guards has more blocks (37) than Wall (34) -- you have promise closer to Gary Payton.
Wall's jumper still has a long way to go. If he misses, he won't be discouraged, but must balance that confidence with better shot selection. Most importantly, Wall must cut down on turnovers, especially unforced ones (you can live with some turnovers in transition). But these faults were long-known. He's improving. Wall's career trajectory is just fine. He just needs better teammates.
LO'L: Along these lines, is there an underrated strength for the Wizards?
KW: Um, not really. After the Denver Nuggets, Washington scores the most fastbreak points per game in the NBA (18.6), and are tied for sixth in attempts at the rim per game (26.7). So the Lakers, who play at the 22nd fastest pace in the league, could be susceptible to easy buckets and fouls in transition. (Editor's note: "Could be susceptible" is a very kind way of phrasing matters.) However, the Wizards' ability to run depends on their defense, and in that area, they just don't have the equipment to match Los Angeles.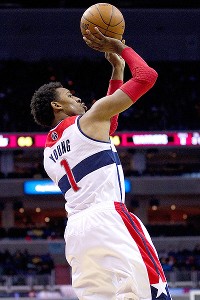 Harry E. Walker/MCT/Getty Images
All I do is shoot...shoot... shoot.
The only position where Washington has the advantage is point guard. But he's just one NBA soph whose teammates are often to the detriment of his existence. I'd say the Wizards' most underrated strength is their ability to be their own worst enemy.
LO'L: Nick Young has a habit of big games against the Lakers. He's also suffering a pretty lousy season. Could a date against the Lakers be the cure?
KW: Sometimes you wonder if he's checked out of the situation in D.C. Young loves shooting the ball so much that an assist is as rare as Lakers sidelines at Staples with no plastic surgery. In NBA history, he is the only player to score more than 3500 career points (3,810) with less than 350 assists (319), and with more career 3-pointers (336) than assists. The USC Trojan is a scorer's scorer, but he's horrible in the role of primary option on a bad team. He can hit threes. He can drive and dunk. His mid-range game is adequate. His defense has improved. But Young has no clue how to create for others. He doesn't understand what he needs to do when teams double in order to open the floor for him later. More recently, he wants to blame failure on the fact that shots didn't go in, not the reason why they didn't go in (forced, hero attempts), nor the reason why they went in so often for the other team.
Can Young find a "cure" against the Lakers? Sure, why not? But knowing him, there will be lows dueling with the highs. And Randy Wittman recently pulled Young from the starting lineup, and he also hurt his knee and missed last Saturday's game versus Cleveland. Whether he'll start against his hometown team remains to be seen.