While the Lakers have performed at least a little better on the court than their shamrocked enemies from the east, the basic narratives surrounding both teams are similar. Aging squads clinging like kittens on tree branches to championship relevance while all sorts of pre-deadline rumors swirl around their big stars, putting into serious question the future of their current ring bearing cores.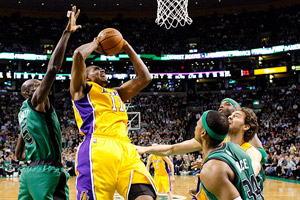 David Butler II/US Presswire
Andrew Bynum has been on a roll. Can he keep it up against a stiff Boston D?
Still, just as it was when the teams met this year in Boston, a Lakers/Celtics matchup brings the sort of intensity out of both teams reminding everyone why, even if both squads need a little polish to get back to the top, we still pay close attention when they're on the floor together. Certainly until the cast of characters changes significantly, at least.
To get a little more insight on where things stand with the C's, we caught up with our man Chris Forsberg of ESPN Boston, who was kind enough to step away from a family vacation (seriously!) to answer a few questions:
Q: The Celtics still get it done defensively (3rd in efficiency) but the offense has fallen off a cliff (25th), even relative to what's gone on with the Lakers. What accounts for their struggles?
Forsberg: As you'd expect from an aging team, the pace of play has dipped (even Rajon Rondo can't get these guys to run often) and Boston's pace has bogged down a full possession per game since its championship season. The bigger problems are that Boston (1) turns the ball over at an alarming rate, (2) doesn't rebound particularly well at either end of the floor, and (3) settles for an insane amount of jump shots (all signs of an aging team). The result? A Celtics squad that averaged 100.5 points per game in their title campaign is now averaging a mere 90.5 points per game this season. We see occasional bursts of life, particularly when Rondo fuels them, but if jump shots aren't falling, this team really struggles to put points on the board because they don't typically generate easy buckets.
Q: How real are the Rajon Rondo trade discussions? Can you explain the persistent chatter surrounding him? On an aging team, he seems like the one guy you'd want to build around.
Forsberg: The Rondo trade chatter was very real in the preseason when the team tried to pry Chris Paul from New Orleans. Even when we heard rumors about Rondo being offered to another team, it was always with the goal of obtaining the pieces necessary to land Paul, who was the only endgame for Danny Ainge. Ever since? I'm sure Ainge is listening, but the Celtics understand his value. He's not going anywhere without an elite cornerstone coming back to Boston and that's unlikely to happen at the deadline. Is he a stubborn kid? Sure, but what superstar doesn't have his flaws? When he's engaged, he's one of the best at his position.
Q: Rebounding has been a significant weakness for Boston all year long. In the first meeting, the Lakers were +10 on the glass. What can the C's do to level that number out on Sunday?
Forsberg: Sign Shaquille O'Neal? (rimshot!) Boston knew it was thin on pure big men entering the season and losing Jermaine O'Neal, potentially for the rest of the year due to an aggravated wrist injury, didn't help matters. The Celtics recently shuffled Brandon Bass into the starting lineup (something that was going to happen regardless of O'Neal's health) and are hoping his athleticism, along with Kevin Garnett's newfound quickness advantage against most centers, will help the team be more efficient on the glass. It might be Boston's best hope. There's no serviceable 7-footers out there in need of work and the Celtics simply have to hope that guys like Bass and Chris Wilcox can use their athleticism to make up for the size they are giving up (the Celtics also want Paul Pierce and Rondo to be more active on the glass, usually thriving when they are).
Q: What's the best way for the Celtics to attack the Lakers?
Forsberg: The Lakers don't force a lot of turnovers, which will aid Boston's offensive efforts if they value the ball, but the Celtics know points won't come easy against a team that allows opponents to shoot just 41.8 percent from the floor. The Celtics can't win the game with jump shots, they have to be aggressive at go at the Lakers' bigs. The usual recipe for big-game success lately has been hoping Rondo is in triple-double mode and goes off on national television (Celtics radio play-by-play man Sean Grande had a phenomenal stat that 13 of Rondo's 17 career triple-doubles have come on national TV). The other key is Pierce, who has struggled with his shot all season. If it's not falling in Los Angeles, he needs to find other ways to impact the game (particularly by distributing and rebounding).