In theory, a matchup against the 10-win New Orleans Hornets shouldn't be much of a challenge. The Hornets no longer have Chris Paul (as you may have heard) have lost Eric Gordon for most of the season, are missing Emeka Okafor, and could be without Carl Landry as well. While that leaves a few decent players, they sorely lack any high end talent. In short, New Orleans is awful, evidenced by a 73-71 loss to Charlotte Monday night.
Then again, as a road team the Lakers are a very poor 8-14, even with Tuesday's hard fought double OT win in Memphis. They lost last week in Detroit and Washington, and barely scraped by a Minnesota team missing Kevin Love.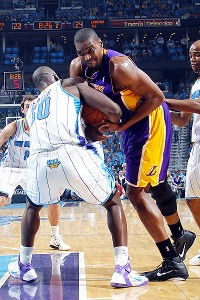 Layne Murdoch/NBAE via Getty Images
A red hot Andrew Bynum will try to wrestle away an upset bid from New Orleans Wednesday.
In short, no game away from Staples Center is ever in the can, particularly given the energy L.A. expended last night. So to get a feel for what the Lakers face against Monty Williams' crew, we hit up Joe Gerrity of Hornets 24/7 with some questions.
1. Not exactly game related, but a couple months later, Eric Gordon has been hurt all year and is unsigned, Al-Farouq Aminu has a PER of 9.1, and even after the Ricky Rubio injury, the Minnesota pick won't be as good as many thought. What do Hornets fans think of the CP3 transaction now?
For the most part Hornets Nation is remaining optimistic about it. Doubts have certainly started creeping in thanks to Eric Gordon's knee, and there's skepticism about resigning him too, but that's a near certainty since he's restricted. Honestly it will be a few more seasons before we can truly grade the deal fairly, and I think a lot of Hornets fans know that.
2. Gustavo Ayon! Not exactly a household name, but explain his impact for the Hornets, and how he could influence Wednesday's game.
Although his English is limited, his game has translated really well to the NBA. He's an active big man with a great motor who is constantly making his defender work. As a result, he's one of those guys who can, at least on a better team, beat you without putting up numbers. He can defend out to the perimeter when need be, and holds his own in the post despite not being the tallest or strongest of big men. Although he doesn't take it to the floor on the outside too much, he can create in the post and hit a jumper when need be. Ayon will probably struggle a bit against the Lakers bigs on defense, but at the same time they will have their work cut out for them keeping up with him on the other end.
3. Trevor Ariza seems to have bounced back from a horrible '09-'10 season to something closer to career norms. What has improved for him?
I noted earlier this year that his shot selection has drastically improved from the past two years, but I think it's more than just a personal decision to take fewer bad shots. He just seems like he's in the flow of the offense so much more this year, whereas last season he often received the ball on the perimeter and was asked to create with a stagnant offense surrounding him. It's strange that he looks so much better without one of the game's best distributors, but the numbers don't lie, and they back up the eye test. It doesn't hurt that he's developed a decent mid-range baseline jumper.
4. What are three things that have to happen for the Hornets to win Wednesday?
First off, the crowd can't be pro-Lakers. I've been to too many games at home where that was the case, and it seems to have an effect on younger teams in particular. Secondly, the Hornets have to find some way of stopping the Lakers when Pau and Bynum are in the game together. Lastly, you're not going to beat the Lakers with a roster as injury depleted as the Hornets unless you take care of the rock. Limiting turnovers is crucial for a Hornets team which doesn't score much to begin with.