Apparently, there's a provision in the new collective bargaining agreement mandating the Lakers and Timberwolves play once a week in seasons taking place during a leap year. Thus, the third meeting since Feb. 29. But despite Minnesota standing pat at the deadline (Michael Beasley ... so close, yet so far away!), this game should actually feel fairly different than the last two. The Lakers have new faces. The Wolves' lineup has been shuffled against the Lakers by the injury bug. With that in mind, here are three items to be mindful of upon opening tip.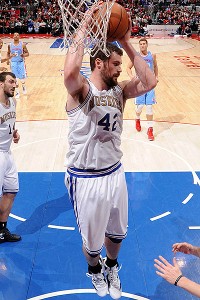 Andrew D. Bernstein/NBAE/Getty Images
Kevin Love will be in a uni ... right?
1) Kevin Love will presumably be available.
Unless, of course, he comes down with an unforeseen, semi-random, non-career-threatening ailment, as has been the case in the last two games. (After the flu and back spasms, what's the next logical diagnosis? Post-nasal drip? Grade-1 charley horse? Beiber Fever?) As I noted in the last preview, Love's March splits entering that ultimately missed game were impressive. A week later, little has changed. Dude's numbers for the month are simply absurd: 32.3 points, 12.7 rebounds -- a shade over four of which come on the offensive glass -- 2.2 assists, 47.1 from the field, 46.7 from deep and nearly 81 percent from the line.
Yowza!
As always, slowing Love will be a tall order tasked to the Lakers' bigs. In particular, I'll have my eye on how Pau Gasol responds to this challenge. Over the last few games, Gasol's effectiveness has come in sputtering fits. Against Memphis, three quarters passed before his presence was felt in the slightest. The next night in the Big Easy, he started strong but couldn't maintain that pace. In the latter game, fatigue appeared a mitigating factor. (In this respect, he had company.) But you also had to wonder if a clock ticking down to the trade deadline also weighed on his head. Well, noon pacific time passed Thursday with Gasol still on the roster. At least until the offseason, this shouldn't be an issue anymore. No better way to prove his head is clear than to hold his own against a forward playing as well as any in the NBA not named "LeBron" or "Durant."
2) Ricky Rubio will definitely be unavailable.
A handful of elements have led to the Wolves' rapid improvement this season. Rick Adelman is a strong candidate for NBA Coach of the Year and has implemented a new system that clearly agrees with his players more than the Triangle. (That he wasn't as initially/inexplicably reluctant as Kurt Rambis to play Love major minutes also didn't hurt.) Derrick Williams is enjoying a solid rookie season. Nikola Pekovic is among the more improved players in the league. But the addition of Rubio has arguably trumped everything. Among his skills running an offense, his underrated D and the fan base he's energized, the difference before and after arrival is beyond night and day. With the kid's season cut short by an ACL tear, it's difficult to picture the Wolves' unexpected playoff push coming to fruition.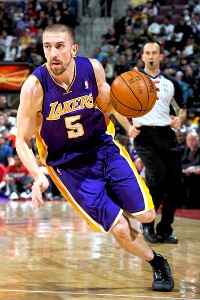 Allen Einstein/Getty Images
One way or another, Steve Blake should be busy Friday.
In theory, beating the Lakers should also be pretty difficult.
Luke Ridnour is a solid backup point guard, but he's a decided step down from Rubio. He started every game for last season's crummier version of the Wolves, and the results speak for themselves. He doesn't necessarily kill Minny, but he won't elevate it in the same way the Spanish phenom has. Lakers fans don't need to be told J.J. Barea can occasionally do damage, but again he's no Rubio. The rookie's absence limits the effectiveness of Minnesota's attack, particularly in transition, where Rubio can be very creative and the Lakers can be very vulnerable.
It's the third consecutive game the Lakers have been gifted a shorthanded Timberwolves squad. It's important their perfect batting average remain intact.
3) Derek Fisher won't be there.
I've already written about the impact of Fish's absence, which will largely be felt in the locker room and during close games. But more basic matters will be in play against Minny. If Ramon Sessions is available (for now, that remains unknown), will Mike Brown immediately throw him into the fire as a starter? It's the role he was acquired to play, and as the saying goes, no time like the present. Then again, Brown might start Steve Blake and give Sessions one full practice on Saturday then start him Sunday against the Jazz. Either approach is defensible.
Of course, if Sessions is unavailable, Blake will be starting, anyway, which will force Brown to dig deeper into his bench. Andrew Goudelock played some reserve point guard minutes when Blake hurt his ribs, and if need be, perhaps he'd slide temporarily back to the 1. From there, Devin Ebanks would likely be dusted off to get some minutes behind Kobe Bryant. And assuming his bruised left wrist is better, Darius Morris could be recalled from the Defenders, which allows Goudelock to continue playing off the ball, but that feels less likely.
In any event, life without Fisher will undoubtedly feel weird and require more than 48 minutes to move past. Friday presents the first challenge of moving forward.