Solid week for NBA big men nicknamed "Drew." Along with the Bucks' Drew Gooden in the East (who, ironically, has flourished filling in for the injured and eventually traded Andrew Bogut), Andrew Bynum was selected as the Western Conference Player of the week. Looking over the numbers over his last four games, it's not surprising he'd receive the honors: 27.5 points, good for second in the conference on the week. 14.8 rebounds, best in the West for the week. 66.5 percent from the field. Two blocks in three of the four contests played. 75 percent or higher at the stripe in three games. Big plays down the stretch of the double OT win in Memphis. Good stuff, indeed.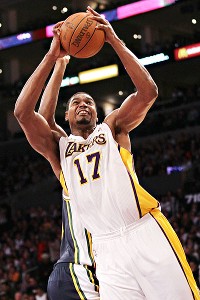 Stephen Dunn/Getty Images
It's been a nice stretch of games for Bynum.
But even during this stretch of greatness -- at times, utter brilliance and dominance -- there were still flaws exposed. Namely, the propensity for turnovers. Drew averaged four per contest, and in Sunday's loss against Utah, he turned that ball over that many times in the first quarter alone. Largely, the issue is dealing with double and sometimes even triple teams, which Bynum now commands on a regular basis. At times, there's a terrific reaction, whether passing the ball out or timing a move to the basket for a score or a foul drawn. Others, especially when he's along the baseline, trouble (or a travel) ensues. This issue remains a work in progress for the young center, and in cases like yesterday's debacle, can lend a hand in creating a loss. On a team vulnerable to excessive and detrimental turnovers as it is, Bynum's learning curve can feel even more steep.
I don't mention this to rain on Drew's parade or accomplishments, but rather to illustrate how much he can -- and continues to -- grow. He's already been a very good player, when healthy, over the last few seasons. But in his first season as an All-Star, Drew is looking to take that step towards being a player universally regarded as elite. Mastering double teams is a step in need of taking, and he's moving in the right direction. As Mike Brown often likes to remind us, even Tim Duncan, who he coached during his early seasons in San Antonio, experienced the same struggles mastering the art of evading multiple defenders.
Does Bynum carry the same potential for excellence as The Big Fundamental (his idol, no less), regarded by many as the greatest power forward of all time? Obviously, that's a long way from being settled one way or the other. But at the very least, opponents are forcing Drew to answer the question by sending waves of defenders in his direction. They wouldn't bother if he wasn't doing something right.