In the wake of Tuesday's loss to Houston, two big topics of conversation quickly emerged. First, people really want Ramon Sessions in the starting lineup. Second, with Sessions available, the Lakers need to re-think their fourth quarter offense and get some variety (something they've needed for a while, actually) beyond the standard dose of a ball-dominant Kobe Bryant.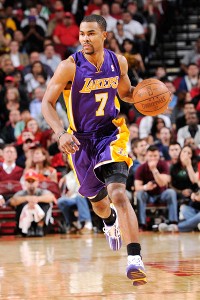 Bill Baptist/NBAE Getty Images
Today on 710 ESPN, Ramon Sessions said it'll take time and reps to jell with Kobe Bryant.
The presence of Sessions requires adjustments for the group. Kobe has to understand there's a second guy capable of creating shots for everyone on the floor, but he needs the ball to do it. His teammates need to lose the habit of looking for Kobe first and dumping him the ball as a default. Even if he wants it, it's OK to pass somewhere else. Sessions will have to learn to assert himself in a lineup with Bryant (no easy task, to be fair), and the coaching staff has to dig a little deeper into the playbook.
How well they figure it out over the final 20 games will have a big impact on their playoff fortunes.
Appearing with Max Kellerman and Marcellus Wiley this morning on 710 ESPN -- click here for the full interview -- Sessions believes he and Kobe will jell, but it will take a little time. "It's something that we're going to have to adjust to. In this season, practice time is real limited, so we're going to have to learn on the go. I definitely think it's something we'll get used to on the floor, and just know when it's time for whoever to do what he does," he said.
"It's one of those things where the more times we get out there together, the more comfortable we'll get, and the more we'll be able to feed off one another."
The distinction of starting is something I've always seen as overrated. What matters more are minutes and floor combinations. Sessions can get plenty of the former, whether Steve Blake starts or not, but those clamoring for a lineup change make a compelling point when it comes to the latter. As much as he's goosed the second unit -- and he has -- if Sessions is going to be on the floor late in games with the rest of the starting lineup, and more often than not he will, every rep he gets with those players benefits them all.
Obviously Kobe is the most important component in this equation. The more time they spend on the floor together, the more likely they are to operate efficiently in the postseason and maximize L.A.'s chances at success.