As I said to ESPN Dallas' Jeff Caplan in today's "What to Watch," nothing has focused these Los Angeles Lakers more throughout this season than genuine animosity toward a particular opponent. Now 3-0 against the team that ended their title run last season, I think we can all agree, the Lakers regard the Dallas Mavericks with, as Jules Winfield said in "Pulp Fiction," "great vengeance and furious anger." There's simply no limit to the pleasure taken in whipping these dudes. Apparently, the key to a deep playoff run is manufacturing grudges against the San Antonio Spurs, Oklahoma City Thunder and Memphis Grizzlies. Here are the four takeaways from the game:
1. Ramon Sessions made a serious case to enter the starting lineup.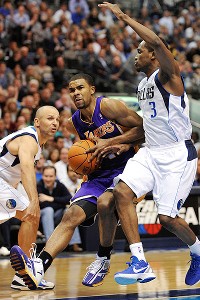 Max Faulkner/Fort Worth Star-Telegram/MCT/Getty Images
Sessions took over the game for the Lakers.
After watching Steve Blake go seven scoreless minutes with one assist to his name, Sessions checked into the game, then wasted little time stealing the show. He first entered the box score with a 3-pointer created off the dribble, working beyond the scouting report would define as his range. A few minutes later, he assisted four-of-five consecutive Lakers buckets on as many possessions, the other basket a 22-footer drilled by the man of the hour. As the half commenced, more of the same continued. The ball was moved with purpose. The rim was attacked with authority. A give-and-go handoff from Troy Murphy was cashed in the lane. The newbie looked exceptionally comfortable and in complete control as he closed the half with 12 points (on a 5-of-6 clip), four rebounds and seven assists. Aside from a couple of fourth-quarter possessions over-dribbled into trouble, the second half was essentially a Xerox of what happened before intermission.
Lakers coach Mike Brown has been noncommittal about moving his new point guard into the starting lineup, and normally, this wouldn't be a big issue to me one way or the other. As I've often said, who starts is an overrated talking point, whereas minutes and who finishes games are really what matters. But in the case of Sessions vs. Blake, I'll make an exception to my credo. Brown needs to make this move ASAP for a few reasons. Ultimately, this job will be Sessions', unless his coach has absolutely lost his mind. So you might as well pull the trigger on the inevitable. The more reps with the starters, the quicker he'll become acclimated to the way Kobe Bryant, Pau Gasol and Andrew Bynum play. Once that happens, he can make life considerably easier for the big three for as many possessions as possible, which was the whole point of acquiring him in the first place.
Plus, delaying the move does no favors for Blake. He's playing like a guy expecting to lose his gig, which appears to be preventing any comfort level whatsoever with the first five. Blake had been quarterbacking the second unit well before Sessions' arrival, and developed a very nice chemistry with Bynum and Matt Barnes. Let the Terp play what's really his proper role, and my guess is he'll look a heck of a lot better.
2. Pau Gasol looked considerably more engaged than 24 hours ago
Jerome Miron/US Presswire
Pau's jumper was working, and he worked hard to prevent Dirk from connecting on his.
The Texas two-step featured extremely efficient nights from the floor from El Spaniard, but against Dallas, he was seriously flippin' impressive. It's one thing to go 13-for-16 from the floor, but when you consider the amount of jumpers the guy took from the elbow and free-throw line, that's doubly amazing. We're talking about a seriously "wet shot," kids. It's like he was tossing a kidney bean into the hoop.
But more importantly, Pau seemed just as engaged with other elements of the game. Against the Rockets, he grabbed only four rebounds. Tonight, nine. He also spent the game in a shootout with Luis Scola, a talented scorer Pau is nonetheless capable of more effectively slowing. Pau didn't do a particularly good job, and more disappointingly, didn't seem all that committed to the mission. Against Dirk Nowitzki, Gasol worked considerably harder on the defensive end. Dirk entered this game on a scoring roll, but managed just 26 points on 24 shots. And the buckets earned against Pau felt like they'd been earned, rather than simply traded like last night. (Credit also should be given to Troy Murphy and Josh McRoberts, who enjoyed a few solid possessions checking the Big German.)
Oh, and the corner 3-ball set up by Bynum in the lane, then celebrated with three-finger celebrations from Pau and Kobe? That was fun.
3. Kobe took advantage of Shawn Marion's absence.
The Mamba entered this game in the midst of a pretty wicked shooting slump. Two straight games concluded with percentages of less than 30 percent, and his luck against Dallas hasn't been particularly good this season. In two games, he'd gone 11-for-37 from the field, with a combined total of 29 points. Many of those misses came with Marion, one of the most versatile players in the league, in hot pursuit. Unfortunately for Dallas, a sore knee prevented The Matrix from suiting up, and Kobe seriously capitalized on the opportunity. Whether Jason Kidd (who gave it a very physical go), Vince Carter or Roddy Beaubois, none were up to the task. Step-back fadeaways, hand-offs and long pull-up jumpers all found their home, as Kobe finished the night with 30 points on a very efficient 18 attempts.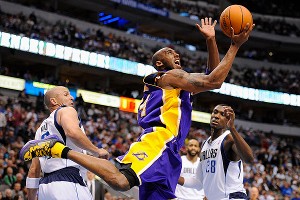 Win McNamee/Getty Images
Kobe rediscovered his shot against the Mavs.
Hopefully, this night of target practice helped work out whatever kinks had been bothering him.
4. Matt Barnes deserves mention for a nice all-around game.
Done and done.
Bold play of the game: My own words would not possibly do justice to this layup from Kobe, so I suggest you click here, and have a pillow available to soften the landing when your jaw hits the ground. When Lakers fans talk about the plays "only Kobe could make," this is a prime example of what they're referring to.