Even before a tumultuous turn of recent events -- a lethargic home loss to Memphis, Mike Brown sitting Kobe Bryant and Andrew Bynum during key stretches of two contests -- this game would be huge. As I wrote Wednesday, it marks the first of five games potentially instructive about the Lakers' postseason prospects. But with the Lakers attracting drama like a magnet attracts steel, the spotlight and stakes have increased. If the Lakers post another showing like the one in OKC in February, it will become that much harder to picture a deep playoff run. What becomes easy to envision, however, is growing tensions and eroding chemistry at the wrong time. It's important for the Lakers to win this game, but even more important that they appear on the same page.
Daily Thunder's Royce Young and I had an instant-message exchange tossing around various questions about this matchup. Below is the transcript.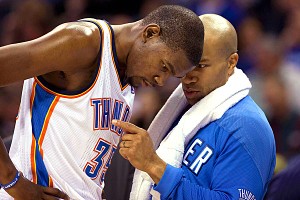 Richard Rowe/US Presswire
No, really. Derek Fisher imparting wisdom to Kevin Durant won't seem weird at all.
Andy Kamenetzky: As far plotlines go, albeit ones that might not swing the game, the big one locally is Derek Fisher's return. What's been his impact so far and how has coach Scott Brooks used him?
Royce Young: Thus far, minimal. Nothing about his play has been all that striking. Other than the fact that Brooks played him way too much in that double-overtime game where Fisher got 36 minutes. He's been OK and brought some of that old confidence and comfort level to OKC's second unit, but he still isn't even close to what the Thunder had in Eric Maynor and not strikingly better than Reggie Jackson. "Adequate" is probably the word I'd say fits best.
AK: Do you picture Brooks continuing to use Fisher in crunch time?
RY: Brooks absolutely loves to go small, so in some situations, yes. He has said Fisher would play between 13-20 minutes a game, but there will be nights when he likes Fisher in the same way he liked Maynor with Westbrook late. Brooks uses his rotations a lot by feel.
AK: Either way, you gotta love Fisher's choosing "37" for the jersey. Rather cheeky of the ol' geezer.
RY: I did like that. It seemed by his explanation kind of a veiled shot at the Lakers.
AK: Um... yeah. You needn't be an expert in between-the-line reading to interpret what he meant by thanking rookies Darius Morris and Andrew Goudelock like they'd been through the wars, but omitting the organization altogether. It'll be interesting to see the psychological effect of playing against Fish. It was very emotional the first time guys faced Lamar Odom, and Fisher's presence was even bigger. Plus, they know he's got the huevos to hit a huge shot, and will be aching to stick it to the Lakers.
RY: Secret weapon, huh? A little mental warfare. I can dig it.
AK: As for less secretive weapons, Kevin Durant had struggled for a while against the Lakers, in large part because of Metta World Peace's defense, but killed it the last two games. Has Durant figured out this matchup or have the Thunder used him any differently?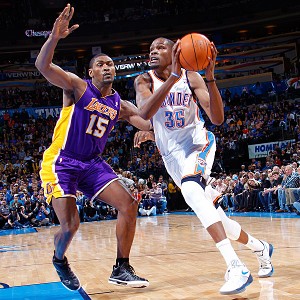 Layne Murdoch/NBAE/Getty Images
If Metta World Peace can't stay with Durant, things could get ugly for the Lakers.
RY: It's a combination using KD a little differently, and Durant has improved a lot in the way OKC is using him differently. Durant isn't just running off pin-down screens and curls to get a shot. World Peace was outstanding at chasing KD around those screens and forcing a catch out of his comfort zone. Durant is scoring less off assisted baskets now. He is posting and beating people off the dribble while still possessing that incredible ability to curl off a screen and hit a jumper.
So, two questions? (1) Is Andrew Bynum going to be chucking 3s, and (2) will Pau Gasol be getting benched Thursday?
AK: (1) Based on Bynum's postgame comments, yep, which can only put Brown and Lakers fans at ease. (Amusingly/kinda disturbingly, Kobe gave that ridiculous 3-pointer his blessing.) Bynum is nothing if not strong-willed and loose-lipped. Ever since getting ejected in Houston, he has been periodically flippant and perpetually lazy, particularly on the glass. It'll be interesting to see where this leads. And: (2) No, Pau won't get benched. He's a soldier who follows a coach's game plan to the letter (at times, to a fault) and habitually sacrifices for the team. Which apparently means being punished instead by never being utilized in the low post.
OKC has always been deadly in transition and has actually stepped up a once-problematic half-court game. Is there any way to stifle that offense?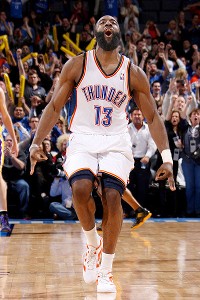 James Harden owned the last game against the Lakers.
RY: The way to best shut down OKC's offense is also the best way to get beaten by it. If you turn the Thunder into jump shooters, there's a chance you can force bad ball movement and make the offense stall. Then again, guys like Westbrook, Durant and Harden can light you up if they're hitting. They've become a bit more diversified offensively, which is what makes them so good.
Harden did a pretty good job on Kobe in the last game. Did you see that as Harden defending Kobe well, or Bryant just missing shots he normally makes?
AK: That's a fascinating subplot. Harden definitely did a nice job, and in my opinion, has grown as a defender. He also turned things personal, and as smart as Kobe is, he's not immune to taking the bait. I suppose Kobe could have been off the mark, but he's been very streaky all season, so it's hard to tell what constitutes "catching him on a bad day." Thursday might shed some light.
So who wins and why?
RY: The Thunder have won five of six, including the big one over the Heat, and match up pretty well with the Lakers. That said, I think the Lakers will approach this game with a lot of focus because they probably need a good win to build on. They're good at home, and while the Thunder are solid on the road, the odds seem a bit stacked against OKC.
AK: I'm taking the Lakers, but not confidently. They haven't been nearly as impressive at home as their record indicates, and lately their defense and focus have been erratic. Plus, the Thunder are really good. I'll give the Lakers the benefit of the doubt, but won't even be slightly surprised if OKC wins.