After being swept up in Sessions-mania and allowing imaginations to envision a deep playoff run, Lakers fans have been slapped hard by the events of this week. Outworked in last Sunday's home loss to the Memphis Grizzlies. Outclassed in Thursday's home loss to the Oklahoma City Thunder. And sandwiched in between, a middling Golden State Warriors squad turned what should have been a blowout into a dogfight, while Andrew Bynum was banished to the bench and watched with seemingly mild interest. On and off the court, there have been reasons for concern, and the days left to address issues are dwindling.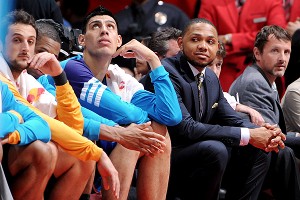 Andrew D. Bernstein/NBAE/Getty Images
Eric Gordon is one among many prominent Hornets who spends too much time in street clothes.
Obviously, success over a 13-38 Western Conference cellar dweller signals absolutely nada in terms of problems being solved. But it would at least provide a sense of normalcy and calm, even fully aware of the victory's relative insignificance. Bad vibes beget even more bad vibes, and the Lakers can't afford to even tiptoe further down that path.
For the scoop on the Hornets, we tracked down Michael McNamara of the True Hoop network's Hornets247 blog. Below are his responses to a few questions, plus a thought of my own.
Land O' Lakers: As of this writing, the Hornets are missing Trevor Ariza (ankle), Gustavo Ayon (birth of child), Jarrett Jack (ankle) and Chris Kaman (illness). In what ways would these players' absences be felt on Saturday if they're still not able to go?
Michael McNamara: And don't forget Eric Gordon and Emeka Okafor, who are arguably the two best players on the roster. The losses of Ariza and Jack are felt the most, as those two are the leaders of the team and the coaches on the floor. Earlier this season, when Kaman and Okafor were in the starting lineup together, the Hornets dominated almost every team they played on the boards, but that is no longer the case with Carl Landry and Jason Smith forced to start up front.
As crazy as it sounds, a Hornets team with a full roster would give the Lakers a fight in this game, but are playing with a bunch of backups and D-Leaguers at this point. Essentially, the Hornets starting lineup is on the bench, and yet they keep competing night in and night out.
LO'L: Is there a positional matchup where the Hornets may actually have an advantage? If no, what's the closest to a wash?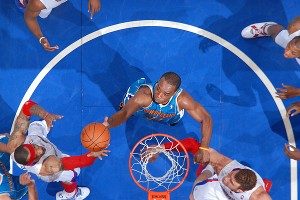 Andrew D. Bernstein/Getty Images
Landry is a tireless worker, and the Lakers need to match that energy.
MM: The only two places where some teams can have a positional match-up in their favor against LA is at small forward and point guard, but the Hornets are starting Al-Farouq Aminu and Greivis Vasquez at those positions- so the short answer is no. Where they will have the advantage against the Lakers is in the effort department. Unlike Gasol and Bynum, Landry and Smith never take a night (or in this case, a day) off because they can not afford to. They fight and scrap on every possession, and sometimes that results in a closer game than we all expect.
LO'L: I was recently talking with a member of the Hornets, and he described the team as really not bad, but they've lost a lot of tough, close games. Do you agree with that assessment, and if so, why can't they get over the hump in tight situations?
MM: It is remarkable how often the Hornets are in position to win a game in the final minutes against good teams when you see the guys they are rolling out on a nightly basis. They started a front court that consisted of Ayon, Lance Thomas, and Marco Belinelli a couple of nights ago and almost beat the Spurs (losing by 3). It is truly remarkable what Coach Williams has done with this team, and if and when the Hornets get a couple of their players back, they could get over that hump and play spoiler in April.
And finally, my quick two cents. Throughout McNamara's responses is the recurrent theme of relentless effort. The Hornets aren't terribly talented at the moment, but can be counted on squeeze every ounce of what they have to offer. The same can hardly be said about the Lakers over the last month or so, and as a result, contests against shorthanded or over-matched teams have regularly required four quarters to decide. Whether on radio, the podcast or or the blog, I've expressed several times my belief the Lakers aren't a dominant home team. By definition, a 20-5 clip makes them very good. But if they really dominated, wouldn't Devin Ebanks have gotten more than six total minutes over 13 home games since January 31? Dominance creates garbage time, and the Lakers are typically low on such minutes. The Hornets, however, serve up such an opportunity on a silver platter, and it would be nice to see the Lakers cash in.