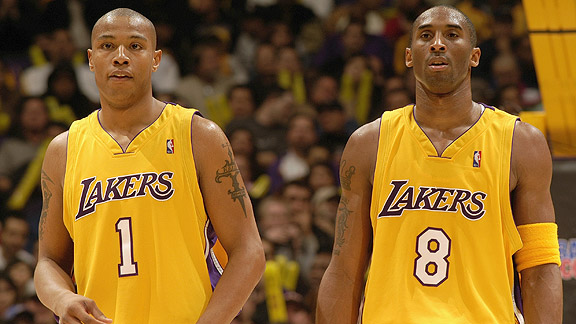 Noah Graham/NBAE via Getty Images
Kobe Bryant and Caron Butler stand next to each other during a game against the Houston Rockets, Jan. 7, 2004.
"It's so similar to what you see with MJ in the later stages of his career. Catching the ball on the pinch post, on the block. When Kobe first into the game, you saw him dribbling a lot. I'm really interested to see how many dribbles he takes in a game, because he's simplified it so much. He catches the ball, he don't waste dribbles. One to three, and he's scoring or doing something... He's always in the gym, obviously, but the funny thing about Kobe, and people don't realize this, he'll be practicing left-handed shots or over-the-backboard shots. Then, the shots that he was practicing prior to the game, he'd make the shot in the game, then wink at you."
More Evolution of Kobe Bryant:
--Caron Butler was teammates with Kobe Bryant during the 2004-05 season.