Stop me if you've heard this one before, but it would be nice to witness the Lakers play a strong game wire-to-wire. I don't necessarily mean flawless (although I won't look a gift masterpiece in the mouth), but strong. Strong in overall execution. Strong in overall defense. And most importantly, strong in overall effort. You have to go back to March 21 in Dallas for the most recent evidence of when the Lakers were dialed in from start to finish. Since then, the collective focus has mimicked a roller coaster. Against inferior and top-shelf competition alike, the Lakers suffer stretches where they appear to be going through the motions.
Which brings us to tonight's game with New Jersey. While they may be 19-35, Brooklyn's future franchise is on a three-game winning streak, the last two coming on the road. And that should come as no surprise, since they're actually much more proficient outside of the Garden State. They have an elite point guard, an upper-echelon small forward and Lamar Odom's ex-brother-in-law -- which must count for something, right? In other words, take NJ too lightly, especially the way the Lakers have played of late, and this carries the potential for disappointment, even with a W at the end of the night.
For some Nets-ian knowledge, we called upon Devin Kharpertian of the True Hoop network's Nets Are Scorching blog. Below are his responses to a quartet of questions.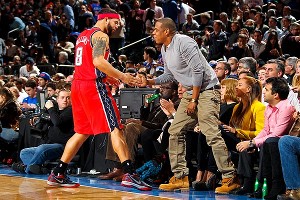 Nathaniel S. Butler/Getty Images
It's the hard knock life for Jay-Z watching his Nets in person.
Land O' Lakers: The Nets have been better away from their arena. Why do you think that is, and what, if anything, tends to change in the way they play on the road?
Devin Kharpertian: The players blame the arena, as the cold weather conditions and sight lines come from an arena built for hockey. What they won't blame is the cold conditions from those watching in the arena; the Nets "boast" the worst attendance figures per game in the league, and fans range from the few die-hard rabids to the casually indifferent corporate season ticket holders. For the "Jersey Strong, Brooklyn Ready" Nets, there's hardly a home-court advantage.
LO'L: Over the last few seasons, Gerald Wallace has been a handful for the Lakers to contain. How has he fit in with the Nets and how are they generally using him?
DK: Wallace is a Swiss army knife; the Nets throw him where they need him, and he delivers. From a historical Nets perspective, Wallace reminds me a bit of Kenyon Martin -- different styles, but both went all-out at all times just in the hopes of making the play. Wallace has hit the deck in the past few games more than any Nets player all season and plays constant, inspired defense, something otherwise absent on the Nets this season. Offensively, Wallace is gradually adjusting to his surroundings, and has put together some nice pick-and-read plays with Deron Williams, using his versatility to throw off defenders.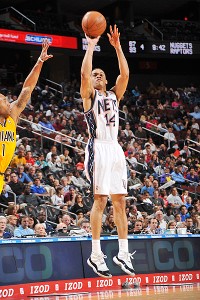 Jesse D. Garrabrant/NBAE/Getty Images
To paraphrase Kermit the Frog, it's not easy seeing Green.
LO'L: Given how Kobe's admittedly feeling the effects of heavy minutes as the result of there being no established backup shooting guard, it's somewhat frustrating for Lakers fans that former D-Fenders player Gerald Green has found success in New Jersey. What are his strengths and weaknesses, and how legit an NBA player do you think he is?
DK: Green is legit. A lot of folks see him as just a leaper and a dunker, and that's flatly not true. Green's developed into a dead-eye shooter and a capable (albeit not award-worthy) defender. He still has every bit of his leaping ability, and it's visually striking to see someone with so much bounce, even compared to the type of athletes he faces on a nightly basis. Avery Johnson normally throws Green in as a small forward, but he'd be just as effective at the shooting guard position in bigger lineups. As far as weaknesses, Green's not a particularly willing passer and still gets caught making dumb fouls from time to time. But in the aggregate, he's been one of the few "wins" the Nets have gotten all season.
LO'L: As an opponent, if you had to choose between Deron Williams as a scorer or a distributor, what would you choose and is there a way to force that result?
DK: Ideally, he'd be a distributor. With this team, he's got to be a scorer. Williams simply doesn't have offensive weapons surrounding him to create for others without attempting to create for himself. His best weapons are wing players Wallace, Anthony Morrow, and MarShon Brooks, and he won't find them many open shots without attempting to draw in defenses himself with his scoring ability. With better weapons, Williams could theoretically relinquish some of the scoring load and create mostly for others, but that's just not the context he's in with New Jersey.