Lakers forward Matt Barnes joined 710 ESPN's Mason and Ireland Show -- click here or the full interview -- touching on a wide range of subjects including the strongest team they've played this season (not surprisingly, Barnes chooses Oklahoma City) and questions about Mike Brown's rotation (often frustrating, particularly for him, but evening out with time).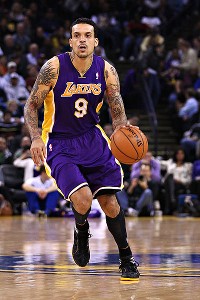 Ezra Shaw/Getty Images
Matt Barnes has been solid off the bench this season for L.A., but hasn't had much company.
One of the more interesting moments came when Barnes was asked about the bench, and whether he takes personally the near nightly outscoring of L.A.'s bench by the opposition's:
"It's a little different, here. I think our production is not necessarily measured by points. It's more the small things. We have such a talented and offensive oriented team that guys off the bench -- last night I played 27 minutes and got four shots. Normally guys like James Harden will play 27 minutes and get 18 shots off the bench. So it's kind of hard to gauge our production point-wise, because we have Kobe (Bryant), we have Andrew (Bynum), we have Pau (Gasol), and now we have Ramon (Sessions) who is also a proven scorer. So it's a little frustrating to hear [the criticism of the bench] sometimes, but this game comes with a lot of criticism and we'll definitely shoulder that."
While it might sound like an excuse, Barnes is right. The bulk of the offensive opportunities still go to the starters remaining on the floor with the reserves, making points an imperfect way to measure a good game from a bad one. Josh McRoberts had one field goal against the Warriors Tuesday night -- albeit with the ultimate FG-to-SportsCenter highlight ratio -- but had eight rebounds and worked hard. Troy Murphy's eight points were nice, but the 11 boards might have been more important. Barnes scores more than anyone off the bench, but is best measured by activity, not PPG. It's in this spirit the reserves should be judged: In one form or another, from rebounding to assists to defense to hustle plays to whatever, did they have a positive impact on the game?
Of course, the reason is equal parts simple and unflattering: The Lakers don't have the personnel capable of providing points on a nightly basis. They don't have a Harden, or a Lou Williams, or a Jason Terry whose living is built on getting off the bench and lighting up the opposition. L.A. made multiple plays for Michael Beasley, maybe not quite at the level of those three but still a potentially explosive scorer, but wasn't successful.
So while it's important to have a realistic understanding of what defines good play from the Lakers' bench, it's equally important to understand this recalibration isn't a function of design but necessity, is hardly ideal, and contributes greatly to the team's extremely thin margin for error.