There's a lot on the line Wednesday when the Lakers "visit" the Clippers (7:30, ESPN), starting with positioning in the Pacific Division. The Lakers will wake up Thursday in first place no matter the result-- they're 1.5 games up heading in -- but a victory for the LAC would pull them even with the Lakers in the loss column, and more importantly the winner takes the season series 2-1, earning what could be a very useful tiebreaker.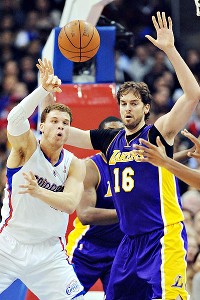 Jayne Kamin-Oncea/US Presswire
Griffin vs. Gasol is a big matchup to watch, particularly if Andrew Bynum plays.
Andrew Bynum, absent from Tuesday's win over New Jersey, will obviously play a huge role in the outcome. Defensively, he provides a major deterrent/shot altering deterrant in the lane for Chris Paul, a guy who (for those new to the game) makes his way to the paint with regularity. At the other end, not only is Bynum a key weapon for the Lakers as a source of points in the post and a means of drawing double teams, but his presence guarantees Blake Griffin has to play defense, matched up against Pau Gasol.
Unburdened from responsibility on his side of the floor, Griffin is far freer to load up on highlight dunks and soaring rebounds.
The Lakers are riding what might be the most unsatisfying three game win streak in sports history. With only 12 games left before the playoffs, they don't have a lot of time to coalesce, and their apparent allergy to comfortable leads obviously won't play well in the postseason. The LAC, meanwhile, have quietly posted a six game win streak, their longest as a franchise since March of '92 (an NBA record for largest gap between five win streaks), including a thumping of Dallas Monday night. Before, though, they'd lost 12 of 19, and still have some work to do convincing observers they're truly on track.
Add in a quickly developing, very chippy rivalry and, to paraphrase Rasheed Wallace, both teams have good reason to play hard.
To get a better feel for Wednesday's battle royale, we sat down with Kevin Arnovitz and Jordan Heimer, hosts of ESPNLA's The Clipper Podcast (among other things) for an audio preview. Click here to listen. To serve the more literary crowd, Arnovitz was nice enough to answer a few questions...
1. Maybe 10 days ago, we were all speculating about Vinny Del Negro's job security. Now the Clips have won six straight. What has changed?
"The Clippers had a relatively easy homestand against of slew of really, really bad road teams. But in the process, they've started to figure out some stuff defensively. On top of that, they've gotten some otherworldly shooting performances from all over the roster. The average NBA team puts up an effective field goal percentage of 48.6 percent. The Clippers over their six-game winning streak? 54, 55, 54, 57, 61, 54."
2. What impact has Nick Young made since donning the red, white, and blue?
"He's single-handedly increased the volume of hair on the active roster by at least 42 percent. Apart from that, he's shot 38 percent from the field and has contributed very little else. If Nick Young isn't hitting his 3-pointers, he's simply not helping you win a basketball game."
3. The Lakers finally have a penetrating guard who forces teams to respect his ability to finish. How does that impact the way the Clips stand up to LAL defensively?
"Blake Griffin and DeAndre Jordan will need to be on red-alert as they try to stunt those pick-and-rolls at the top of the floor. Jordan, in particular, has made vast improvements in this area. But it's going to take a ton of coordination, communication, decisiveness and instinct to challenge Sessions at the point of attack and still account for the Lakers' big men."
4. At the risk of boiling something as complex as a basketball game to something as simplistic as one matchup to watch... give us one matchup you're watching.
"Blake Griffin vs. Pau Gasol. Griffin's ability to make life difficult for opposing big men will have a vital effect on the Clippers' fortunes in the postseason. Pau is a triple-threat who forces his defender to make smart decisions both on and off the ball. Is Griffin up to the task? On the other end of the court, can Gasol stay with an athlete as strong, freakish and agile as Griffin?"
I'm very curious to see how the injection of Sessions, an element this matchup hasn't seen, impacts the proceedings. He'll force CP3 to expend energy on his own end, and as Arnovitz notes has the ability to put guys like Griffin and Jordan into uncomfortable spots. Even when he's not directly involved in the P'n'R, Jordan will have to balance his natural tendency to help aggressively off the weak side and contest at the basket with the understanding Sessions can easily find the big he leaves. The LAC have been excellent defensively through their win streak, holding each opponent under 100 points, but Sessions adds a dynamic they haven't seen when facing big brother.
In the end, though, a lot of fans want to see 48 minutes of solid effort from the Lakers, like they delivered while beating the Clippers in January. No lulls, no lapses in attention or execution. Playing their fourth game in five days it won't be easy, but for the Lakers to beat the league's best teams whether down the stretch or in the playoffs, it's required.