Wednesday's win over the Clippers was significant not simply for being a quality effort against a strong opponent, though it was, but for what it did to the standings. The Lakers now own the season series and accompanying tiebreaker over the Clippers, giving them what amounts to a three game lead in the Pacific Division with only 11 games remaining.
Meanwhile, one rung up on the playoff ladder, the Lakers are 4.5 games behind San Antonio for the Western Conference's second seed. Put it all together, and barring the unusual and unexpected, the Lakers likely enter the postseason exactly where they are now, as the third seed.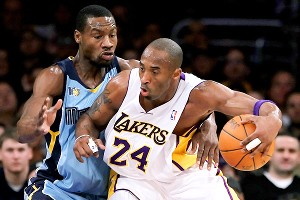 Jeff Gross/Getty Images
Tony Allen and the Memphis Grizzlies are a scary proposition in the playoffs.
The team should keep its collective eye on the games in front of them, since the schedule still contains three games against San Antonio, and dates with Denver, Dallas, and Oklahoma City. The goal is to enter the postseason playing at as high a level as possible, and in that regard the Lakers still have plenty of i's to dot and t's to cross. They need to go one day at a time. (Go ahead and sing.) The rest of us can look ahead at potential playoff opponents. The bottom half of the W.C. is tightly packed, meaning any of five teams have a reasonable shot of finishing sixth.
Who should the Lakers want? Is there a nightmare opponent out there? Here are the squads they're most likely to face, starting from the bottom, up... though the order is likely to change almost daily until the end of the regular season.
DENVER NUGGETS
Current Position: 29-25 (8th, 1.5 games behind sixth seed)
Matchup: The problem with Denver hasn't been talent, but health. Basically everyone on their roster has missed games, and in the case of key talent like Danilo Gallinari, a significant amount of them. But the tide might turn by playoff time. Wilson Chandler, who returned from China only to hurt his groin, will soon be back in the lineup. Gallinari (thumb) is practicing again, too. Rudy Fernandez, despite back surgery, could return for the playoffs. Keep in mind, the Nuggets started 14-5, including a win over L.A., and when whole are a dangerous bunch. They have good point guards in Ty Lawson and Andre Miller, a wing who can defend Kobe Bryant (Arron Afflalo), and a ton of depth. Most playoff rotations get shorter, but the Nuggets can still come in waves.
Fear Factor (scale of 1-10, keeping in mind the Lakers have shown an ability to lose to anyone, so all opponents deserve respect): 5 if injuries persist, 6.5 if healthy. Even if Denver gets their pieces back, how well will they fit with so little time together?
HOUSTON ROCKETS
Current Position: 29-25 (7th, 1.5 behind sixth seed)
Matchup: Kyle Lowry is back on the practice floor, and could return by the postseason. Obviously that changes the dynamic considerably for the Rockets, given how well Lowry has performed this season. Kevin Martin has also been banged up, but should be on the floor by the postseason. Houston beat the Lakers on March 20th without either one of those guys, so they'd have to be taken seriously. The Rockets don't excel in any one area, but are average to above average in a wide range of key statistical categories, and don't have a lot of clear soft points ripe for exploitation. Luis Scola is still a solid player, Chandler Parsons has earned his way into the starting lineup, and with Marcus Camby and Sam Dalembert, there's at least a little size.
Fear Factor: 5. Houston will force 48 minutes of solid play every game, but ultimately don't have enough top end players to beat the Lakers in a series.
DALLAS MAVERICKS
Current position: 31-24 (6th)
Matchup: Some people remember last year's Mavs like a group that caught lightening in a bottle at playoff time, upsetting their way to an NBA title. Nice story, but not quite true. Dallas was, save a stretch where Dirk Nowitzki was hurt and a lull at the end of the season allowing L.A. to earn home court against them (lot of good it did), easily one of the NBA's best. This year, they haven't been nearly as dominant. To say the least, Lamar Odom hasn't panned out, and while the defense is strong (6th in efficiency), Dallas struggles to score (100 points per 100 possessions, 23rd in the league) and isn't very good on the glass (23rd in rebound rate).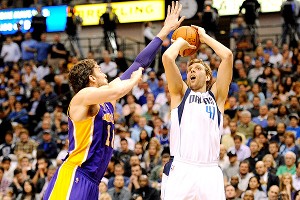 Jeff Miron/US Presswire
Dirk is still Dirk, but this year's Mavs aren't last year's Mavs.
All in all, they just don't scare like they did last season. Plus, ya think there might be a little extra motivation for the Lakers in a series with these guys? Maybe just a smidge?
Fear Factor: 5. To paraphrase Mark McGwire, the Lakers are not here to talk about the past... only exorcise it.
MEMPHIS GRIZZLIES
Current Position: 30-23 (5th, percentage points ahead of sixth seed)
Matchup: They have size and scoring up front (Zach Randolph, Marc Gasol), an elite wing scorer (Rudy Gay), solid point guard play (Mike Conley), a scorer off the bench (O.J. Mayo), force turnovers, are fifth in offensive rebounding rate, and from an efficiency standpoint are arguably the best team in the West. They can stick Tony Allen on Kobe for seven games and make 24 work hard for everything. They're well coached, stay away from the things they're bad at and emphasize those areas in which they're strong. Short Gay and Randolph, the Grizzlies still pushed L.A. to double OT on March 13, then beat the Lakers at Staples less than two weeks later.
In short, they are The Team Nobody Wants to Play in the playoffs. Nobody certainly includes the Lakers.
Fear Factor: 9.5. Lakers fans should be pulling for Memphis to win a few games down the stretch, and stay on the other half of the bracket.
LOS ANGELES CLIPPERS
Current Position:32-22 (4th, 1.5 games ahead of sixth seed)
Matchup: I want this to happen. The city, whether you're talking L.A. proper, Orange County, Lob City, or Lob City Adjacent, wants it to happen. If it did, Wednesday's game shows where the Clippers might struggle. DeAndre Jordan can't defend Andrew Bynum, nobody in red, white, and blue matches well with Bryant, and the Lakers can deal with Blake Griffin's scoring ability. The Clips would have more scoring off the bench and a game changer in Chris Paul, but overall the scales still tip towards the Lakers.
Fear Factor: 6.5. It could be a long series, but the playoffs are about matchups, and these don't shake out well for the LAC.