As was made abundantly clear Friday against the Rockets, the Lakers have pitched a tent in Strugglesville on the defensive side of the floor. Only twice in their last 11 games have they limited opponents to a points-per-possession figure lower than their season average for defensive efficiency, and those two were against New Orleans and New Jersey, both bottom third NBA offenses. So it's in this context that the Lakers, losers last night, nicked up with injuries, again fielding questions about the emotional maturity of their All-Star center, and playing their fourth game in five nights take the floor tonight against the still explosive Phoenix Suns.
One of the better teams in the conference since a 12-19 start, the Suns are fighting tooth and nail for a playoff berth and botched a huge game against the Nuggets Friday. A win would be huge, so they won't be doing L.A. any favors. To get a little more insight into the game, we hit up the rock-solid Michael Schwartz of TrueHoop's Valley of the Suns with a few Q's . . .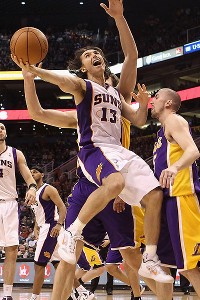 Christian Petersen/Getty Images
Steve Nash is old, and still awesome.
1. The Suns were 12-19 and left for dead a few weeks ago, but now are contending for a playoff spot. What has prompted the improvement?
Schwartz: Many things, but to me the biggest is that Phoenix once again boasts one of the league's elite offenses. Since the All-Star break (a few games after they dropped to 12-19), the Suns rank sixth in the NBA with a 106.8 offensive rating whereas before the break the offense was perfectly mediocre with a 100.2 offensive rating that ranked 16th. The offense has improved in large part because Channing Frye and Jared Dudley have scored much more effectively in the second half of the season.
Then there's the bench. Alvin Gentry really struggled to find a bench rotation that worked in the first half of the year, but almost to a man all of his reserves have been much better during the team's current16-8 run. Sebastian Telfair has solidified the backup point guard position, Robin Lopez finally looks healthy, Michael Redd has provided some much-needed scoring punch off the pine and Shannon Brown just looks much more comfortable now.
2. At age 59 (OK, 38), Steve Nash is averaging almost 54 percent from the floor, and still piling up big assist numbers. Have you seen any change in his game, or is it still a "same as it ever was" type thing?
Schwartz: It's really a "same as it ever was" type of thing. Occasionally you will see him run off a screen for a spot-up jumper, but for the most part he's doing the same things he's done the past seven years just with a different supporting cast. According to mySynergySports, 61 percent of his plays come as the pick-and-roll ball handler, which goes to show how often he's running the same tried and true play that's made him a future Hall of Famer.
I actually think one of the reasons his game has aged so well is because he's essentially doing the same things that worked for him a decade ago, only now he's that much smarter.
3. The Lakers now have a point guard forcing other teams to respect his ability to score off the pick and roll, and finish at the rim. How does this impact the way the Suns match up with the Lakers?
Schwartz: The biggest impact is that now the Lakers will make Nash actually have to guard someone. Nash's defensive weaknesses were certainly mitigated when he could be hidden on Fisher. I'm sure the attention the Suns will now need to pay Sessions in the pick and roll will make it that much tougher to defend their bigs, which has always been a major problem to begin with.
4. What are three things Phoenix has to do to win?
Schwartz: 1. Limit the Lakers to no more than 95 points, as that has been Phoenix's magic number this season. The Suns are 22-2 when preventing their opponents from reaching that mark and 6-25 when they yield at least 96.
2. Stay close on the boards. The Suns have been much better on the glass during their second half surge, but they are still far from a rebounding juggernaut. They must keep Andrew Bynum and Pau Gasol in check on the backboards.
3. Don't let Kobe go off. We already know how much Bryant hates the Suns, so one can only imagine how excited he must be facing Phoenix with defensive stopper Grant Hill in street clothes. Kobe will score, but the Suns will be OK if he needs a lot of shots to get his numbers (and if that number doesn't start with a '4' or a '5').
Statistical support for this story from NBA.com. Thanks to Michael for his input. Check out Valley of the Suns for all your Phoenix needs.