With nine games left before the playoffs begin, the best case scenario would be a Laker squad steadily clicking on all cylinders, a well-oiled machine ready for a utilize a tough stretch of foes (the Nuggets, Thunder and the Spurs... three times!) as a dress rehearsal before the second season. On the other side of the coin, the Lakers may not be currently mired in the worst case scenario, but they're certainly closer to that end of the spectrum.
Back-to-back losses to the Rockets and Suns have come on the heels of middling wins over foes like the Nets, Hornets and Warriors. (twice!) A once-stout defense, along with a collective focus, has slipped badly. Kobe Bryant missed a game with a lingering shin injury, and Pau Gasol, Ramon Sessions, and Metta World Peace (among others) are nursing ailments. Steve Blake appears to have forgotten how to play basketball. Andrew Bynum's obsession with cultivating a persona as the NBA's edgiest player is currently prioritized ahead of helping his team.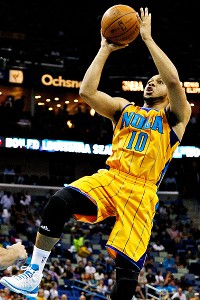 Derick E. Hingle/US Presswire
Gordon's a legitimately tough assignment for any defender.
There's a lot on the Lakers' plate to address in just under three weeks, and the clock is ticking. Thus, the Hornets need to be treated with the utmost respect and focus (particularly since they're suddenly healthy again). For more info on the Hornets, we called upon Michael McNamara from the True Hoop network's Hornets247 blog. Below are his responses to a few questions, plus a pair of thoughts from yours truly.
Land O' Lakers: 1) How has Eric Gordon looked upon returning and in what ways does he change what the Hornets can do?
Michael McNamara: You could tell that Gordon was feeling his way around in the first half of his first game back, but over the last six quarters he has been dynamic. He gives the Hornets a guy who can create for himself in the half court and finish at the rim in the open court. More than anything, he allows the other players on the Hornets to fall into their complementary roles, as opposed to trying to do too much.
(AK's note: If Kobe remains out, I'm assuming Devin Ebanks did enough things well in his place to continue holding down the fort. If that's the case, he'll be matched up against his first 20+ point threat since game 4 against the Knicks. Ebanks was admittedly a little overwhelmed by Carmelo Anthony, which immediately led to getting pulled from the starting lineup. Soon enough he was yanked from the rotation altogether. As I've expressed on a few occasions throughout the seasons, I think Mike Brown overreacted, and in the process robbed himself of a potentially useful asset. But that's also the past and can't be changed. What's important is that Ebanks makes the most of an opportunity, along with a challenge in front of him. Even working his way into game shape, Gordon is a talented player and a potentially tough cover. Ebanks will need to be on his toes.)
Land O' Lakers: How much different does the team look without Jarret Jack running the point (if he's out)? Are sets or the style of play different?
MM: The Hornets run the same offense, but it is Gordon with the ball at the top instead of Jack during crunch time moments. The difference is that Jack was limited to that mid-range jumper coming off the pick and roll, while Gordon has more weapons in his arsenal. He can get off a quick three, hit the mid-range, or take the ball all the way to the hoop, depending on what the defense gives him.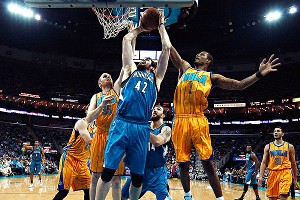 AP Photo/Gerald Herbert
Ariza and Kaman available makes the Hornets a tougher squad.
LO'L: Jack aside, the team's suddenly at almost full strength. Has the transition been relatively smooth, or have the shuffled lineups and such led to heads bumping?
MM: Somewhat surprisingly, Monty Williams has been coaching like he is fighting for a playoff spot, as he has been giving veterans who are unlikely to be on this team next year (Marco Belinelli, Chris Kaman, Carl Landry) minutes, while benching young, promising prospects (Gustavo Ayon, Al-Farouq Aminu, Xavier Henry). Perhaps Williams didn't get the memo that bad teams are supposed to be tanking this time of year.
(AK's note: Whether you consider Williams a consummate professional or a rebel unwilling to honor the standard NBA plan for bottom feeders, the point is he's playing to win. It's important to remember this Hornets team ain't the depleted squad that still managed to push an indifferent Lakers squad to the limits on March 31. A starting five of Greivis Vasquez, Gordon, Trevor Ariza, Jason Smith and Chris Kaman may not be of world-beating quality, but it's not horrible. And in the meantime, the Lakers would kill for a bench with Carl Landry, much less Landry, Belinelli, and Henry.
The way the Lakers are playing right now, they can't possibly afford to take any team lightly. However, that reality has never stood in the way of testing common sense. Pushing that envelope too far could leave them in need of a victory over the Spurs (on an 11-game winning streak, for those counting) to avoid an oh-fer roadie.