I had looked forward to these three April games between the Lakers and Spurs with great anticipation. I thought they'd be an instructive gauge of the prospects of a deep playoff run for the Lakers. But the results so far have been anticlimactic. Two games with blowout scores in either direction. And both played without Kobe Bryant.
Tonight, however, might buck this disappointing trend. Kobe's set to hit the hardwood after a seven-game absence, putting both teams at full strength. A win for the Lakers creates even more space between them and the Clippers for the Pacific Division title. And despite apparent indifference toward the one-seed, I imagine the Spurs would enjoy the psychological advantage of two wins over L.A. should these teams meet in the postseason. Stakes are in play, and I expect to see both teams working hard for a win.
To preview this game, I had an IM conversation with Timothy Varner from the True Hoop network's 48 Minutes of Hell blog. Below is the transcript.
Timothy Varner: During our last chat, the subject was whether the Spurs could contain Andrew Bynum. I think we have to ask whether the Lakers can contain Tony Parker?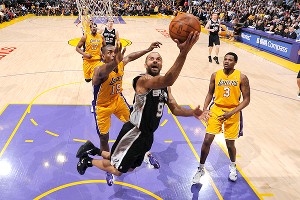 Andrew D. Bernstein/Getty Images
No Laker was able to slow Parker when last these teams met.
Andy Kamenetzky: I think the Lakers can do a better job. Obviously, Parker is an elite point guard and a handful for every team. But he can't be allowed to become such a devastating scorer and facilitator. 29 points is okay. 13 assists is okay. Both stats aren't. The Lakers need to do a better job forcing the ball out of Parker's hands. Hard traps, hedges and doubles to make him give up the rock, then defend him so it's harder to get the ball back. Also, Ramon Sessions must attack Parker and hopefully draw more fouls. Parker can't do much damage from the bench.
TV: That sounds like a good strategy, but my worry if I'm Mike Brown is the Spurs' offense does such an excellent job of moving the ball -- hard traps, hedges, and doubles might lead to open three pointers.
AK:Sure. That's the problem facing an opponent as talented and versatile offensively as the Spurs. Everyone will need to help and communicate. In the meantime, the Lakers' offense gains a new wrinkle with the return of Kobe. How do you expect the Spurs to defend 24?
TV: By committee—Danny Green, Kawhi Leonard, Manu Ginobili and Stephen Jackson. I'm curious whether Popovich gears his defense more toward Kobe or Bynum?
AK: Were I Pop, Bynum. Not just because Drew's been an exceptionally efficient scorer all season alongside Kobe, but he's also still vulnerable to getting taken out of a game mentally when struggling offensively. When that happens, Bynum's defense can suffer in turn, which hurts the Lakers as a whole. Plus, when you throw the kitchen sink at Drew, he's vulnerable to turning the ball over. And as you may have noticed Tuesday, transition D isn't the Lakers' strong suit.
Kobe sometimes gets caught up in individual battles, and having missed seven games, could work too hard trying to "prove" he's back. But overall, the Lakers live or die with Drew.
TV: I'm also curious what frontcourt the Spurs start. One could make a case for returning to Tiago Splitter, but he and Tim Duncan are not a great pair. Splitter's inability to shoot makes him a better match with Bonner or Diaw. I wouldn't be surprised to see Boris Diaw or Matt Bonner get the start, with Splitter subbing for Duncan.
AK: For the purposes of defending Bynum and Pau Gasol, what do you think Pop should do?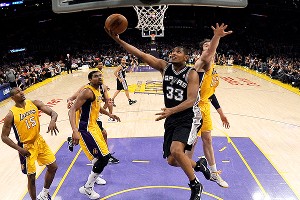 Harry How/Getty Images
Who wins the frontcourt battle?
TV: They will front Bynum, and use numerous double team strategies in an effort to confuse him. But in general, the Spurs' best strategy against Bynum and Gasol is to make life difficult on defense. Exactly like what you were saying with Sessions and Parker. This is why I see Diaw and Bonner assuming bigger roles.
AK: These two games were so wildly different. Are there any takeaways looking ahead to Friday?
TV:These teams are capable of exploiting each other. The Spurs' speed and bench is too much for the Lakers, the Lakers' frontcourt is too much for the Spurs. If we see a Spurs-Lakers playoffs series, we're essentially watching a Brown-Popovich chess match. The subplot isn't so much about the individual players' raw abilities as their mental focus. Whichever squad more consistently executes their respective game plans wins. And it's tantalizing because players like Kobe, Manu and Duncan rarely lose the mental focus battle.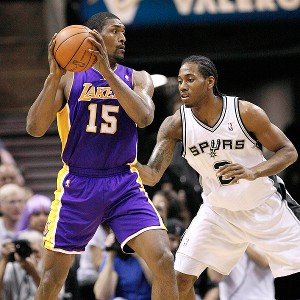 Soobum Im/US Presswire
The rook needs to ramp up his production tonight.
AK: Give me one role player or reserve who needs to step up to ensure a win for San Antonio.
TV: Kawhi Leonard, who's had big games, and is an especially talented rebounder. If he delivers something along the lines of eight points, eight rebounds, it helps the Spurs' frontcourt keep up in terms of rebounds and allows Popovich to play Diaw and Bonner more.
AK: For the Lakers, I'll say Metta World Peace. His defensive versatility could be utilized against Parker, Manu Ginobili, Stephen Jackson and maybe even Duncan in spots. Plus, this will be the first game with Kobe back in the fold, and MWP has thrived with increased touches and facilitating chances. He needs to prove he can maintain that same focus and effect with maybe just 7-10 shots a night, and the ball in his hands less often.
So finally, who takes the rubber match?
TV: I'll go with the home team. Plus, the Spurs seem motivated to secure the No. 1 seed. Every game counts. You?
AK: I'll also take the Spurs. I don't think reintegrating Kobe will be quite the ordeal some pessimists are predicting, but it nonetheless disrupts somewhat a very good rhythm of late for the Lakers. Plus, San Antonio has lost just five games this season at the AT&T Center. One came against the Lakers. Two feels like a stretch.