Following Friday's thumping in San Antonio at the hands of the Spurs, Sunday's tilt with Oklahoma City takes on a little extra significance. First, mentally it would certainly benefit the Lakers to play a strong game against an elite Western Conference team. Losing would run their record against San Antonio and OKC to an uninspiring 1-5, not exactly a top shelf omen looking ahead to the postseason.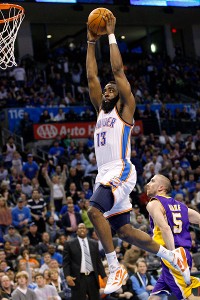 AP Photo/Sue Ograki
Like most of his Oklahoma City teammates, James Harden can soar through the air like a majestic bird.
Then there are the practical implications. Should the Lakers lose, they would no longer control their own destiny in the Pacific Division. Instead, the Clippers could win out over their final three games and take the crown, pushing the Lakers to a four seed and a first round date with an extremely dangerous Memphis squad.
Not good. To preview Sunday's action, we hit up the always insightful Royce Young, host of TrueHoop's Daily Thunder Blog with a few questions...
1. The Thunder put up points more efficiently than just about anyone in the league (2nd in efficiency), but the D has been good-but-not-great (9th). How good are the Thunder, really, on their own end? Where are the strengths and weaknesses?
Royce Young: The Thunder are extremely vulnerable against a good pick-and-roll team. Kendrick Perkins, while a wonderful post defender, struggles hedging, showing and helping. Scott Brooks tries to combat this by going small with Durant at the 4, but that leaves the Thunder weaker on the glass. It's been an issue for OKC this season and a reason the Thunder have had problems with San Antonio and the Clippers, both good pick-and-roll teams.
Two other things the Thunder struggle with defensively are 1) defending the perimeter and 2) defensive rebounding. Teams have been known to get hot from the outside against OKC because the Thunder are a bit slow in rotating the shell to the wings and corner when a guard penetrates against them, which opens up looks in bulk. And any time you give teams extra shots off the offensive glass, you're asking for trouble.


2. How has Derek Fisher fit in with the Thunder, on and off the floor?
RY: It's been a really strange thing with Fisher, honestly. His signing was billed as him being a new backup point guard to Russell Westbrook, but I'd contend he's barely played any point. James Harden runs much more point guard with the second unit as Fisher often just finds his way to the corner and waits for a kickout. He's been a steadier presence off the bench than rookie Reggie Jackson, but if his role is to essentially be a shooting guard, the Thunder might be better off using Daequan Cook -- a much better 3-point shooter -- more in that role.
Brooks seems to have fallen in love with sticking with Fisher for extended stretches, which has led to curious minutes for Fisher at times. Again, he's an upgrade from Jackson, but his role has been a tad confusing.
3. All that offensive efficiency comes despite the league's highest turnover rate. What accounts for the number of miscues, and how much of an issue do you think it'll be come playoff time?
RY: Brooks has harped on the turnovers all season, but likes to call a lot of them "good turnovers." Which often, they are. A lot of OKC's giveaways are because the Thunder are overpassing or trying to force something. It's not that they're simply careless and out of control, but more just trying to make the right play a little too much. Sometimes it's just better to shoot that open jumper you've got.
Another thing is that the Thunder employ two fairly aggressive players in Westbrook and Durant, guys with high usage rates and high turnover rates. The Thunder's offense is predicated more on isolation off-the-dribble stuff than ball movement, which opens the door for more turns.
4. In what area do you think the Thunder are most vulnerable against the Lakers?
RY: I honestly think the Thunder match up really well with the Lakers. But I think Ramon Sessions can be an X-factor. If he works the pick-and-roll with Pau Gasol and gets a mid-range game going, the Thunder can be worked over. OKC's defense stretches, more opportunities open for Andrew Bynum inside and before you know it, points start coming easy.
I think the Thunder can defend a traditional Laker set pretty well. Perkins is solid on Bynum, Ibaka good on Gasol. Thabo Sefolosha and James Harden have defended Kobe well in the past. But start opening up the offense in a screen-and-roll scenario to free up open corner looks for Metta World Peace, Matt Barnes and whoever else, that gives the Lakers the type of dynamic offense OKC struggles with. The Lakers have the offensive pieces to be dangerous against the Thunder. They rebound extremely well and of course with a trio like Kobe, Bynum and Gasol, that's a challenge to contain.
5. OKC has been far more successful this year against the Lakers than the Clippers. Any sense they'd rather draw the purple and gold in the second round?
RY: I think so. Like I said, Chris Paul in the pick-and-roll has been a scary thing for OKC this season. The Lakers are a bit more traditional with their bigs, which allows the Thunder to play Perkins and Ibaka more. The Clippers can go small with guards and force the Thunder to match that, which makes them vulnerable on the glass.
But then again, the thought of having to get past Kobe and the Lakers before the Western Finals isn't a fun thing to think about. Just the mental aspect of having to beat the Lakers that early might be enough to want the Clippers instead.