The decisions coaches make are too frequently boiled down to overly binary, results-based evaluation. A choice was good or bad depending on the final score, as opposed to the logic driving it or the context creating it. It's one of the reasons quantifying the impact of coaches is tough, and why they often get credit or blame for things they shouldn't. The swings for coaches of marquee teams in major markets can be massive and often reflexively tilted negatively, something for which Mike Brown wasn't fully prepared entering his first season as Lakers coach.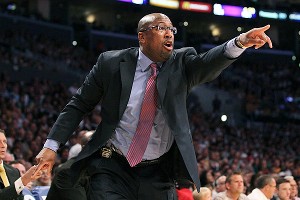 Stephen Dunn/Getty Images
You can't blame Mike Brown for pointing at one of his best games of the season.
Working under extremely difficult circumstances, Brown's first season has been a mixed bag. Clearly his credibility isn't firmly established, whether with his team, the media covering him or the fans evaluating him. While it may have been lost in the wake of the vicious foul of James Harden by Metta World Peace, Sunday's win over the Thunder at Staples was significant for Brown.
Down their starting small forward after World Peace's ejection and best bench player (Matt Barnes was limited to just over nine minutes in the second half after turning an ankle early in the game), the Lakers mounted a furious fourth quarter comeback fueled in part by choices Brown made from the bench.
If it wasn't his best day as coach of the Lakers, it was right up there, and was badly needed just one game away from the start of the postseason.
It started by dusting off Jordan Hill in one of the more significant games of the season.
Brown explained his thinking after the game. "On my ride back from the airport after our loss to San Antonio, I just had a gut feel. I picked up the phone and called Hill at two in the morning and said, "Jordan, you ready to play?"
Brown told Hill he wanted athleticism and aggression against the pick and roll, and a presence in the paint. Hill gave him all three, rewarding Brown with a great first half, and more good play starting the fourth. Faced with the decision to stick with Hill or give Andrew Bynum, ineffective Sunday but still an All-Star averaging 18.7 points, 11.8 rebounds, and toting a team leading PER of 23.02, his normal playing time, Brown stuck with Hill.
In some ways, the decision was easy: The Lakers' fourth quarter comeback was sparked by excellent defense on OKC's relentless pick and roll game, and Hill was integral to that effort. Bynum, meanwhile, was only periodically engaged. Still, while keeping an effective group on the floor sounds logical, had the Lakers come up short or had Hill made key mistakes, Brown would have been criticized.
Putting Bynum back in the game might not have been the best decision, but was safer.
Less publicized was Brown's choice to leave Steve Blake on the floor and sit Ramon Sessions after only 3:52 of playing time in the fourth quarter, and through both OT's. Blake was better than the (somewhat) slumping Sessions Sunday, but has come under criticism from Lakers fans all year (with cause), and by leaving him on the floor Brown again opened himself to criticism.
Perhaps most importantly, Hill's effort and the results it helped produce -- OKC shot 21.1 percent in the fourth, 28.6 percent in the first OT, and 30 percent in the second -- became a brilliant advertisement for what Brown wants out of his team defensively and how effective it can be, along with tangible proof he's willing to go with the guys properly executing his game plan.
"I know in pick-and-roll coverage, if we tell our bigs -- whether it's Andrew or Pau [Gasol] or whoever -- to be up the floor, if you're not up the floor at the point of the screen and we're getting hurt and somebody [else is playing up on screens], then somebody else is going to play. If we give our guys a coverage, then they've got to do it," Brown said.
The Lakers cannot succeed in the postseason without again rising to an elite level defensively. Aggressive play from their bigs on the pick and roll was crucial in their early season success -- for much of the season, Synergy rated the Lakers as the league's second stingiest team in half court sets -- and is needed going forward, particularly out of Bynum, whose effort and commitment to Brown's directives has been inconsistent.
As an added benefit, the Lakers may have found another guy in Hill who can be effective defensively against the Thunder should they meet in the second round.
How all of this impacts the playoffs is an open question. We might look back on Sunday's game weeks from now and see it as a turning point, or just as easily as a positive blip on the way to disappointment. Still, the goal is always for teams to be playing at their best before the postseason begins, and pile up as many positive moments that can be drawn on in key moments during the spring.
It applies to players, and coaches, too.