Kobe Bryant called into Max and Marcellus on 710 ESPN this afternoon -- I believe he appeared on the call screen as "Kobe in Orange County" -- and stayed on the phone for about an hour. Needless to say, with that kind of time there was an incredible amount of ground covered.
Listen to the whole hour here.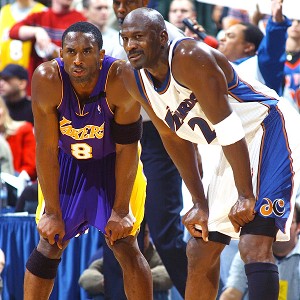 Mitchell Layton/NBAE/Getty Images
Kobe Bryant says passing Michael Jordan's ring count isn't a motivating factor for him.
One of the more interesting moments came when Kobe was asked whether or not the idea of catching and perhaps exceeding Michael Jordan's ring count (that would be six) is a major motivating factor for him:
"To be really frank with you, I really do not look at it as that, for the simple fact that Michael has really taught me a lot. Really taught me a lot. The trainer of his, Tim Grover, he's passed on to me and I work with him a great deal, and he's shown me a lot. So I can't sit there and say, well, I'm trying to catch Jordan at six, I want to pass him after six. That's not how I approach that, because most of the things that I have learned, most of the things that I do, I owe to him. People don't really understand that. They want to make it a me vs. him type of thing, and I just don't feel that way.

I have a great sense of admiration and respect for the things that I've learned from him. I feel like I owe it to him, and I owe it to Jerry West, and I owe it to Oscar [Robertson], and I owe it to Elgin [Baylor] and I owe it to all those players who I've come in contact with and have passed on a lot of information to me, to carry that torch and to carry that mantle...
...It's truly not [what motivates me]. I want to win as much as I can just because if anything else, you have to hear everybody talking about this is it for him, he's done. The newer generation is taking over, and this that and the other. That's more of a driving factor. If I win six and I end up tying M.J., that's great, but he and I have had completely different career paths."
Some won't believe him when he says chasing Jordan isn't a major motivation -- listening to the interview, certainly Max Kellerman doesn't -- and it indicates the battle Kobe faces having his career evaluated on its own terms. It seems like a mistake as well to distill Kobe's admittedly pathological competitiveness so neatly. The M.J. factor probably fits in there somewhere, since Bryant has said before he sees those legends coming before him as measuring sticks. But so do other factors like the desire to quiet those who doubt him, and an internal motivation fueled not just by intense desire to win, but a hatred of losing.
Kobe hates losing. Hates, hates, hates it.
More from the interview below, including comments on L.A.'s postseason championship odds, his relationships with Mike Brown and Jim Buss, Derek Fisher's battle with Billy Hunter and the NBPA, and more.
Will the Lakers win a title this year?
"I do (think we're going to win the championship)."
You're going to win the title?
"Yes. I expect to win it, absolutely… I think the thing that's our biggest strength is our versatility and our size. Sessions has added another dimension to our team in terms of speed and point guard that can score the ball. Our bench has been playing extremely well. We've been shooting the ball extremely well, and our biggest key is our perimeter shooting, limiting our turnovers, and keeping the game at our pace. If we can do those things in the postseason, I like our chances."
On the toughest matchups in the playoffs:
"Oh my god, in the West? Everybody's a problem. Everybody's a problem. The Western Conference has been tough from top to bottom now for years. There are no easy matchups. You can't look at one particular matchup and say "Ok, that's going to be an easy series. That's going to be a gimme series." That just doesn't happen in the Western Conference. The Clippers have a good seed at the four slot, and they've got to face Memphis. You're looking at us in the third slot, and we've got to deal with a Denver team that's incredibly active and a great scoring team or we've got to play the defending champs. There's no easy matchup."
On his relationship with Mike Brown now compared to the beginning:
"It's better than it's ever been. At the start of the season, the relationship was all new. So we still were kind of trying to feel out each other, and see what he likes, what I like, what the team needs and so on and so forth. Midway through the season, you have struggles, you have bumps on the road where you have to figure things out. That's true with any championship team. You look at the [New York] Giants last year, that was a dysfunctional crew. Not to say that we were dysfunctional, but you have ups and downs and that's just part of working through it. I think teams that are standing at the end are teams that are able to figure things out, continue their open lines of communication, and make themselves a better ball club at the end. So right now, we're in a very good place."
On his relationship with Jim Buss:
"I just happened to bump into him. I was going out to eat after a game across the street at LA Live, and I feel a guy come up behind me and just tap me on the shoulder. I thought, "Who the hell?" and I turn around, and it's Jim Buss. He asked what I had going on, I said "I'm going to get something to eat." He came over and joined me, and that was the first time we sat down and talked. He let me know kind of what his philosophies were on some of the decision making. We just went from there, man. It's been cool since then."
On owning a team:
"No. No thank you… Are you kidding me? You want me to own a team and deal with these rich, spoiled stubborn athletes, and try to get them to perform? No thank you."
(Note: I love that quote.)
On the ongoing battle between Derek Fisher and the executive committee of the NBPA:
"It's a little shocking to me. I've always felt he's done a tremendous job. Also, I believe you have – before we get to that situation, I think we address whatever's going on with him and Billy Hunter. I think we address that issue first. If you want somebody else to lead the players association, we can address that. But you have to address first things, first."