Kobe Bryant needs 38 points in Thursday's regular season finale against the Kings to capture this year's scoring title over Oklahoma City's Kevin Durant.
Bryant has said repeatedly over the last few days he doesn't particularly care if he wins. The Lakers are expected to sit at least some of their starters for most, and perhaps all, of tonight's game -- totally meaningless as far as the standings are concerned -- but Mike Brown said Wednesday he'll give each player the option to suit up or not. Meaning if he chooses, Bryant can lace up his Kobe VII's and see what comes of it.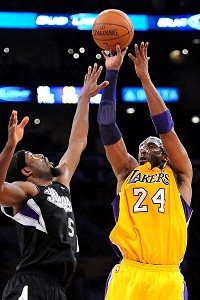 Jayne Kamin-Oncea/US Presswire
If Kobe Bryant wants to get the scoring title, he's absolutely entitled to try.
Should he?
With the playoffs starting Sunday, plenty of Lakers fans would prefer Kobe kick up his feet and relax. Having spent seven games in street clothes with tenosynovitis in his left shin and only now getting back into the lineup, why risk injury in a game that doesn't matter? The better safe than sorry logic is pretty clear. Some might even consider playing just to get a scoring title selfish, putting personal glory ahead of the team's best interests.
They'd be wrong. If Bryant decides to sit, or play a quarter or a half, that's fine. I'd love to see him in street clothes, where nothing can go wrong, but if he wants to go as long as it takes to get that 38th point, more power to him. No player in the NBA works harder on his game or his body, both requiring more will with each passing year, or tries harder to win. At 33 years old, with 16 seasons under his belt and the equivalent of about 2.5 more in playoff games, to lead the NBA in scoring would be a remarkable accomplishment, particularly given Kobe's position on the floor.
I believe Bryant when he says it's not very important and resting would certainly prove his point, but if he changes his mind nobody should hold it against him. There is room in team sports for individual honors and accomplishment, particularly for players who have put in the hours Kobe has. It's not the ultimate prize, but still a pretty good one.
As for the rest of the game ... well, there's just not that much to watch. There could be significant burn available for Andrew Goudelock and Darius Morris, and eyes will be on Devin Ebanks, suddenly thrust into a potentially prominent role this postseason. Plus, Lakers fans (at least those who haven't been hanging at D-Fenders games) will get their first look at Christian Eyenga, acquired in the Ramon Sessions deal on deadline day. With Metta World Peace suspended and Matt Barnes out with an ankle injury, the Lakers are thin at small forward. If you ran out and bought an "88" jersey right after the trade, Thursday is your day.
Jordan Hill gets a chance to follow up on his outstanding game Sunday against the Thunder, as well.
That's about it.
As for the other team, our man Jonathan Santiago at TrueHoop's Cowbell Kingdom (Tweet him here, Tweet them there) was kind enough to answer a few questions for us, looking back at another lottery run in Sacramento ...
1. The Lakers don't have much to play for in this game, but what are the Kings playing for? Where are the loose ends?
Santiago: Like every young team, they're playing to get better. There's a lot of conversation right now about tanking, but I don't think the Kings are intentionally losing games for a shot at the top pick. At this point, I believe they're also trying to see who fits and doesn't fit into their future plans. Take Terrence Williams for example, who's getting heavy run because of an injury sidelining John Salmons for the last month. The Kings like the defensive versatility and playmaking ability he's brought since signing in Sacramento after the Rockets waived him following the trade deadline.
2. How has the recent news regarding the arena impacted fans? This must feel worse than previous installments in the saga, since it seemed like the team's future in Sacramento had finally been secured.
Santiago: Fans have continued to come to games. In fact, the Kings have drawn three near sellouts, including this Sunday matinee against the Portland Trail Blazers after the deal fell through in New York. I think if you ask Kings' fans how they feel right now, they'll tell you they're irked by the Maloofs, but not at the team. Even though the Kings have been a disappointment, they're still an exciting, young team when they have their act together and they've played some of their best basketball at home. Whether the fan support continues to be the case next year remains to be seen. But seeing how fans came out in droves when the move to Anaheim was all but a done deal last year, it wouldn't surprise me.
I think fans are also holding out hope that Kevin Johnson has one more trick up his sleeve. The mayor recently re-opened dialogue with the Maloofs and has a meeting with the Kings' owners today.
3. If you had to pick the brightest spots for the Kings this year, what would they be?
Santiago: Isaiah Thomas has been a revelation. Selected with the last pick of 2011 Draft, I certainly didn't think he would emerge by the end of the season as the team's starting point guard. Jason Thompson has also been great this year. By adding a low-post game to his arsenal, he's turned himself into one of the league's better big men. He's also played very selfless this year, deferring offensively to the Kings' big three of Tyreke Evans, DeMarcus Cousins and Marcus Thornton. That unselfish approach should make him a coveted free agent this offseason. And I can't forget about Cousins either, who is on his way to becoming one of the league's most dominant big men. His knack for crashing the offensive glass has been incredible and his attitude hasn't been much of a problem since Keith Smart took over.
Next season will be a big year for the Kings, especially Evans (if he's not traded), Smart and Kings' president Geoff Petrie. Evans is in the final year of his rookie deal. He needs to add that elusive jumper to his arsenal and become a force off the ball. Smart is also in the last year of his contract and if he doesn't produce a winner, I don't know if he gets another shot at an NBA head coaching gig. Finally, if Petrie can't improve this roster, considering the talent and cap space he has at his disposal this summer, it wouldn't shock me if the Maloofs finally cut ties - especially if they opt for relocation.