A lot of factors can swing a playoff series. Individual and stylistic matchups. Home court advantage. Coaching. Unconsciously hot shooting. Injuries. Star power. And of course, experience. While oodles of "been there, done that" doesn't guarantee a championship (just ask the 2011 Los Angeles Lakers), it's never a bad thing to be well acquainted with the postseason. To a man, every player I've every spoken with has readily acknowledged the playoffs are an entirely different animal from the regular season. If you're not ready, that shift can be quite the eye-opener.
Over the last few years, we've grown accustomed to the Lakers as one of the NBA's more playoff-ready teams. In 2009, they won the title with a core one campaign removed from a trip to the Finals. In 2010, they repeated with an entire team -- save then-Ron Artest -- armed with at least one ring. 2011 may have ended with a whimper, but on paper, the Lakers' pedigree was perfect: A mix of reigning champions and seasoned veterans (Matt Barnes, Steve Blake) hungry to join the club.
This year, however, the roster composition is fairly different. Beyond the team being down to just four players with championship credentials (low by recent standards), they're not nearly as playoff-tested. In the "Pau" era, the only rotation player with essentially no playoff experience was Shannon Brown in 2009. This season, there are three. Ramon Sessions, Devin Ebanks and Jordan Hill all figure to play notable minutes, and all are making their postseason debuts this Sunday. (Oddly enough, Troy Murphy only has three minutes of playoff experience after 11 seasons, but at least he's a 11-year vet and his minutes will likely be sporadic.) Much is particularly expected of Sessions, but all will be asked to contribute on this elevated stage. There's no real way to comprehend what's in store for them beyond actually experiencing it. But that doesn't mean wisdom can't be imparted. With that in mind, I gathered perspective and memories from some of their teammates who've been there.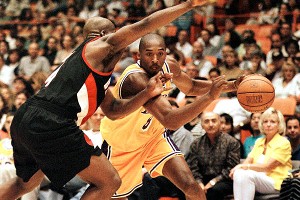 Vince Bucci/Getty Images
The quest towards five rings (and counting?) began against the Blazers.
KOBE BRYANT
First playoff game: 4/25/97 vs. Portland, as a member of the Lakers
What felt immediately different in the playoffs?
"It's more physical. The game speeds up. The opposition really gets a chance to study your game and take away your strengths, so you have to make sure you have a well balanced attack. You have to make sure you think the game all the way through, because in the playoffs, things don't happen by accident. In the regular season, sometimes they do. In the postseason, they don't."
The Preparation
"Oh, man. I crammed so much. I knew every single play before they were running it. I was so hyped up, man! I studied the entire playbook, and Nick (Van Exel) and them were looking at me like I was crazy. 'What are you going?'
I was like, 'Isn't this what we're supposed to do?'
"Okay, young fella."
"Well, this is what I do."
Were there moments it paid off?
"It didn't really pay off much for me. I didn't play worth a s--- anyway." (laughs) I'm serious. But I learned a lot about the plays and different pro sets and from series to series, it was interesting to see how many teams essentially ran the same thing. So it was a good learning opportunity for me.
"If you don't do your preparation before Game 1, you don't know what adjustments are coming anyway. You have nothing to base if off of. For me, I did a great deal of studying, so I was able to watch from the bench, see what adjustments they made. See how they played Nick on screen/rolls. How they played Eddie (Jones') cuts. Shaq (O'Neal) in the post and all this stuff. So I learned a lot.
"They're small adjustments, but they're big adjustments. Sometimes the smallest moves give you the biggest returns."
Do you plan to talk with Sessions, Ebanks and Hill?
"Yeah, but the only message is to be fundamentally sound and minimize mistakes. That's really what it's about in every profession. In basketball, all it's about is minimizing your turnovers, controlling the glass, and controlling the tempo. And then everything else kind of gets into the execution of things."
PAU GASOL
First playoff game: April 17, 2004 vs. San Antonio, as a member of the Grizzlies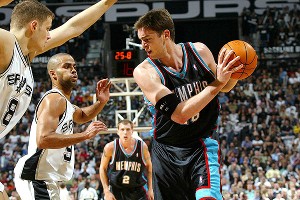 Ronald Martinez/Getty Images
Gasol's Grizzlies were swept, but the experience was vaulable.
On what surprised him about the playoffs
"It was surprising, a little bit, how different it was. The intensity. The tension. The physicality allowed. The excitement of the fans. it seemed like it was a totally different season. That's what I most remember of my first playoff experience ... You can't quite really prepare yourself until you experience it, until you get that first game in. You try to prepare yourself mentally and you know it's going to be a challenge, but not quite like the first game.
"We played in San Antonio for the first one. Started on the road. Obviously it was a tough series for us. I remember starting up a little slow. I didn't shoot the ball well, especially those first two games. I shot the ball better at home. I shot well from the line, but my rebounding numbers were pretty low, probably around five [for the series] ... The intensity and the physicality and how much they let go in those kind of games was a little more surprising."
Even playing for a European championship didn't entirely prepare him for the NBA playoffs
"It's so different from the regular season to the postseason. When you're playing for a (European) championship, it's pretty much the same pattern. They're all pretty much meaningful games, important games you have to win to move on. The playoffs is like all of a sudden these expectations, excitement and intensity. It's just a fun time."
What Sessions needs to be mindful of as a point guard
"Obviously, he carries some of the load on his shoulders, because he's running the team, for the most part. He has to be assertive. He has to make sure takes care of the ball, but at the same time, be aggressive and probing and getting everybody involved as well as himself. Just play his game, really. [Don't] dwell on anything beyond that. Be aggressive. Understand there's going to be some reaching, some hands that are not going to be called, so be strong with the ball. And have fun, too."
METTA WORLD PEACE
First playoff game: 4/20/02 vs. New Jersey, as a member of the Pacers
"It seemed different, but it really wasn't. I should have just played basketball. That's all that matters. You play smart, that's all that matters. You play smart and you play hard, and everything will happen [for you].
Why it felt different in the beginning
Because I was on [national] TV... in the spotlight. It's fun, entertaining, and you gotta play ball and you're trying to win a championship. We played against the Nets when they were going to the [Finals]. I was matched up with (Kerry) Kittles, (Keith) Van Horn and Richard Jefferson. We were the eight-seed. We won Game 1, lost Game 2, they won Game 3, we won Game 4 and they won Game 5. It went to five games in the first round. I had a good Game 1, but then I twisted my ankle and I didn't have a good playoffs after that."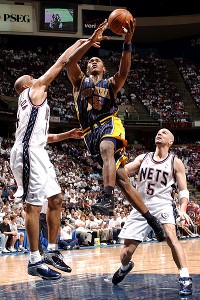 Jesse D. Garrabrant/NBAE/Getty Images
What Ron-Ron lacked in experience, he made up for in hustle.
What's the main difference between the regular season and postseason?
"Everybody's playing harder. Every possession, everybody's playing harder... The tempo's a little different. They say it's faster, but it's really not. It's really just sharp, where everybody's tightened up. It's not that much faster. You really just gotta play smart.
What he remembers the most about the playoffs
"I was playing harder than everybody. My defense was really good at that point. It's always been playoff basketball for me. So the competition, the level, the effort, it was what I was about anyway. And I was young. I didn't really know how to play basketball at that point. I was 22 years old."
Why the pressure could -- but probably won't -- be magnified for Sessions
"You're controlling the show. It's basically your show. But he responded in the first game when he got here, and I was like, 'Wow!' He was on the big stage. [Replacing] Derek Fisher, five rings. And he came like nothing ever happened. So I can him doing really well."
MATT BARNES
First playoff game: 4/22/07 against the Mavericks as a member of the Warriors
What felt different in the postseason
"Just the intensity. You know what I mean? In a long 82 game season, I think from time to time, the intensity is not there for the simple fact that you know you have another game. But in the playoffs, everything is under a microscope and if you lose, you go home."
Were you nervous?
"I would say no, for the simple fact that I'd been waiting. That was my fifth year in the NBA and I really hadn't gotten a chance to play. I was really anxious to get on the biggest stage and really show what I can do. I bounced around up to that point and was really anxious for the opportunity to really go out there, not just to help my team win, but really show that I can play."
Being part of the plan against Dirk
"We were kind of the first team to put a small forward on him and Stephen Jackson and myself guarded him a lot and we just sort of crowded him. We wanted to make it very difficult for him to dribble the ball if that's what he wanted to do. For the most part, he exploits matchups. If you're a lot smaller, he's gonna shoot over you. If you're taller, he's gonna around. But being 6'8" and strong, which Jack and I both were, we were both just able to get into him and when he put the ball down, we sent somebody at him."
Being part of a very intimidating eight-seed
"I think that was the mentality of that team... We just developed a no-nonsense mindset. I heard a lot of commentators were calling us thugs and this and that, but we were just out there playing hard. It was really a team full of me's, you know what I mean? The way I look at the game all the time where if you mess with my teammate, you mess with me. And that's the way [everyone] looked at our team and it was a good feeling. We weren't going to be pushed around. We weren't going to be bullied. Even though we were the eight-seed, we felt we were good enough to beat the number-one seed.
"We'd had success against [Dallas] in the regular season, so I think going into Game 1, we weren't overwhelmed. We weren't scared. We weren't nervous. No one expected us to win, so there really was no pressure. And I just think we went out there and took it to them immediately... We were one unit and it was a blast. The energy was contagious and the toughness was contagious. We just went about our business."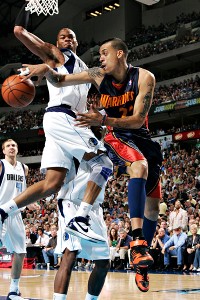 Tim Heitman/NBAE/Getty Images
Barnes' playoff introduction came as part of a team that shock the basketball world.
Advice for Sessions, Ebanks and Hill
"Just seize the moment. Just realize that you're here now and this is when it counts. [They're] very talented and are gonna be keys to us advancing in the playoffs. You take it all in before the game and understand you've finally made it, something you're worked your whole career for, which is the playoffs. And you're here. It's the biggest stage and just go out there and play.
"Those three guys don't really seem like much gets to them. They're all pretty focused and locked in guys, so I really don't see jitters or nerves being a part of something.
"[Ramon's] gonna be a key to us. With him coming to our team, he changed the dynamic. We're more of a threat in the pick-and-roll. We're more of a threat in transition. But I think the biggest thing alongside his offense is gonna have to be his defense. Especially in this first matchup where we're gonna be playing Ty Lawson. And if we're lucky to advance, (Russell) Westbrook. And if we're lucky to advance, just the possible matchups he can have. His defense is gonna be just as important as his offense.
"Like I said, he doesn't seem like a guy that gets rattled, so I'm excited to see what he does and how he can help our team."
STEVE BLAKE
First playoff game: 4/30/05 vs. the Bulls, as a member of the Wizards
The memories of his payoff debut
"It was fun. For me, unfortunately, it was a little bit different, because I really wasn't playing. But we were out of the series, so he put me in towards the end of the game. But it was still exciting knowing I was out there, to be a part of it. There's no other atmosphere like it in the regular season. There's only a few games that kind of touch it, so it's fun to be out there.
"I just remember that first series, when I was with the Wizards, playing against the Bulls, just the intensity. There was nothing like it. I was excited [to finally play]. I was like an engine, ready to go. I went out there and played as hard as I could, and just had fun with it."
What were the biggest differences between the regular and playoffs?
"Just the fact that every single possession matters so much more. The very first play of a playoff game is huge, whereas [during a regular season game], maybe it's not as big a deal. The emphasis on every possession is so big. I think that's the major difference... There was a lot of pressure. A lot of excitement. It was very intense. Basically, I think the word is intensity.
What Sessions needs to be mindful of as a point guard
"Just to try to keep it as normal as possible, probably. It's the same game you've been playing all year. Same plays, same teammates. You know it's more intense and everything, but try not to do anything of the ordinary, just because it's the playoffs."
JOSH MCROBERTS
First playoff game: 4/16/2011 vs. the Bulls, as a member of the Pacers
What did you notice was different about the playoffs?
"It was a great experience to get to the playoffs. We were obviously in a different situation in Indiana where we'd missed the playoffs for a few years. Our goal was to get into the playoffs and it was an eight-seed, so we were on the road. You can tell just the atmosphere when you're at the game and you're getting ready. It's different. You need to be a little more sharp and locked into certain things, because you're playing the same team five, six, seven times. So that's probably the main difference. At this point of the season, everyone kind of knows what everyone's doing, but you got time to focus on that and really lock into what they're doing, what we're doing.
"I think it's a little bit different, but at the same time, it's what we've been doing all year and our whole lives. It's definitely more intense because you're playing for something at that point. Everybody's playing for the same thing."
Did you ever catch yourself getting overanxious?
"Not really. For me, that's probably not a bad thing, anyways. (laughs) Just the way I play. I was fine. You don't get nervous or anything. You're just excited to play. I think if you use it the right way, that kind of makes you more focused."