Before the playoff brackets were set in stone, I hoped very hard the Lakers would open against the Dallas Mavericks rather than the Denver Nuggets. The defending champs haven't consistently looked the part all season, as evidenced by four losses to the Lakers in as many games. L.A. matches up well against Dallas. And most importantly, the Lakers tend to play well against teams they dislike, and there's no love lost for the squad that unceremoniously ended the three-peat quest. In the meantime, the Nuggets thrive in transition and pick-and-roll, two approaches that causes fits for the Lakers. They lack a true "star," but boast enviable depth. Ty Lawson and Andre Miller are point guards capable of creating havoc in very different ways. Arron Afflalo has a track record of quality D against Kobe Bryant. And Denver's small ball prowess could force some uncomfortable mismatches.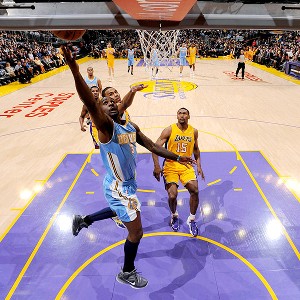 Andrew D. Bernstein/Getty Images)
Keeping Lawson out of the lane will be a big priority.
I still expect the Lakers to win. But I'm also expecting a very challenging series, especially with Metta World Peace suspended and Matt Barnes potentially limited by a sprained ankle.
For more perspective on the Nuggets, we called upon Jeremy Wagner of the True Hoop Network's Roundball Mining Company. Below are his responses to five questions.
Land O' Lakers: What are Denver's biggest strengths against the Lakers and what are their weaknesses?
Jeremy Wagner: Denver's biggest strength is the ability to score in the paint, whether on the break, or in the half court via penetration by Lawson, Miller, Afflalo and Danilo Gallinari. With the Lakers' ability to clog the paint on defense, that strength is somewhat mitigated, so Denver must take advantage of their speed to get easy baskets in transition.
The Nuggets' biggest weakness is a dependence on small lineups. Denver has the size to match up with the Lakers front line, but will George Karl reduce the minutes of players like Kenneth Faried and Al Harrington for Timofey Mozgov and JaVale McGee? I think he should, but I doubt he agrees.
LO'L: What effect do you think Metta World Peace's suspension could have on Danilo Gallinari's production? He's been pretty quiet in games with MWP primarily guarding him.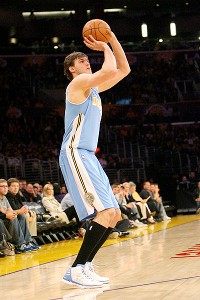 Icon SMI
Without Metta hounding him, will Gallo find a comfort zone against L.A.?
JW: Out of four games versus the Lakers this season, Gallinari shot 3-12, 1-9 and 2-9. It is difficult to imagine him shooting any worse even if World Peace were playing. Gallinari is still rounding into form after returning from a fractured thumb less than three weeks ago. He looked back to his old self on Thursday against Minnesota and his three point shot has started falling. With the absence of World Peace, Gallo has a chance to build off his recent performance and do more good than harm.
LO'L: What type of impact will Kenneth Faried have and how he'll be used, particularly on defense?
JW: The freshly minted Western Conference Rookie of the Month has been a revelation. His energy and enthusiasm have been a fantastic addition, and lately we are seeing him pair skill with the energy. The concern is whether "The Manimal" can handle Pau Gasol's length. Gasol can shoot over him on the perimeter as well as take advantage of him on the block. If Faried's going to play significant minutes, Denver will have to double team Gasol. But that means they won'tt be able to double Andrew Bynum.
LO'L: JaVale McGee is known more for his athleticism, blocks and penchant for unintentional comedy than smart play. Is he up to helping the Nuggets this postseason?
JW: One of the reasons the Nuggets acquired McGee was the belief their coaching staff could remove the bonehead from his game. It's only been a few weeks, but the transformation has been impressive. Denver is requiring him to earn his minutes and he's responded. I believe McGee is the best matchup for Gasol. Depending on how Faried, McGee could become a very significant player. Thanks to the recent progress, I have complete faith in him. The question is, does Karl?
LO'L: Can Afflalo make Kobe work consistently for his points? Who else may help along those lines?
JW: I absolutely expect Afflalo to hound Kobe every minute they are on the floor together. We have discussed Gallinari's struggles against the Lakers, but Kobe is only shooting 27.5% against Denver this season. In 20010-11 he only converted 39.2% of his shots. Afflalo will also force Kobe to work on defense. The Nuggets will run Afflalo through some Ray Allen-like screens and Kobe will have to chase him and expend considerable effort on defense.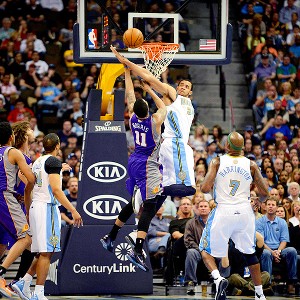 Ron Chenoy/US Presswire
McGee is always ready for YouTube. But the playoffs are another matter.
Corey Brewer will spend some time on Kobe, but isn't as well suited for the task as Afflalo. The real issue for Denver will be how much will Andre Miller be tasked with covering Bryant? Karl loves playing Lawson and Miller together, especially to close out games, meaning Miller might be dealing with Kobe in crunch time.
LO'L: Who is the player most capable of swinging the series for the Nuggets in either direction?
JW: People have called him crazy and the same people may call me crazy, but I really think it could be McGee. Again, he is best suited for covering Gasol. On offense, McGee will make Gasol and/or Bynum work to cover him in the post where he's shown an ability to throw down unlikely dunks from very odd angles. (He is known to miss a few here and there, too.)
LO'L: And finally, a quick prediction...
JW: This is going to be an incredibly tight series. Every game these teams have played this year has been close, with Lakers outscoring the Nuggets by a combined four points over the series. But the Lakers have three players they can count on to score in the closing minutes of a close game. Karl cannot even tell you what his closing lineup will be game to game. Add in the Lakers' home court advantage and the return of World Peace if there is a seventh game and the Lakers clearly have the advantage. Denver should pull out a game or two, but that is it. I will optimistically say Lakers in six.