The Lakers' postseason got off to as incredible a start as even those with wildly active imaginations could envision. Suffocating defense, spearheaded by Andrew Bynum in a performance that literally made NBA history. Balanced offense with six players in double figures and Steve Blake just behind them at nine. And as I wrote yesterday, the collective focus was off the charts. In the meantime, Denver made a few pushes, but largely found itself increasingly overwhelmed.
A sign of things to come for the entire series, or just one game in which both teams played at the opposite ends of the spectrum? To get to the bottom of matters, we had an IM conversation with Roundball Mining Company's Jeremy Wagner. Below is a transcript of the exchange.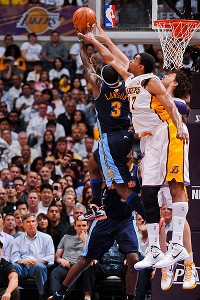 Andrew D. Bernstein/Getty Images
Goliath won.
Brian Kamenetzky: We focused so much on how L.A.'s size would help on the offensive side of ball, but it was really the defensive end -- led by Bynum but supplemented by Pau Gasol and Jordan Hill -- that changed the game. How much did that surprise Denver, and how do they address it?
Jeremy Wagner: It was obvious the Nuggets were not prepared for shot-blocking Bynum. They never adjusted and kept throwing up weak attempts. One key is Denver will to have to move much more on offense. I think it was six of Bynum's blocks came on an iso set when four Nuggets stood and watched. Denver also must look to pass when it doesn't have a shot at the rim. The corner was open on nearly all of Bynum's blocks and Denver must take advantage of that.
Do you think Bynum will be content to play Dikembe Mutombo, or will he demand more shots? We know he likes shots.
Andy Kamenetzky: I'd like to think this mindset will be maintained. It's important to note, Drew actually got the ball, but constant multiple defenders forced him to pass out. Even more important, Drew was aware of this, which makes me think pouting isn't imminent. However, I'm not necessarily confident he'll be as successful passing out from double/triple teams. Sunday's one turnover is the exception, not the rule, and that could give Denver more chances to run, which creates problems for the Lakers' D. Not to mention frustration for Bynum.
BK: You'll hear "tempo" come up about 700 times in a day's worth of interviews with Lakers players and coaches. Jeremy, what are you expecting from Denver in terms of changes to either the game plan or approach?
JW: I do not honestly know what to expect, because I do not think George Karl even has a solid plan of attack. Denver must respond better to the Lakers' length by showing better interior passing and look for more drive-and-kick options. The lack of movement on offense caused them to constantly attack a defense set and ready to respond to any penetration. You can tell by Karl's rotations he does not know what combination of players to put on the court, another major issue. Denver has lived playing small, especially in crunch time, but with the Lakers' length, that is suicidal. On the other hand, players like JaVale McGee did nothing to show they belong on the court. Denver is in a very tough place and I am not sure there is a clear solution.
Many have heralded Denver's depth, but the truth is, from game to game no one knows who the team can rely on and that's a problem. Injuries to Rudy Fernandez and Wilson Chandler have actually helped by reducing the numerous options for Karl. When you have 12 NBA-caliber players, how can anyone know who the best five players are at any given time?
AK: Were there any positives you took from the game moving forward? I thought Danilo Gallinari's game with Metta World Peace suspended might be something to build on.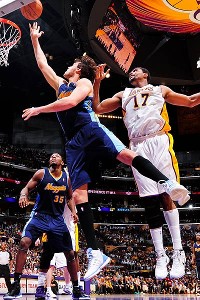 Andrew D. Bernstein/Getty Images
Gallo was a bright spot for Denver.
JW: On one hand, there is nowhere to go but up. I cannot imagine Denver playing worse. Kenneth Faried continued to prove he is a fighter, and despite his physical limitations did a solid job. Arron Afflalo played very good defense on Kobe Bryant in the first half, and as you mentioned, Gallinari was very good, showing glimpses of the player the Nuggets are hoping he can be every night.
With Kobe struggling in the first half and Denver doubling Bynum to reduce his effectiveness players like Devin Ebanks and Blake really made some big shots to help put the Lakers in the lead. Are the Lakers worried at all that if one or two players from their supporting cast do not come through, they might be in trouble?
BK: Maybe a little. The really positive thing from L.A.'s perspective was that it went into the locker room with Ebanks as the leading scorer (12) and Blake right behind (nine), and was actually winning. Bynum did a great job passing out of double-teams and finding the open man. Gasol had five assists. I worry about what happens if the perimeter shots don't fall. The Lakers were a bad 3-point team this year, but hit 6 of 12 through three quarters. If the shots don't fall, not only is Karl's doubling strategy rewarded, but Denver's transition game gets going. If I'm Karl, I'm giving the hard doubles one more try, at least in the post, but let Afflalo try to contain Kobe by himself. It's one less help/recovery action they'd have to use, and AA usually does OK on 24.
OK, everyone: predictions. Who wins, and why ...
JW: I expect to see a closer game, but that's not saying much. Denver is a young team with little playoff experience, and it is possible the Lakers' top-level talent is just too much for them. Still, I expect Afflalo to shoot better, McGee to provide something and Lawson to bounce back. L.A. wins, but in a game that is within a couple of possessions in the closing few minutes.
BK: I agree. It will be close in the fourth quarter, but the Lakers pull away. At home, the stars pull it out.
AK: I actually think Denver pulls out a squeaker. They've been a good enough road team in wins at Staples, and need to before getting buried. Plus, similar to how the Nuggets probably won't play this badly again, I'm not convinced the Lakers can duplicate arguably their best game since winning the 2010 title.
BK: That's a good point. A little slippage should probably be expected. If they meet in the middle, it's a very close game.