Sitting at the podium an hour or so ahead of Game 1, Denver coach George Karl spoke about the serious star power at the top of the Lakers roster. You do your best, he said, but sometimes only so much can be done about Kobe Bryant, Pau Gasol, and Andrew Bynum.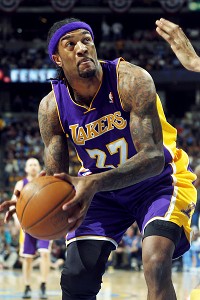 AP Photo/David Zalubowski
Jordan Hill has delivered three good-to-great performances off the bench in four playoff games.
What Karl really wanted to avoid were the "wild cards." If the big names beat you, so be it. Don't let it be the other guys.
For most of the season, suppressing L.A.'s supporting cast didn't exactly require a yeoman's effort. Generally, they took care of it themselves. The Lakers bench was the NBA's least prolific, and the starting small forward and point guard brought little to the table, as well. However, things turned around down the stretch. Metta World Peace found his groove (before getting suspended for an elbow to the head of James Harden). Steve Blake showed signs of life. Jordan Hill squeaked into the rotation at the 59th minute of the 11th hour, and Matt Barnes, consistent all season, put up big numbers in the final weeks.
Their improvement greatly increased the odds of a genuinely noisy postseason run for the Lakers. Such things take a village, after all. Now four games into their opening round series against the Nuggets, the L.A. has a 3-1 lead.
How have the most notable "wild cards" impacted things thus far? Taking a look at four...
Devin Ebanks
Game 1 - 12 first half points, good for the team lead. Kicks in with five rebounds as well.
Game 2 - Early foul trouble sends him to the bench. Finishes with eight rebounds, but only four points on 2-of-7 shooting, turns the ball over twice to go with two assists. Not a big factor.
Game 3 - Two blocked shots were nice, but generally didn't have a major impact in 16 minutes of burn. Probably should have been on the floor more for matchup purposes, but that's a different discussion.
Game 4 - No points, but did post three boards, two assists, a steal, and two blocks in 20 minutes. Wasn't a key player, but certainly abided by the "first do no harm" precept fundamental to his starting role.
Jordan Hill
Game 1 - Massive. 10 points, 10 rebounds, two blocks, and critical work against Denver's pick and roll.
Game 2 - Six points, 10 more boards. Not the same impact as in Game 1, but still probably the best bench player the Lakers had.
Game 3 - No points, six boards in only 14 minutes. -6 on the night. A couple good ORB's in the first half, but otherwise a non-factor.
Game 4 - Huge, huge, huge. Seven offensive rebounds (11 overall), 12 points, and more aggressive play defensively. His quality minutes made it possible to get extra rest for Bynum and Gasol, helping them do more as well.
Steve Blake
Game 1 - Only 3-of-7 overall, but the three were big. A trio of triples helping push the Lakers to a big early lead. The nine points were enough to make him the team's second leading scorer at halftime.
Game 2 - Three turnovers, no points, one assist in 26 minutes.
Game 3 - Three points, 1-of-4 shooting (all from downtown), one turnover (felt like more), and significant defensive struggles whether against faster players (Ty Lawson) or bigger ones (Andre Miller).
Game 4 - Started awful, ended with redemption. Eight fourth quarter points, including the 3-pointer icing the game at the end. Plus a key blocked shot (not a typo).
Matt Barnes
Game 1 - Only one bucket in six tries (including 0-of-4 from 3-point range), but six boards, a block, an assist, and four steals. Not a game changer, but found ways to contribute.
Game 2 - Four dimes and a block were nice, but again was ice cold (1-for-5) from the floor. Didn't notice him a lot, which means the activity wasn't overwhelming. Hard to expect otherwise with the bum right ankle.
Game 3 - 21 minutes, missed seven of his nine shots, including some wide open triples the Lakers badly needed.
Game 4 - Still missing his perimeter looks and isn't playing at his pre-injury levels, but an improvement over Game 3.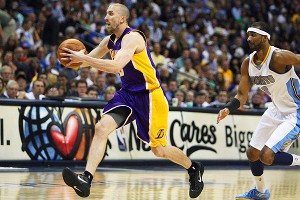 Chris Humphreys/AP Photo
Steve Blake came alive in the fourth quarter Sunday night.
It doesn't exactly require the finest of Bletchley Park to crack the code, here.
In Game 1, the Lakers saw major contributions from Ebanks, Hill, and Blake, plus solid-to-dominant performances from the Big Three, and won in a walk. Game 2, the supporting cast (save Hill) fades, but the Big Three still carry the day in a significantly tighter victory. Friday night, there are no wild cards, Kobe's shot goes astray, Bynum's groove is two quarters late in arriving, and Gasol doesn't leave much of an imprint. Lakers lose.
Sunday, the Big Three did some very good stuff on the floor, but there's absolutely no earthly way the Lakers win that critical Game 4 if Hill and Blake fall flat.
It's commonly believed that depth becomes less important in the postseason, and to some extent it's true. Minutes for the best players rise at the expense of less talented or important teammates. It doesn't necessarily matter as much if Team A's ninth and 10th guys are better than Team B's when nine might play five minutes a night and 10 isn't getting off the bench. The Lakers are running with eight, and while it might rise by one when World Peace returns (it's certainly possible Ebanks gets spot minutes behind Kobe at the 2, or in matchup-specific moments at small forward), it might not.
Still, as demonstrated by the first four games of the Denver series, the playoffs don't make "wild cards," those players who aren't stars, insignificant. Over a seven game series, the lion's share of winning or losing is determined by each squad's most elite players, but there's still plenty of space for the next tier. Stars have a way of canceling each other out, and when teams are relatively closely matched a 20 percent contribution from players expected to deliver 10 can easily swing a game.
Sunday's win showed as much. The Lakers are never going to have a bench routinely outscoring the opposition. Certainly not against Denver, who rely on guys like Andre Miller and Al Harrington to score, or OKC with Harden as a sixth man. Maybe Metta returns with a steady 10-14 points a night, but his primary value still comes defensively.
What matters more is impact. Do the Lakers get significant contributions from their non-stars? The Big Three can carry the team to some success, and with help will make things interesting. Without it, L.A.'s margin for error is far too thin.
So far, the wild cards are batting .500. Not a bad percentage for the Lakers, and certainly more than most would have expected in January.