"Closeout games are actually kinda easy. Teams tend to fold if you come out and play hard in the beginning. So we wanna come out and establish an early lead and protect it."
This was Andrew Bynum's response when asked about the inherent difficulty of closeout games. And to some degree, Drew's correct. I've seen many a team on the ropes fall behind in an elimination game, then exhibit body language that reeks of fate acknowledged and summer plans being imagined. On the other hand, if an opponent starts out hot or at least able to trade blows, they may become less amenable to the notion of fading quietly into the night. The Lakers would be best served to treat Denver as a squad desperate to remain alive, then upon tangible signs of the towel being thrown in, continue pummeling them in case an elaborate game of possum is being played.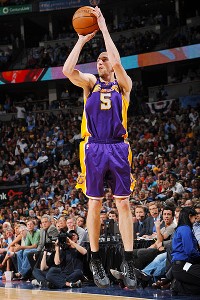 Garrett W. Ellwood/NBAE/Getty Images
The Lakers hung tough, and guys like Blake helped seal the deal.
For thoughts on what could be the final game of this series, I had an IM conversation with Kalen Deremo of the True Hoop network's Roundball Mining Company. Below is the transcript.
Andy Kamenetzky: Well, that was a very strange Game 3. No flow. No consistency from the refs. The refs at times let fouls go that would be called inside Rikers Island, then whistled the tickiest of tack. Andrew Bynum called for traveling with JaVale McGee over his back was... interesting. Plus, stalkers on the court! An entertaining game, but odd nonetheless. And I actually thought Denver would win for much of it.
KD: They led for the first three quarters, but it was so obvious L.A. had them trapped from the get go. That pace proved deadly. Nuggets played with fire... and got burned... bad. They've known from the very start they had to speed up the game to win. In Game 3 they finally managed to get out on the break more, and as a result they won in convincing fashion. The Nuggets thrive off energy. On Sunday, the Lakers looked like they were sleepwalking for much of the game and instead of countering with energy, the nuggets emulated the Lakers, and paid the price.
As we saw on Sunday, even if the Lakers aren't playing up to their potential they'll still win as long as they can entice the Nuggets to play a slow, half-court game. Give the Lakers credit for good defense, too.
AK: Yeah, they clamped down when it mattered most, and managed to keep Denver off the offensive glass in the second half. That's been a huge weapon for the Nuggets all series.
KD: What are the chances L.A. gets beat at home?
AK: It's not impossible. The Lakers have come out flat this season in scenarios you'd expect just the opposite. But I don't expect overconfidence or complacency to allow Denver to steal one in L.A. Save pockets of the first half in Game 3, they've been focused in this series, and I don't imagine that changes. If Denver wins, it's because their situation inspired their "A" game, not because the Lakers took victory for granted.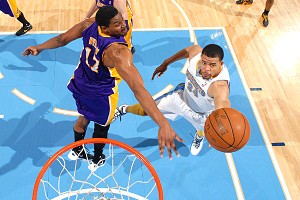 Garrett W. Ellwood/NBAE/Getty Images
Of any Denver big man, McGee has proved the biggest challenge for Bynum.
How do you expect the Nuggets, a young team without a ton of playoff experience, to react to being on the brink of elimination? Does it matter they've been a good road team?
KD: That's a great question. It feels like everything that's happened up to this point in the season will be defined by the way they come out for Game 5. This Nuggets team has been so inconsistent, it's hard to say which team they TRULY are. Even if they lose, as long as it's a tight game where they play hard, I think fans will probably be able to deal with it. What can't happen is a blowout. Fans have seen far too many of those under George Karl in the playoffs and can't take many more. I do think the fact that Denver has been a good road team will help, but it's not going to change anything if the Lakers are out for blood.
AK: Are there any adjustments Karl can/still needs to make?
KD: Of course. I really think small ball should be abolished all together at this point. It just doesn't work against the Lakers. Also, I'd start McGee and play him as much as humanly possible. The facts are in, and when McGee is matching up with Bynum, this series is much more even than when Timofey Mozgov or Kosta Koufos is on him.
What about Mike Brown? How has he done thus far in your eyes?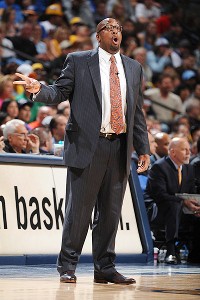 Garrett W. Ellwood/NBAE/Getty Images
All in all, it's been a well-coached series for Brown.
AK: Throughout April and the playoffs, Brown's been insistent on periodically using a Steve Blake-Ramon Sessions backcourt that's largely resulted in Blake getting bullied defensively. The effort is there, but he's too small to check shooting guards or even big point guards. Andre Miller has been a regular beneficiary of this alignment, and absolutely tore apart the Lakers in the first half of Game 4. I wish Brown would consider employing Devin Ebanks' size, length and speed against Miller or larger guards in general when Kobe's off the court. At the very least, earlier in games. I honestly understand why Brown would lean towards the more experienced Blake late in fourth quarters. Most coaches would do the same. And his faith paid off brilliantly in Game 4. Blake and Sessions were both huge in the final minutes. But on the whole, it's arguably been more problematic than helpful.
This gripe aside, however, Brown's done a pretty good job in this series. The way he rotated Bynum, Gasol and Hill during the Game 4 fourth quarter to simultaneously ride Hill's hot hand, squeeze in breathers for Drew and Pau, and maintain maximum overall efficiency was downright masterful.
I think I already know your answer, but who wins Game 5?
KD: Yeah... I mean, how am I gonna pick against the Lakers at home in a series-clinching game against the Nuggets? The series was there for Denver to take advantage of in Game 4 and they failed miserably. I think at this point the Nuggets confidence is probably pretty shattered. They're just not particularly a strong team in terms of fighting adversity. And even if the Nuggets pull the upset in Game 5, this series is already over.
What about you?
AK: Well, I agree the series is likely decided, but that doesn't mean it can't be extended. Game 1 aside, Denver's been in every contest, so they shouldn't be taken lightly, even in L.A. However, as I said before, I don't picture the Lakers dismissing Denver, and they're also well aware of the benefits from extended rest before the next series, rather than expending energy all the way to the next round. I anticipate another close game Tuesday, but I think the Lakers will close the book on Denver.