Before this series began, I listed a number of reasons Metta World Peace's suspension could prove sticky for the Lakers against Denver. By and large, however, Lakers fans didn't express much concern. Whether because most were focused more on the fairness of MWP's punishment or because most just didn't consider the Nuggets a particularly scary foe, the ramifications never became a major talking point. Six games into an increasingly unsteady playoffs, the small forward remains under the radar, brushed to the side by the likes of Andrew Bynum's Game 1 triple-double, Ty Lawson, JaVale McGee, "Closeout games are kinda easy," stomach viruses, Pau Gasol's steadily decreasing presence, Matt Barnes' ankle, Andre Miller torching Lakers guards, etc.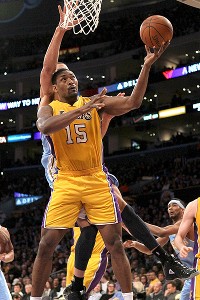 Stephen Dunn/Getty Images
The Lakers need Metta to make an impact on both sides of the ball.
But make no mistake: This roster vacancy has caused serious problems. The supporting cast beyond the Big Three (and recently, beyond "The Big Anyone Not Named "Kobe" OR "Bryant") hasn't consistently put up points. Devin Ebanks was pulled from the starting lineup in Game 6's second half in favor of Matt Barnes ... which says something, considering that Barnes hasn't been terribly effective. Metta's defensive skills have obviously been missed, but more importantly, so has the defensive versatility. He can be employed against Nuggets ranging from Miller to Danilo Gallinari to Al Harrington to Kenneth Faried. His presence also means the Lakers can go small without playing Ramon Sessions and Steve Blake together, a move that inevitably leaves one to get bullied defensively.
Beyond all else, there's Metta's energy, something he brings consistently whether playing well or playing poorly. MWP is among the most mercurial players in NBA history, but you can set your watch by him going full speed. As Kobe said after the Game 6 loss, "He's the one guy that I can rely on night in and night out to compete and play hard and play with that sense of urgency and play with no fear." MWP is also the rare player who can change games through the force of his intensity. The Lakers have collectively failed to match Denver's energy as the series has progressed.
This is a team in desperate need of a spark, and Metta can be that human flint.
However, this isn't as simple as "Instant victory: Just add Metta." Physically and mentally, what's being asked of him is no easy task. Dude hasn't played since April 22, nearly three weeks. That's an easy way to lose the shooting touch and rhythm he displayed during a very strong April. Rust could be an issue, and there's very little time to shake it off. Metta tends to play better when involved early, and it would make sense for his teammates to help him hit the ground running, anyway. Hopefully, they'll make a point of helping him get into the flow.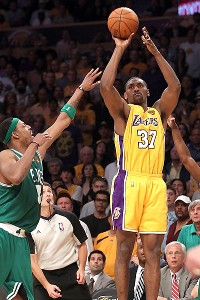 Christian Petersen/Getty Images
Game 7s have treated MWP well as a Laker.
The bigger challenges, however, may come between his ears. Metta must strike a balance between making his presence felt and not overdoing his welcome-back party. You don't want him pulling a "Sasha Vujacic." As Laker fans surely recall, the high-strung Slovenian had a habit of trying to play his way into bigger minutes by stuffing a stat line through shameless gunning. This approach typically resulted in rushed/missed shots outside the offense and -- ironically -- a decreased role. The circumstances are obviously different, but it's the same conundrum: a player putting his team on tilt by doing too much. However, walking on eggshells, whether to blend in or over fears of being a marked man by the referees*, could be problematic as well. The Lakers have enough perpetually invisible players as it is. I understand that Metta might feel self-conscious, but he can't allow himself to become a ghost.
Also, dropping into an elimination contest, having experienced firsthand none of the series' ebbs, flows and personality, is very awkward. It's the equivalent of doing a Broadway show without the benefit of even one dress rehearsal. Every Laker has almost no margin for error in this game, but in MWP's case, he must become instantly comfortable on the fly. And beyond the inherent pressure accompanying "win or go home," Metta could be wrestling with the weight of feeling responsible for the Lakers being in this position. Had he been eligible for the first six games, a seventh might not even be necessary. Like I said earlier, MWP hasn't been at the forefront of conversations regarding this series, but being out of sight often equals being out of mind. His presence Saturday provides a direct reminder of what's gone missing, and were the Lakers to lose Saturday, I'm guessing fans will redirect some of their wrath towards Metta.
But even if the Nation was in a forgiving mood, the organization may not feel as charitable. This marks the second straight postseason he's missed games due to suspension, and that lack of reliability could prove costly if the Lakers decide to use their amnesty clause this offseason. MWP would likely be among the chief candidates for a pink slip either way, given how finances are clearly affecting roster decisions. But early elimination likely guarantees a radical face-lift for the roster, and I can't imagine Metta oozes with trade value. A strong showing, and a resulting credible playoff run, might not guarantee MWP's future with the Lakers, but he becomes even more vulnerable without one.
Again, it's a lot for Metta to carry. Of course, we're also talking about the same guy who, as the lone team newbie, famously told the Laker Nation to blame him if the 2010 Lakers didn't repeat. He went on to secure a game-winning putback against the Suns in Game 5 of the Western Conference finals, then upped the ante by being the best player on the floor during Game 7 of the NBA Finals. He's hit many a big shot and made many a big defensive stop during his three seasons as a Laker and has been a surprisingly reliable force in crunch time. Metta may regularly fall victim to impulse-control issues, but under pressure is actually a pretty cool customer.
Perhaps Saturday will prove the latest chapter in a series of critical moments in which he delivers. If so, it could provide a nice bump for his spirits and image, not to mention for the Lakers.
* - For what it's worth, I imagine MWP will continue to receive his usual leeway on D from the officials. You don't get to play Metta's brand of aggressive, hands-y, smart defense without having first earned the respect of the refs. Assuming he keeps his nose clean, his temper in check and his celebratory acts to a minimum, I don't picture him being whistled left and right.