When the Lakers won Game 4 in Denver to take a 3-1 lead, the odds that this series would reach seven games seemed long. L.A. absorbed a quality shot from the Nuggets, trying to even things up, and now had a chance to close at home in a building where Denver has historically seen little success.
Two games later here we are, with the season -- and in many ways the future composition of the Lakers -- in the balance.
On Saturday night at Staples, the Lakers have a chance to move on and start fresh (if somewhat weary) against Oklahoma City on Monday. Andrew Bynum and Pau Gasol have a chance to redeem themselves on both sides of the ball following Games 5 and 6. The Lakers can show the sort of competitive grit displayed in the fourth quarter against Oklahoma City a couple of weeks back, but seen too little in the postseason.
To set the mood, as we've done all series, we fired up the chatting machines for a conversation with TrueHoop's Roundball Mining Company, where Kalen Deremo provided a look at the game from Denver's POV.
Land O'Lakers: After winning two straight and three of four, how confident are the Nuggets heading into Staples for Saturday's game?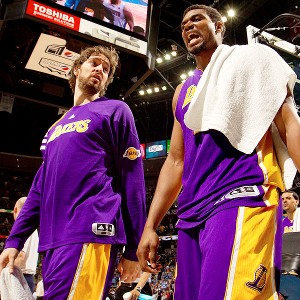 Justin Edmonds/Getty Images
All eyes will be on Pau Gasol and Andrew Bynum in Game 7.
Kalen Deremo: As confident as they'll ever be. I think the Nuggets have always been so intimidated by the Lakers, but something is different this time around. They have a confidence they've never had, which has to be one of the scarier things for L.A. to face.
Do you plan on seeing an entirely different Lakers team Saturday? Nuggets fans sure do.
LOL: I'd like to think so. Unless there's a Game 8 I don't know about, they don't get another chance.
More than the issues of execution, the problems with effort, energy, and commitment have bothered Lakers fans, and certainly Lakers coaches. Those can be catch-alls, used as easy explanations for losses. "We didn't match their energy." But particularly in Games 5 and 6 it's been true. Denver has flat out-hustled and outworked the Lakers. As for players needing to play a full 48, it starts with the bigs. Bynum had 16 boards Thursday, but faded in and out defensively and in transition. Gasol was worse, disappearing completely in what might have been his worst game in the NBA, context considered.
They have to be better Saturday, right? And if as a team they don't allow themselves to be outworked, the Lakers should win.
KD: What I'm curious about is how much blame Mike Brown deserves for all this. I was a bit surprised about what Magic said on TV. Do you think he should be fired if the Lakers don't win this series? Or are the Lakers' deficiencies more the players' fault?
LOL: He won't be fired. Not after the first year of a deal upended by the lockout, the undone CP3 trade and other complications. Plus, the Lakers aren't going to eat his contract. Still, he's trying to build a program in L.A., and a loss Saturday undercuts it significantly. The perception of being outcoached in such a disastrous series would be a major blow.
As for the question of blame, there does seem to be a great deal of predictability in Brown's O, and it hasn't escaped attention that the Nuggets have improved throughout the series while the Lakers haven't. On the other hand, this is the NBA. If guys can't make -- or in some cases seem afraid to take -- wide-open shots, I'm not sure how much of that is coaching. Nor is it ultimately a coach's job to get players to play hard for 48 minutes.
But no question, Denver has imposed its strategy on the series, with great success. Flood the post, take out the bigs, make guys make shots.
I assume nothing about that changes Saturday, right?
KD: I highly doubt it. The interesting thing is that Denver's a pretty mediocre team in terms of defense, especially on the perimeter where L.A. seems to be petrified and uncomfortable. Denver ranked dead last in the NBA in defending the 3-point line, yet L.A. can't seem to take advantage of it. Denver's daring L.A. to shoot, yes, but I think they're not quite as cool as they seem. If any one of the Lakers' perimeter threats heats up in Game 7, the Nuggets are in deep trouble.
LOL: Big if, unfortunately for Lakers fans. They've been a bad 3-point shooting team all season.
Looking at Saturday from Denver's perspective, what impact do you think Metta World Peace's return will have?
KD: I'm not sure. It seemed like he was having a fairly underwhelming season until the last several weeks. It's tough to project which Artest ... errr ... World Peace will show up and how it will affect L.A.'s team chemistry. It seems like they can't get much worse, so I'm guessing he's going to help. Again, how much is up in the air. How focused Metta is defensively will probably determine the most. If he can take Danilo Gallinari out of the game, his impact will have been huge.
But I'm a Nuggets fan so I don't get to see him as up close and personal as you. You probably have a better idea of which side of World Peace will show up, right?
LOL: Having sat since April 22 there could be a rust issue, though as Kobe pointed out Friday at practice, he won't be rusty defensively. MWP was incredibly effective on Gallo in the regular season, and his presence means the Lakers won't have to sit there while Andre Miller destroys Steve Blake on the block. Offensively, at the very least if the Nuggets leave him open on the arc he'll take the shot, which is more than can be said for some of the other guys. If his aggressiveness and confidence are contagious, it'll benefit the Lakers.
So last question ... Who wins?
KD: Wow. Well, momentum would certainly point towards the Nuggets, but L.A. has its fair share of advantages working for it as well. Kobe is going to be huge. I'm almost positive the Lakers' frontcourt is going to show up and push Denver away from the lane like they did in Game 1. Then of course, World Peace could be a huge X factor. That's really the problem for the Nuggets, and something I've been saying all along. If the Lakers decide they want to take this thing, I don't think Denver can stop them. I expect a close, hard-fought game from each team but in the end I just can't bet against Kobe and that front line at home in a series-clinching contest against an extremely young Nuggets squad.
And you?
LOL: These are prideful guys understanding what's on the line, and I suspect they'll step up. Open shooters will take shots or opportunities to penetrate. Gasol and Bynum will respond defensively, bringing opportunities on the other end. It won't be easy, but the Lakers in the end earn a date with OKC.