On May 27, 1985, the Celtics destroyed the Lakers in Game 1 of the NBA Finals, 148-114, a game quickly declared the "Memorial Day Massacre."
The Lakers, of course, went on to win the series in six games, finally vanquishing the Celtics curse.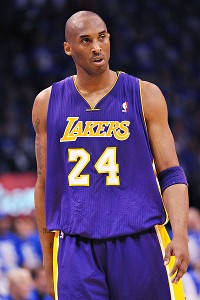 Noah Graham/NBAE/Getty Images
Kobe Bryant and the Lakers have a lot to do before Game 2.
Monday, the Lakers went to Oklahoma City and were similarly dominated, finding themselves down 30 points to the Thunder by the end of the third quarter. It was ugly on every level, and equally deserving of a nickname. Unfortunately, May 14 is a little short on signpost holidays or commemorations. The best I could come up with is "The World Naked Gardening Day Pruning."
Not bad, actually, and (with some imagination) maybe even a little apropos, but nonetheless unlikely to catch on.
More bad news: About the only commonalities in those games were the lopsided nature of the defeats. That 1984-85 Lakers team was dominant, winners of 62 games and favored to beat Boston for a title. This Lakers team is good, but not as good as their opponent. OKC outplayed them in about 10 of 12 quarters during the season series, and was superior in just about every measurable when considering the year as a whole.
Via Twitter and such, I've seen it suggested the law of averages will likely change how things play out in Game 2 on Wednesday night. Probably true. OKC was certainly above the mean in more ways than one. No team was more turnover prone than the Thunder in the regular season, but on Monday they gave up the rock only four times. Their starting lineup went 26-of-41 (63 percent), a tough number to reproduce even if L.A.'s defense doesn't improve much, and from 10-15 feet, OKC was a white-hot 60 percent (9-of-15). Put in perspective, Miami led the NBA from that distance this season, at 42.7 percent. The Thunder's offensive efficiency was straight out of NBA Live, at 133, versus 107.1 pre-playoffs. There are probably a few other areas in which the Thunder might naturally regress. Unfortunately for the Lakers, even if OKC suffers some slippage, it has a 30-point gap to chew up in Wednesday's Game 2.
That's more than a few more turnovers and missed jumpers.
Among the items on an extensive laundry list of needed improvements:
Cohesion for the pick-and-roll defense. Too often Russell Westbrook was able to turn the corner and step into a midrange jumper without being bothered. Same with Kevin Durant. The Lakers have to apply more pressure higher on the floor, and more importantly need to make sure everyone is on the same page in his coverage. Clearly that wasn't the case Monday night. Westbrook, Durant and particularly James Harden are all elite-level scorers handling the ball on the pick-and-roll, and will require elite-level defense in response. It's not simply a question of playing the Kobe Bryant-on-Westbrook card. They tried that in Game 1, and it wasn't effective because the overall coverages weren't good.

The Lakers are rightly concerned about OKC's transition game -- the Thunder put up 20 points Monday on the move, 13 coming during their big third-quarter push -- but L.A. can't ignore its own. L.A. produced nary a point in transition during Game 1, on only two possessions. Via Synergy, Oklahoma City was the league's fifth-best defense in the half court this season, but 15th in transition. The Lakers don't want to get into a track meet, but without producing at least some freebies on the break, keeping pace with OKC will be tough. They're left fighting for points against the Thunder's defensive strength.

Bryant, who shot only 30.7 percent against OKC in the regular season, was 7-for-18 Monday and saw very few clean looks. The Lakers need to figure out ways to generate better shots for 24. The offensive flow generally must improve, too, not only to generate better scoring opportunities, but to limit the Thunder's. Via ESPN Stats and Information, eight of OKC's transition points came off turnovers, and another six after blocked shots.
There are others. Ramon Sessions generated a whopping 0.25 points per play, dragging down L.A.'s attack. If he's not effective, it pulls Pau Gasol higher up the floor to facilitate, removing one of the advantages the Lakers have on the block. Synergy counted only one post opportunity for Gasol on Monday night. That has to change, a function of Gasol himself, obviously, but also the ability of the Lakers to run their offense effectively. The Lakers have to again defend without fouling, a specialty during the season (and something that would come with more cohesion on that end). They have to take better care of the ball.
It's a lot to fix in one off day, and one morning shootaround, but it has to be done. Even if OKC is 15 points worse in their performance Wednesday, the Lakers have to find a way to be 15 points better. Game 2 isn't technically a must-win, but practically speaking, it is. It's very difficult to imagine them beating the Thunder four times out of five if they return to Staples down 2-0.